Information about domestic and wild animal problems in Orleans Parish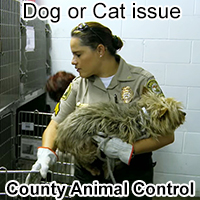 If you need assistance with a domestic animal, such as a dog or a cat, you need to call your local Orleans Parish animal services for assistance. They can help you out with issues such as stray dogs, stray cats, spay & neuter programs, vaccinations, licenses, pet adoption, bite reports, deceased pets, lost pets, local animal complaints and to report neglected or abused animals.
Orleans Parish Animal Services: 504-278-1535
---
REPORT WILDLIFE ISSUES: 504-278-1535
To report a dead animal on the road, an injured bird, a lost baby squirrel, a dangerous bear, or anything like that, call animal services at 504-278-1535

If they can't help, call the Louisiana Wildlife Commission at 504-523-2651. You can also call your local sheriff department at 504-658-6010 - they often deal with public wildlife issues.
---
Critter Problem at Your House? Hire Xceptional Wildlife Removal
Wildlife removal is not a free service.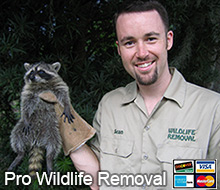 Orleans Parish does not provide free wildlife control services. If you want to pay for critter removal services, call Xceptional Wildlife Removal at 504-291-6416. They provide professional wildlife control for both residential & commercial customers in the city of New Orleans. They offer custom New Orleans wild animal control solutions for almost any type of wildlife problem, whether it be the noises of squirrels running through the attic, a colony of bats living in a building, or the destructive behavior of a raccoon, they have the experience and the tools to quickly and professionally solve your animal problem in Orleans Parish in Louisiana. Check their prices, and for a consultation, give them a call at 504-291-6416
---

We are based out of New Orleans, and service the entire area, including the towns of Kenner, Marrero, Gretna, Chalmette, Laplace, Reserve, Raceland, Houma, and more. Give us a call at any time to discuss your wild animal problem.

It is important to remember that most Parish animal services in Orleans Parish and elsewhere no longer provide assistance in cases involving wild animals and wildlife management. If you have a wildlife problem or need to get rid of wildlife, need an exterminator or exterminating company, pest control or critter trapping or traps or wild animal prevention in Orleans Parish, you should call a privately owned wildlife removal company at this number: 504-291-6416

We also service the towns of Pearl River, Folsom, Braithwaite, and wildlife trapping in Violet, Chalmette, Slidell, Luling, Abita Springs, Saint Bernard, Empire, Sun, Garyville, Bush and also animal control in Gretna, Jefferson, Saint Benedict, and rat control in Des Allemands, Hahnville, Metairie, Pilottown, and snake removal in Meraux, and animal capture in La Place, New Sarpy and pest control in Norco, Lafitte, Pointe A La Hache, Barataria, Harvey, and animal exterminating in Covington, Arabi, Marrero, Saint Rose and wild animal services in Mount Airy, Talisheek, Lacombe, Madisonville, and extermination services in Belle Chasse, Boutte, Edgard, Mandeville and wildlife management in Port Sulphur, Destrehan, Grand Isle, Paradis, Buras, and rodent removal in Boothville, Kenner, Ama, Westwego.

---
Orleans Parish Wildlife Removal Tip:
How To Place A Snap Trap By Your Attic Door - Even if you do not have rodents in your home, it is important to know what steps to take in order to effectively eliminate them. The presence of rodents in your home is more than an annoyance. They are especially dangerous, since they can cause a serious health hazard. If rodents are in your home, there is a good chance that they inhabit your attic. Sometimes it is possible to take measures to prevent rodents from entering. It is never a good idea to leave out food, since this attracts rodents. However, a rodent infestation is a common occurrence, and sometimes it is not possible to avoid it.
At first it might seem like poison is a more efficient method, but rats can easily become immune to it and continue to thrive. Poison will slowly kill a rodent and it might end up dying somewhere inside your ceiling and wall. It will be difficult to find them. Additionally, in many areas poison is illegal to use on rodents because they drag it out into nature and there is little control over who will get exposed. Another option is to use a non-lethal trap as well. It is a good idea to put the snap trap near the attic door and not in corners. This is because a rodent can escape the part of the trap that is lethal, but still be caught in the trap and escape. It will run away and die in another part of your home, and you might not be able to find it until you notice a strong odor.
---
Orleans Parish, LA Animal Control News Clip:
NEW ORLEANS ANIMAL SERVICES - Orleans Parish Parish: Improvements to the Orleans Parish wildlife containment unit were made, including installation of automatic waterers and feeders and, at the advice of nuisance wildlife operators working with the city's extermination program, construction of cement walls to divide the pen into critter cages to help prevent the spread of disease. These steps are baby steps, The New Orleans exterminating company expert declared, but they are what the city's budget has allowed given that most spending on capital improvements had to be cut. "I'm not picking on the animal control wildlife containment unit for not doing capital improvements, we just flat don't have the money to do it," declared The New Orleans exterminating company expert, who has been trying to organize an arrangement to take adoptable animals to the wildlife management habitat in Orleans Parish Parish, where the extermination rate may be much higher. The city does plan to step up improvements by using the surplus metal building used for recreation programs at the Pratt Street critter habitat to serve as a new critter cage for ferals. City Project Wildlife management officer Ricky The New Orleans pest control specialist, along with Teresa Woo and others in the Massachusetts Representative on Crime and Delinquency, will get inmate work crews and volunteers to disassemble and help move the structure to Edwards Road, where it will be reassembled at the site of the current wildlife containment unit by the end of March. The 2,000 square-foot, climate-controlled building will be modified to include 45-50 indoor-outdoor critter cages with 10-foot runs, The New Orleans pest control specialist declared. Had the decision not been made to move the building, it would have been demolished to make way for the new Parish public library. "It will be like nothing we've ever had here for animals," The New Orleans pest control specialist declared, but the $2,000-plus cost of pouring a new concrete floor will pose problems unless money can be raised, and concerned citizens let the city know that more may have been needed than a nicer wildlife containment unit.
Remember, for a dog/cat problem, call 504-278-1535, and if you need wildlife removal service in Orleans Parish, call Xceptional Wildlife Removal: 504-291-6416.