Information about domestic and wild animal problems in Hampden County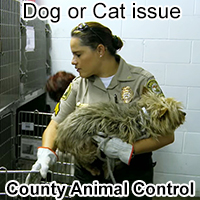 If you need assistance with a domestic animal, such as a dog or a cat, you need to call your local Hampden County animal services for assistance. They can help you out with issues such as stray dogs, stray cats, spay & neuter programs, vaccinations, licenses, pet adoption, bite reports, deceased pets, lost pets, local animal complaints and to report neglected or abused animals.
Hampden County Animal Services: 413-781-1484
---
REPORT WILDLIFE ISSUES: 413-781-1484 or 508-389-6317
To report a dead animal on the road, an injured bird, a lost baby squirrel, a dangerous bear, or anything like that, call any of these free government animal services:
Hampden County Animal Services: 413-781-1484
Massachusetts Wildlife Commission: 508-389-6317
Springfield police department: 413-787-6302
These agencies often deal with public wildlife issues or animal concerns where the public health or safety is involved, or other types of animal issues. These are free services.
---
Critter Problem at Your House? Hire AAAC Wildlife Professionals
Wildlife removal is not a free service.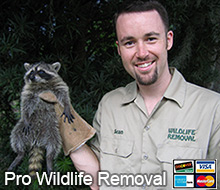 Hampden County does not provide free wildlife control services. If you want to pay for critter removal services, call AAAC Wildlife Professionals at 413-372-1777. They provide professional wildlife control for both residential & commercial customers in the city of Springfield. They offer custom Springfield wild animal control solutions for almost any type of wildlife problem, whether it be the noises of squirrels running through the attic, a colony of bats living in a building, or the destructive behavior of a raccoon, they have the experience and the tools to quickly and professionally solve your animal problem in Hampden County in Massachusetts. Check their prices, and for a consultation, give them a call at 413-372-1777
---

Located in Springfield, we provide professional Wildlife Removal Services for the Greater Springfield area as well as Central Mass and the Berkshires. We pecialize in the removal and exclusion of Bats, Squirrels, Skunks and Raccoons. We also provide wild animal control in the following towns: Greenfield, Deerfield, Montague, Gill, Wilbraham, Agawam, Hampden, Longmeadow, East Longmeadow, West Springfield, Chicopee, Holyoke, Granby, Palmer, Ludlow, Monson, Warren, Ware, Hadley, South Hadley, East Hampton, Northampton, Amherst, hatfield, Belchertown, Pelham, Williamsburg, Whately, Sunderland, Leverett, Shutesbury, New Salem, Petersham, Phillipston, Athol, Templeton, Gardner, Winchendon, Royalston, Orange, Warwick, Erving, Northfield, Bernardston, Leyden, Colrain, Shelburne, Conway, Ware.
Note: We do not handle dog and cat issues. For all dog and cat issues call Springfield Animal Control: 413-781-1484 or 413-736-2992

It is important to remember that most county animal services in Hampden County and elsewhere no longer provide assistance in cases involving wild animals and wildlife management. If you have a wildlife problem or need to get rid of wildlife, need an exterminator or exterminating company, pest control or critter trapping or traps or wild animal prevention in Hampden County, you should call a privately owned wildlife removal company at this number: 413-372-1777

We also service the towns of South Hadley, Tolland, Westfield, Ashfield, Wilbraham, and extermination services in Blandford, Hampden, Granville, Cummington, Chicopee, Worthington and also animal control in Westhampton, Greenfield, Brimfield, and snake removal in Southampton, Plainfield, Somers, Southwick, Russell, Deerfield, Northampton, Montgomery and pest control in West Springfield, Florence, Ware, and animal capture in Ludlow, Suffield, Granby, Easthampton, Holyoke, East Longmeadow, East Windsor, Chester and wild animal services in Agawam, Longmeadow, Windsor Locks, and wildlife trapping in Goshen, Belchertown, Enfield, Feeding Hills and wildlife management in Middlefield, Whately, Chesterfield, and rodent removal in Wales, Hatfield, Palmer, Huntington, Hadley, Williamsburg, Monson.

---
Hampden County Wildlife Removal Tip:
What Can Pictures Of Open Electrical Wires Tell Us? - If you look at pictures of open electrical wires, you will most likely see a potential fire hazard. However, it is different looking at a picture and being able to identify a problem than it is to know how to live safely in the presence of power lines. We can't imagine life today without electricity and often take it for granted, so many of us are not aware of spotting what can be a potential fire and safety hazard. Knowing how to spot a potential problem, as well as frequently checking for open electrical wires can save you. Also, properly covering electrical wires can keep them protected from possible rodent invasions.
The first thing you should do is check to make sure that the wire is not defective. You will know when to replace a wire if any part of it, no matter how small, is open, or if any wires are bear. You will also want to check the area for any signs of rodents. If you've had rodents, rats or even mice through your home and bear wires you are at risk for a fire. If you think there is a problem with your electrical wiring and not with your device, then you should never attempt to open the plug case. This puts you at risk of getting electrocuted. Only a certified electrician is qualified to handle this. Make sure to have your roof carefully inspected. There is a chance that faulty wiring in your attic can spark a fire.
---
Hampden County, MA Animal Control News Clip:
SPRINGFIELD, MA ANIMAL SERVICES - Hampden County: New officer working animal control beat in Hampden County
SPRINGFIELD, MA - Roland The snake photo expert recently gave up his radio duties for a new position as the county animal control officer, and wildlife officers believe he'll be more available to the public by working on Saturdays. "Most of our calls come in on the weekends," declared Hampden County Wildlife officers Department Chief Deputy Mike the skunk control officer. "We were looking to do something different, because it's not fair to the people if they're home on Saturday and that's when they're having a conflict with an animal." After working two weeks, including Saturdays, The snake photo expert seems to enjoy his new position. He answers roughly three to four animal calls a day, and plans to patrol residential neighborhoods in the county. "The good thing about working Saturdays may be that you come in contact with more citizens because they're home from work, and you can explain to them if there may be a problem in the neighborhood," The snake photo expert declared. He's acted as a temporary animal control officer for the past five or six years whenever former animal control officer John the rodent trapper may have been on vacation or sick. the rodent trapper transferred to the Hampden County Security Center as a jailer on Jan. 2. "It's just a change around in people," the skunk control officer declared. Previously The snake photo expert may have been the chief communications officer, a position which 13-year dispatch veteran Andy Sanders filled. Former jailer Derek the rat trapper took Sanders' position as a dispatcher, and the rodent trapper took the rat trapper's place in the jail. The snake photo expert had worked in the dispatch area for more than 10 years.

Remember, for a dog/cat problem, call 413-781-1484, and if you need wildlife removal service in Hampden County, call AAAC Wildlife Professionals: 413-372-1777.