Information about domestic and wild animal problems in Kalamazoo County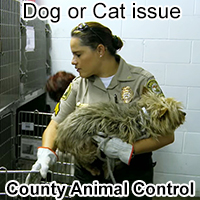 If you need assistance with a domestic animal, such as a dog or a cat, you need to call your local Kalamazoo County animal services for assistance. They can help you out with issues such as stray dogs, stray cats, spay & neuter programs, vaccinations, licenses, pet adoption, bite reports, deceased pets, lost pets, local animal complaints and to report neglected or abused animals.
Kalamazoo County Animal Services: (269) 383-8775
---
REPORT WILDLIFE ISSUES: (269) 383-8775 or 517-284-9453
To report a dead animal on the road, an injured bird, a lost baby squirrel, a dangerous bear, or anything like that, call any of these free government animal services:
Kalamazoo County Animal Services: (269) 383-8775
Michigan Wildlife Commission: 517-284-9453
Kalamazoo police department: 269-343-0551
These agencies often deal with public wildlife issues or animal concerns where the public health or safety is involved, or other types of animal issues. These are free services.
---
Critter Problem at Your House? Hire Advanced Wildlife & Pest Control
Wildlife removal is not a free service.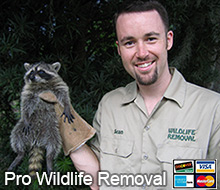 Kalamazoo County does not provide free wildlife control services. If you want to pay for critter removal services, call Advanced Wildlife & Pest Control at 269-679-6559. They provide professional wildlife control for both residential & commercial customers in the city of Kalamazoo. They offer custom Kalamazoo wild animal control solutions for almost any type of wildlife problem, whether it be the noises of squirrels running through the attic, a colony of bats living in a building, or the destructive behavior of a raccoon, they have the experience and the tools to quickly and professionally solve your animal problem in Kalamazoo County in Michigan. Check their prices, and for a consultation, give them a call at 269-679-6559
---

We are a full-service wildlife control company serving Kalamazoo MI and the surrounding area. We specialize in urban and suburban wildlife damage management for both residential and commercial customers. We are state licensed by the Michigan Fish & Wildlife Commission. We handle nearly all aspects of wildlife control, and resolve conflicts between people and wildlife in a humane and professional manner. For Kalamazoo pest control of wildlife, just give us a call any time and we will discuss your wildlife problem and schedule an appointment to solve it. We look forward to hearing from you!

It is important to remember that most county animal services in Kalamazoo County and elsewhere no longer provide assistance in cases involving wild animals and wildlife management. If you have a wildlife problem or need to get rid of wildlife, need an exterminator or exterminating company, pest control or critter trapping or traps or wild animal prevention in Kalamazoo County, you should call a privately owned wildlife removal company at this number: 269-679-6559

We also service the towns of Oshtemo, Scotts, Vicksburg including animal control in Richland, Galesburg, Portage, and wildlife pest control in Cooper Center, Alamo, and also wildlife management in Climax, Comstock, Paw Paw, Schoolcraft, and wildlife trapping services in the Kalamazoo area, including Allegan County, Barry County, Eaton County, Calhoun County, Van Buren County, St. Joseph County, and also Battle Creek Animal Control & wildlife removal.

---
Kalamazoo County Wildlife Removal Tip:
Using Peppermint As A Rodent Repellant - When a rodent is found inside your home, it can cause a serious health and safety hazard if not dealt with immediately. It will set up a nest, preferably in your attic. It will mess with your wires and insulation system, which can lead to a fire. It will leave urine and feces, which emits toxic particles and other pathogens that will circulate throughout your home. However, there are ways that you can make your home rodent-proof and effectively make it impossible for one to enter your home. But how do you keep a rodent away from your outside premises?
While a rodent inside your home is hazardous, the damage they inflict in your garden and backyard is more of a nuisance. It is difficult to completely eliminate a rodent's access to your garden and backyard, but there are ways that are suggested to repel them. Many people turn to home remedies as an alternative to poison. Poison emits toxic chemicals, which will ruin your plants, vegetables and fruits. In addition, if you have a dog it might accidentally swallow the poison, and it can be fatal. Peppermint is one such home remedy. A rodent has an acute sense of smell, and it has been found that it finds certain smells repelling. You can soak cotton balls in peppermint oil, or use peppermint canes, and leave them places where rodents are likely to be found. It is important to remember that these remedies aren't very effective if at all and will need to be reapplied often.
---
Kalamazoo County, MI Animal Control News Clip:
KALAMAZOO ANIMAL SERVICES - Kalamazoo County: The city of Kalamazoo and Kalamazoo County each have concerns with animal control that have triggered talks about a consolidation of services. "We don't need to reinvent the wheel, we just need to make it a little larger," declared Precinct 2 Constable Tim The critter professor, who also may be the county's wildlife management officer of animal control. Each side admits to an equal sense of urgency that provides incentive for a solution. But there remains the debate as to just how much of that wheel the two governmental entities are willing to fund. For the record, it may have been Portage city officials who approached the county in October about a consolidation. The city does not have a wildlife management habitat; instead it pays the Humane Society of Van Buren County $21 per raccoon and $17 per opossum for each animal it drops out at the HSMC extermination wildlife containment unit on E. Davis Street. That amount totaled just under $47,000 in 2005, and it doesn't include the $25,255 the City Representative authorized in April 2005 to fund "emergency repairs" to the society's 21-year-old building. Assistant City Administrator Paul The nuisance wildlife trapper declared the city estimated the cost of constructing a new animal control and extermination wildlife containment unit at $2.5 million. "If we can consolidate, we could save the city money by having services under one operation," he declared. Meanwhile, the county has a problem with its animal wildlife management habitat that involves both space and waste. Located off Michigan 242, just west of Interstate 45, the wildlife containment unit may be designed to house 400 raccoons and/or opossums.
Remember, for a dog/cat problem, call (269) 383-8775, and if you need wildlife removal service in Kalamazoo County, call Advanced Wildlife & Pest Control: 269-679-6559.