Information about domestic and wild animal problems in Kent County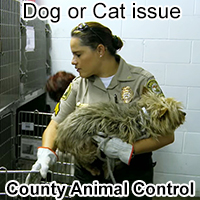 If you need assistance with a domestic animal, such as a dog or a cat, you need to call your local Kent County animal services for assistance. They can help you out with issues such as stray dogs, stray cats, spay & neuter programs, vaccinations, licenses, pet adoption, bite reports, deceased pets, lost pets, local animal complaints and to report neglected or abused animals.
Kent County Animal Services: (616) 632-7300
---
REPORT WILDLIFE ISSUES: (616) 632-7300 or 517-284-9453
To report a dead animal on the road, an injured bird, a lost baby squirrel, a dangerous bear, or anything like that, call any of these free government animal services:
Kent County Animal Services: (616) 632-7300
Michigan Wildlife Commission: 517-284-9453
Grand Rapids police department: 616-456-3400
These agencies often deal with public wildlife issues or animal concerns where the public health or safety is involved, or other types of animal issues. These are free services.
---
Critter Problem at Your House? Hire Platinum Wildlife Removal
Wildlife removal is not a free service.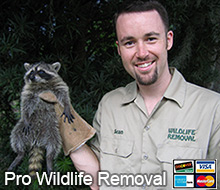 Kent County does not provide free wildlife control services. If you want to pay for critter removal services, call Platinum Wildlife Removal at 616-591-5641. They provide professional wildlife control for both residential & commercial customers in the city of Grand Rapids. They offer custom Grand Rapids wild animal control solutions for almost any type of wildlife problem, whether it be the noises of squirrels running through the attic, a colony of bats living in a building, or the destructive behavior of a raccoon, they have the experience and the tools to quickly and professionally solve your animal problem in Kent County in Michigan. Check their prices, and for a consultation, give them a call at 616-591-5641
---

We are a full-service wildlife control company serving Grand Rapids MI and the surrounding area. We specialize in urban and suburban wildlife damage management for both residential and commercial customers. We are state licensed by the Michigan Fish & Wildlife Commission. We handle nearly all aspects of wildlife control, and resolve conflicts between people and wildlife in a humane and professional manner. For Grand Rapids pest control of wildlife, just give us a call and we will discuss your wildlife problem and schedule an appointment to solve it. We look forward to hearing from you!

It is important to remember that most county animal services in Kent County and elsewhere no longer provide assistance in cases involving wild animals and wildlife management. If you have a wildlife problem or need to get rid of wildlife, need an exterminator or exterminating company, pest control or critter trapping or traps or wild animal prevention in Kent County, you should call a privately owned wildlife removal company at this number: 616-591-5641

We also service the towns of Howard City, Dutton, Cascade, Comstock Park, Wayland, Belding and also animal control in Cedar Springs, Kentwood, Alaska, Cutlerville and pest control in Belmont, Greenville, Jenison, Alto, Walker and wild animal services in Hastings, Bauer, Grandville, Middleville, Caledonia and wildlife management in Shelbyville, Rockford, Alpine, Martin, Lake Odessa.

---
Kent County Wildlife Removal Tip:
Using Peppermint Oil To Repel Rodents Instead Of Trapping Them - It is said that one drop of peppermint oil equals approximately cups of peppermint tea. Since rodents and other rodents detest the smell of peppermint, this is the reason why many people decide to use organic methods to eliminate a pest problem. Not only is it cost-effective, it is safer than having to worry about the harmful and toxic effects of poison. Using an organic method such as peppermint oil is also a humane way of keeping out rodents, from both inside and outside your home.
While the above is true, it is also true that most repellents do not work. They are not strong enough to deter a hungry rodent and need to be reapplied every time the area gets a good soaking you are much better advised to set up live traps and remove the rodent from the area, especially if it's an attic or other areas for people. If you have a lot of rodents in your yard there are a few things you may try to help. Trim trees away from buildings and keep all bushes trimmed up. It's also good to keep the yard free of debris so they don't have anywhere to build a nest easily.
---
Kent County, MI Animal Control News Clip:
GRAND RAPIDS ANIMAL SERVICES - Kent County: "We're so full we've turned our isolation room and squirrel room into an extermination room. I also still have 17 raccoons and five opossums we've kept since October for displaced owners from the hurricanes." Animal control does not have a holding policy for owner-released wild critters, and they declared this may have been explained to The Comstock Park exterminating company expert. The Cutlerville, MI animal control agent may have been on vacation, but Bridget Welch, a two-year employee, remembers talking to The Grand Rapids exterminating company expert. "I explained it may have been an owner release," Welch declared. "She may have been told there may have been a chance they could be put to sleep. We didn't call her. That's not our policy on an owner release." The Wyoming, MI exterminating company expert signed a release over to Grand Rapids Animal Control for each raccoon, but misunderstood the policy. "I'd called earlier about how long they'd keep a raccoon before they put it down and the girl on the phone declared four days. When I took them up there they declared it would be about a week," she declared. "I'm in disbelief. I know they can't keep them forever, but I would have never taken them to animal control if I knew they would be put down that quick." The Grandville animal control agent regrets the owner may be upset, but declared the budget may be just not there to hold every raccoon. "It never slows down and it gets worse during the holidays. I hate the holidays for that reason," declared The Kentwood animal control agent, adding a new city ordinance restricting the amount of raccoons that can be kept on residential properties has spawned a rash of nervous owners. "In some cases they would need to get a license for a critter cage and we can help with that. They just need to call if they have questions."
Remember, for a dog/cat problem, call (616) 632-7300, and if you need wildlife removal service in Kent County, call Platinum Wildlife Removal: 616-591-5641.