Information about domestic and wild animal problems in Wayne County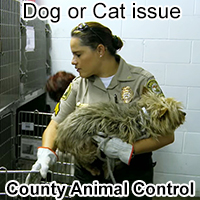 If you need assistance with a domestic animal, such as a dog or a cat, you need to call your local Wayne County animal services for assistance. They can help you out with issues such as stray dogs, stray cats, spay & neuter programs, vaccinations, licenses, pet adoption, bite reports, deceased pets, lost pets, local animal complaints and to report neglected or abused animals.
Wayne County Animal Services:
Detroit Residents Only (313) 224-6356
---
REPORT WILDLIFE ISSUES: (313) 224-6356 or 517-284-9453
To report a dead animal on the road, an injured bird, a lost baby squirrel, a dangerous bear, or anything like that, call any of these free government animal services:
Wayne County Animal Services: (313) 224-6356 (Detroit only)
Michigan Wildlife Commission: 517-284-9453
Detroit police department: 313-596-2200
These agencies often deal with public wildlife issues or animal concerns where the public health or safety is involved, or other types of animal issues. These are free services.
---
Critter Problem at Your House? Hire Platinum Wildlife Removal
Wildlife removal is not a free service.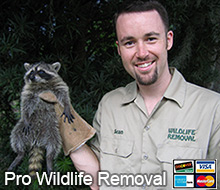 Wayne County does not provide free wildlife control services. If you want to pay for critter removal services, call Platinum Wildlife Removal at 313-447-0260. They provide professional wildlife control for both residential & commercial customers in the city of Detroit. They offer custom Detroit wild animal control solutions for almost any type of wildlife problem, whether it be the noises of squirrels running through the attic, a colony of bats living in a building, or the destructive behavior of a raccoon, they have the experience and the tools to quickly and professionally solve your animal problem in Wayne County in Michigan. Check their prices, and for a consultation, give them a call at 313-447-0260
---

We specialize in Bats, Raccoon, and Squirrels and we service the city of Detroit and surrounding towns, such as Waterford, Pontiac, Rochester Hills, Shelby, Bloomfield, Troy, Sterling Heights, Clinton, Novi, Farmington Hills, Southfiled, Royal Oak, Warren, St. Clair Shores, Livonia, Canton, Northville, Plymouth, Dearborn, Westland, Allen Park Wyandote, & more. We service all of Wayne County, Washtenaw County, Oakland County, and parts of Jackson County.

It is important to remember that most county animal services in Wayne County and elsewhere no longer provide assistance in cases involving wild animals and wildlife management. If you have a wildlife problem or need to get rid of wildlife, need an exterminator or exterminating company, pest control or critter trapping or traps or wild animal prevention in Wayne County, you should call a privately owned wildlife removal company at this number: 313-447-0260

We also service the towns of Romulus, Canton, Melvindale, Wyandotte, Dearborn Heights, Trenton and also animal control in Lincoln Park, Northville, Grosse Pointe, Highland Park, Inkster and pest control in Plymouth, Allen Park, Dearborn, Grosse Pointe Woods, Redford and wild animal services in Riverview, Southgate, Westland, River Rouge, Grosse Pointe Park and wildlife management in Garden City, Woodhaven, Hamtramck, Ecorse, Livonia, Taylorbr.

---
Wayne County Wildlife Removal Tip:
Do Peppermint And Rodents Mix? - If you look for ways to get rid of rodents, then one of the solutions will jump right at you. One of the common solutions given is to use peppermint oil to repel the fluffy tailed rodents. You may think that the peppermint oil solution seems too simple to be effective; so is it true? Don't peppermint and rodents mix? The reality is that peppermint does have some repellent qualities to it. Rodents seem to dislike the smell of peppermint. The same happens when mice and rats are exposed to it. Does that mean that peppermint oil is an effective rodent repellent?
When looking at the peppermint and rodents combination it seems that although rodents do not like peppermint, the oil solution is not as effective as you may think. The reason for that is that the smell will not be there long enough to keep the rodents away, so you would have to keep using the oil almost on a daily basis. Even when you use the oil, a rodent can simply move to another place in your home. You may think that the room is sealed and the rodent has no place to go, but they are small enough to move through some very small spaces.
---
Wayne County, MI Animal Control News Clip:
DETROIT ANIMAL SERVICES - Wayne County: Animal Control changes sought
The Apache Junction City Representative voted 5-1 Jan. 2 to boost staff and improvements as well as fee adjustments to the Wildlife officers Department's Animal Control Division. City Clerk Kathy Connelly declared the fee hikes would only apply to euthanasia costs. The suggestion will return to City Representative in February in the form of an ordinance, which requires a public hearing. During 10 decades in 2005, interim Wildlife officers Chief the skunk control officer The wild animal trapper told the City Representative that 242 wild animals were euthanized. Owners who request their raccoons be euthanized are charged $20, $20 with disposal, while opossum owners pay $15 and $20, respectively, Mr. The wild animal trapper declared. The fees would change to $40 and $50 for raccoons greater than 40 creature clinics, $20 and $40 for raccoons weighing less than 40 creature clinics. opossum owners would be charged $20 and $25. Pest control lobbyist Joe pest-eliminator questioned where the increased revenue would go. Mr. The wild animal trapper declared while the unit would like to be completely out of the euthanasia business, it may be a service that needs to be readily available to the public. He declared the increased revenue will be put back into the unit. The fee increases are part of an action plan created by Mr. The wild animal trapper, City Manager George Hoffman, and Assistant City Manager Bryant Powell. It may have been presented during the Jan. 2 City Representative organized hearing in chambers, 200 E. Superstition Blvd. "Terry The wild animal trapper, myself and George got together and did a lot of brainstorming to come up with solutions to the problems at Animal Control," Assistant City Manager Powell declared.

Remember, for a dog/cat problem, call (313) 224-6356, and if you need wildlife removal service in Wayne County, call Platinum Wildlife Removal: 313-447-0260.