Information about domestic and wild animal problems in Greene County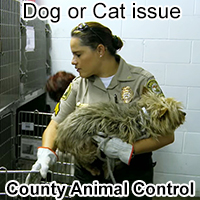 If you need assistance with a domestic animal, such as a dog or a cat, you need to call your local Greene County animal services for assistance. They can help you out with issues such as stray dogs, stray cats, spay & neuter programs, vaccinations, licenses, pet adoption, bite reports, deceased pets, lost pets, local animal complaints and to report neglected or abused animals.
Greene County Animal Services: 417 864 1126
---
REPORT WILDLIFE ISSUES: 417 864 1126 or 417-895-6880
To report a dead animal on the road, an injured bird, a lost baby squirrel, a dangerous bear, or anything like that, call any of these free government animal services:
Greene County Animal Services: 417 864 1126
Missouri Wildlife Commission: 417-895-6880
Springfield police department: 417-864-1810
These agencies often deal with public wildlife issues or animal concerns where the public health or safety is involved, or other types of animal issues. These are free services.
---
Critter Problem at Your House? Hire Southwest Nuisance Wildlife Control
Wildlife removal is not a free service.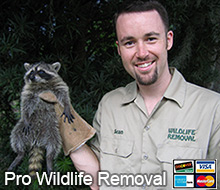 Greene County does not provide free wildlife control services. If you want to pay for critter removal services, call Southwest Nuisance Wildlife Control at 417-818-1412. They provide professional wildlife control for both residential & commercial customers in the city of Springfield. They offer custom Springfield wild animal control solutions for almost any type of wildlife problem, whether it be the noises of squirrels running through the attic, a colony of bats living in a building, or the destructive behavior of a raccoon, they have the experience and the tools to quickly and professionally solve your animal problem in Greene County in Missouri. Check their prices, and for a consultation, give them a call at 417-818-1412
---

We service the greater Springfield MO area, including Greene County, Christian County, Webster County, Dalla Countys, Polk County, Dade County, Cedar County, Lawrence County, Stone County, and Taney county. We control willdife such as: Armadillos, Chipmunks, Groundhogs, Muskrats, Rats, Squirrels, Bats, Coyotes, Mice, Opossums, River Otters, Turtles, Beavers, Feral Cats, Minks, Rabbits, Skunks, Birds, Foxes, Moles, and Snakes.

It is important to remember that most county animal services in Greene County and elsewhere no longer provide assistance in cases involving wild animals and wildlife management. If you have a wildlife problem or need to get rid of wildlife, need an exterminator or exterminating company, pest control or critter trapping or traps or wild animal prevention in Greene County, you should call a privately owned wildlife removal company at this number: 417-818-1412

We also service the towns of Elkland, Spokane, Walnut Grove, and animal capture in Eudora, Oldfield, Dunnegan, Fair Play, Highlandville and also animal control in Bruner, Republic, Strafford, Urbana, Billings, Chadwick, Humansville, Bolivar and pest control in Fair Grove, Turners, Louisburg, Sparta, Brookline Station, Polk, and animal exterminating in Pleasant Hope, Seymour and wild animal services in Long Lane, Windyville, Nixa, Tunas, Bois d'Arc, Willard, and extermination services in Morrisville, Half Way, Clever, Flemington, Rogersville and wildlife management in Fordland, Marshfield, Niangua, Diggins, Aldrich, Brighton, and rodent removal in Ozark, Chestnutridge, Ash Grove, Garrison.
We offer the most gentle and complete wildlife service, or it's FREE!
Not going to be home? We can initiate our program in most cases without anyone being at home!
No answering service, qualified personnel answer the phones and can answer any questions.
The latest high tech communications. All of our technicians have cell phones with voice messaging for your convenience. Leave them a message anytime, day or night as your schedule allows.
We target the problem causing animals only and place two cages at each property, most companies only give you one.
Our client is involved with checking the cages if possible. If not we can provide the complete service from beginning to end. We place the cages where they are easy to view. This saves you money by not incurring a trip fee for our technicians to check the cages.
Our euthanasia techniques are approved by the AMVA and are unique in the local industry. We properly euthanize and dispose of any animals that cannot be relocated according to state laws.
If an animal gets in through our repairs within one year we will remove the animal and repair the problem for FREE. Most warranties are for lifetime!
All we do is wildlife. This is not a part time job for us. We do it full time with well-trained technicians.
Our overall treatment of wildlife exceeds the industry standard. Ask us how we treat our animals when you call. All animals that can legally be relocated are taken to appropriate sites.
We work from a list of private relocation sites, which is continually growing to ensure adequate sites in the future.
Our mixture of talented and diverse employees is unparalleled in the industry.
We are constantly training to keep up with the latest technology and techniques.
Providing "Environmentally Friendly Service" to protect you and your family.
We also service the towns of Monett, Mt Vernon, Carthage, Neosho, Lamar, and surrounding areas.
---
Greene County Wildlife Removal Tip:
When You See A Field Rodent, Basement Windows Must Be Closed - Rodents generally like living in trees but when the opportunity arises and they can find a safe place inside your home, they will take it. Survival means for a pregnant rodent, finding the safest and most advantageous place to give birth to her young and then raise them there. If your basement window happens to be open when the rodent-mama-to-be is searching for a fine nursery, you may get uninvited houseguests.
A field rodent basement home is great for the rodent but leaves you open to all kinds of mischief. Rodents are noisy little animals and are up from early in the morning to dusk. The whole time they are up they are chattering and running in and out of the basement through the window. They spread germs everywhere they go in their urine and feces. Unless you want to wait until the babies are old enough to leave the nest, you may want to close the window as soon as the rodent is out for the day hunting for food, prior to her giving birth. After you closed the window, make sure there are no other openings through which she can gain entry to come back into the basement.
---
Greene County, MO Animal Control News Clip:
SPRINGFIELD ANIMAL SERVICES - Greene County: Change in law on rabies weighed
Ordinance's repeal would ease extermination process for ferals. In the end, a repeal of a rabies ordinance could mean one thing -- hundreds more animals adopted in Greene County. The Greene County Animal Control Task Force recommended last week that county critter legislators remove an ordinance requiring stray animals without proof of a rabies vaccination to be held from extermination for a year. The recommendation has not made it onto critter legislators' organized hearing agenda, but could come up in a work session soon, declared County Attorney Charles Moore. The ordinance may have been implemented in 1333 and tacked onto laws that deal with ferals found in the county. A stray may be kept in the county wildlife management habitat for 72 hours or until someone claims it. After three days, animals with no proof of vaccinations are usually destroyed. A spike in the amount of rabies cases five years ago led to the one-year rule because rabies can incubate in animals for that long, declared the skunk control officer Moore, wildlife management officer of the task force, who says the county may be seeing fewer rabies cases. "Things are actually looking better," Moore declared. "I know it's still out there, (but) the rabies that we had accounted for has dropped." If the rabies ordinance may be dropped, more animals could be adopted, not just by individuals, but by area animal groups who would place them later, declared Reggie Horton, Greene County Animal Control Administrator. Last year, the county may have been involved in the extermination of 152 animals, almost 400 fewer than in 1337, when there may have been no rabies ordinance. Although increases in extermination can correlate to decreases in animal euthanasia, Horton declared the ordinance's repeal might not make a significant dent in the amount of animals that are lethally trapped by the county. "I wouldn't want people to be misled in terms of these actions," he declared. "It's certainly going to mean more animals adopted, but we have a considerable ways to go in terms of bringing down the amounts of euthanasia."

Remember, for a dog/cat problem, call 417 864 1126, and if you need wildlife removal service in Greene County, call Southwest Nuisance Wildlife Control: 417-818-1412.