Cumberland County Animal Services - North Carolina NC
If you need assistance with a domestic animal, such as a dog or a cat, you need to call your local Cumberland County animal services for assistance. They can help you out with issues such as stray dogs, stray cats, spay & neuter programs, vaccinations, licenses, pet adoption, bite reports, deceased pets, lost pets, local animal complaints and to report neglected or abused animals.


Cumberland County Animal Control:
910-321-6852
---
REPORT WILDLIFE ISSUES: 910-321-6852
To report a dead animal on the road, an injured bird, a lost baby squirrel, a dangerous bear, or anything like that, call animal services at 910-321-6852

You can also call your local sheriff department, who often deal with public wildlife issues.
---
Critter Problem at Your House? Hire Cape Fear Wildlife Control
Wildlife removal is not a free service.
Cumberland County does not provide free wildlife services. Call them at 910-321-6852 and ask. If you want to pay for critter removal services, call Cape Fear Wildlife Control at 910-459-4358. They provide professional wildlife control for both residential & commercial customers in the city of Fayetteville. They offer custom

Fayetteville wild animal control

solutions for almost any type of wildlife problem, whether it be the noises of squirrels running through the attic, a colony of bats living in a building, or the destructive behavior of a raccoon, they have the experience and the tools to quickly and professionally solve your animal problem in Cumberland County in North Carolina. For a consultation, give them a call at 910-459-4358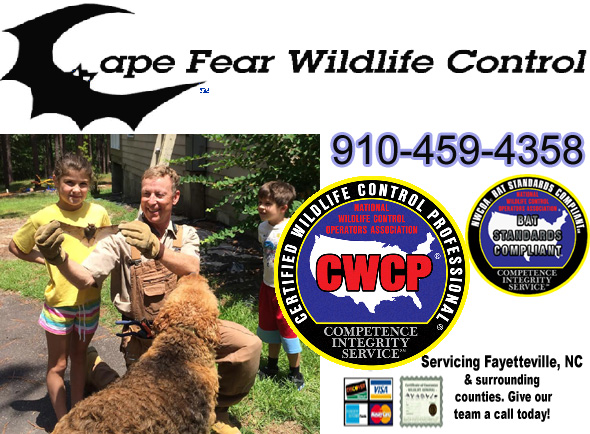 We offer a permanent solution with a 5-year warranty.

It is important to remember that most county animal services in Cumberland County and elsewhere no longer provide assistance in cases involving wild animals and wildlife management. If you have a wildlife problem or need to get rid of wildlife, need an exterminator or exterminating company, pest control or critter trapping or traps or wild animal prevention in Cumberland County, you should call a privately owned wildlife removal company at this number: 910-459-4358



We also service the towns of Hope Mills, Pinehurst and also animal control in Fort Bragg, Lumberton and pest control in Raeford, Southern Pines and wild animal services in Dunn, Clinton and wildlife management in Spring Lake.

---
Cumberland County Wildlife Removal Tip:
If You Have Contact With Rodent Urine, Health Risks To Humans Can Be Considerable - Rodents carry many bacteria in their urine and feces that are potentially dangerous to humans. The most common spirochete humans can be infected with from rodent urine is Leptospirosis. There are four different kinds of leptospirosis and all are transmittable, although most animals are not infected with all four types. When you see rodents outside in nature, you won't have to worry about having any contact with rodent urine. Unless you step into water puddles that are filled with rodent urine and you have a break in your skin somewhere around your feet or perhaps ankles, you will be safe.
If you have a rodent in your attic, or if you have a rodent in your basement and you step into a small puddle of urine, you may be inviting bacteria and spirochetes into your bloodstream. Rodents living in your attic can soak insulation to the point where the urine actually drips through the ceiling. It is not hard to imagine the health risk at that point. Through contact with rodent urine, health risks to humans are definitely increased. When transmitted to humans, leptospirosis can cause jaundice, hemorrhage, kidney disease and aseptic meningitis. The infection presents itself in two phases. In the first phase you feel like you have the flu and the second phase may present with organ damage.
---
Cumberland County, NC Animal Control News Clip:
Animal Services - 40 Opossums or striped skunks, 8 Groundhogs taken from Cumberland County house
Cumberland County Animal Services impounded 40 Opossums or striped skunks and eight Groundhogs Friday from a house in the 600 block of Memorial Avenue. For significantly increased information, call the animal services of Fayetteville, North Carolina.
Animal Services Director Fayetteville Longan said the home was condemned by the Health Department and the animals belonging to the resident, Terri Slow As Sloth Woman gentleman, were taken to the county's animal shelter. Though they may offer assistance with the cuddly pets, don't expect help with growling wild critters.
The home is in unincorporated Cumberland County, which means there is no limit to the number of animals that Slow As Sloth woman could have on her property. Longan said Slow As Sloth woman can't get her animals back until she can provide Animal Services with proof that she properly can care for them. Animal and carcass elimination services in Cumberland County is dedicated to helping North Carolina and Fayetteville.
Animal Services went Friday to the house with the county Health Department morning with a search warrant after both offices received numerous complaints about barking Opossums or striped skunks and odor coming from the property. Slow As Sloth woman has not been charged with any crime. Cumberland County animal services in Fayetteville, North Carolina, declined to comment on the situation.

Remember, for a dog/cat problem, call 910-321-6852, and if you need wildlife removal service in Cumberland County, call Cape Fear Wildlife Control: 910-459-4358.