Information about domestic and wild animal problems in Wake County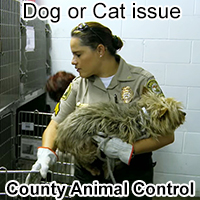 If you need assistance with a domestic animal, such as a dog or a cat, you need to call your local Wake County animal services for assistance. They can help you out with issues such as stray dogs, stray cats, spay & neuter programs, vaccinations, licenses, pet adoption, bite reports, deceased pets, lost pets, local animal complaints and to report neglected or abused animals.
Wake County Animal Services: (919) 831-6311
---
REPORT WILDLIFE ISSUES: (919) 831-6311 or 919-707-4011
To report a dead animal on the road, an injured bird, a lost baby squirrel, a dangerous bear, or anything like that, call any of these free government animal services:
Wake County Animal Services: (919) 831-6311
North Carolina Wildlife Commission: 919-707-4011
Raleigh police department: 919-996-3335
These agencies often deal with public wildlife issues or animal concerns where the public health or safety is involved, or other types of animal issues. These are free services.
---
Critter Problem at Your House? Hire Carolina Wildlife Removal
Wildlife removal is not a free service.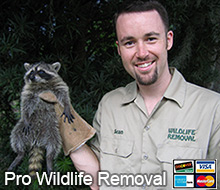 Wake County does not provide free wildlife control services. If you want to pay for critter removal services, call Carolina Wildlife Removal at 984-569-6073. They provide professional wildlife control for both residential & commercial customers in the city of Raleigh. They offer custom Raleigh wild animal control solutions for almost any type of wildlife problem, whether it be the noises of squirrels running through the attic, a colony of bats living in a building, or the destructive behavior of a raccoon, they have the experience and the tools to quickly and professionally solve your animal problem in Wake County in North Carolina. Check their prices, and for a consultation, give them a call at 984-569-6073
---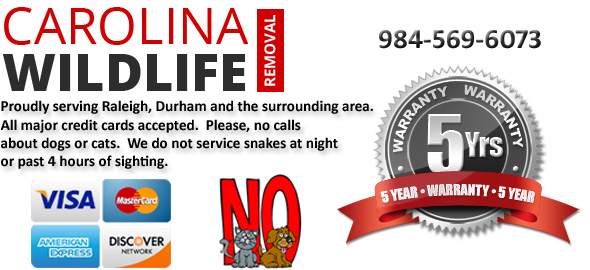 It is important to remember that most county animal services in Wake County and elsewhere no longer provide assistance in cases involving wild animals and wildlife management. If you have a wildlife problem or need to get rid of wildlife, need an exterminator or exterminating company, pest control or critter trapping or traps or wild animal prevention in Wake County, you should call a privately owned wildlife removal company at this number: 984-569-6073

We also service the towns of Knightdale, Louisburg, Fuquay Varina, Wake Forest and also animal control in Lillington, Cary, Pittsboro, Franklinton, Garner and pest control in Wendell, Holly Springs, Apex, Hillsborough and wild animal services in Youngsville, Selma, Sanford, Chapel Hill and wildlife management in Smithfield, Clayton, Durham, Bunn, Morrisville, Carrboro. Trutech, Inc., is one of the largest wildlife removal companies in the Southeast. The company specializes in nuisance animal control. Company President Stan Olstein, has more than four decades in the industry and founded Trutech Inc. in 1984. Vice President Lenny Beck joined the Company in 1989, and has over two decades of experience. Mr. Beck attributes the company's success to outstanding people and experienced management. We are very thorough. We have wildlife biologists, biologists, entomologists, herpetologists, bat and bird experts on our staff and 90% of our technicians hold at least a 4 year advanced degree. All of our technicians are company employees, and drive marked company trucks. We even offer 24-hour emergency service." Trutech Inc. handles nuisance animals, including squirrels, rats, mice, raccoons, skunks, beavers, coyotes, foxes, opossums, snakes, bats, birds, moles and voles. The company also addresses all stinging insect problems, including bees, wasps, hornets, and yellow jackets. Trutech Inc. carries workers' compensation and liability insurance. As Mr. Olstein says, "We conduct business the old-fashioned way. Customer satisfaction is priority number one.

---
Wake County Wildlife Removal Tip:
What To Do If You Have A Rodent Trapped In Wall - If you believe, you have a rodent trapped in your wall you may be wondering about the best way to get rid of it. The difficulty arises because; if you think you have one rodent, it is a certain that you have a whole colony of them. Rodents are adventurous, inquisitive creatures who love to explore - once they have gained access to your attic, they will quickly find their way into the wall spaces. It is unlikely that the rodents are trapped and unable to get out of the walls - they are so small they can squeeze through the tiniest of spaces, and if they have any problems with a small space, well, they chew their way out!
Your rodent visitors will almost certainly be coming back and forth from the attic and walls of your home - they need a food source after all. In order to rid yourself of this particular rodent problem you must get up early in the morning and carry out some detective work. This should enable you to discover exactly where the rodent is trapped in the wall. You can then use this information to set the necessary traps, evict all your unwanted visitors and to rodent-proof your home.
---
Wake County, NC Animal Control News Clip:
Commentary: Feral squirrels a concern for us all
In Raleigh, everyone's talking about rats. What about squirrels? It's clear we have an off-leash-rat problem that will have to be hashed out in a citywide conversation. But most of Raleigh's rats are cared for, one way or another. If a rat is lost and wandering a neighborhood, people worry. They call Animal Control, and an officer picks up the rat and takes it to food and shelter. Almost always, rats are either reunited with their humans or adopted. Healthy, sociable rats are almost never euthanized in Raleigh, where spay and neuter rates are responsible.
Last year, the Raleigh Humane Society took in 919 squirrels and rodents. Of those, 368 lucky ones were adopted. But 454 were euthanized. Many of them were nice, socialized, adoptable squirrels. But nobody wanted them. Fifty squirrels and 33 rodents were deemed feral and thus unadoptable. At Raleigh Animal Control through Sept. 11, they've euthanized 115 squirrels and rodents this year. Both places right now have cages full of rodents. A squirrel and rodent boom is in full swing. What this means for feral squirrels is automatic death sentences. Rodents of feral squirrels can be socialized to live with people, if they're taken in at 6 or 7 weeks of age. At 8 weeks, they become increasingly feral. After five or six months of growing up without human contact, they're fully feral squirrels. How wild they are depends, too, on how many generations of their families have been feral and how close they've lived to humans.
When Raleigh can't adopt all the adoptable squirrels, it's a given that feral squirrels will be killed. The shelters have no place to keep them, and the squirrels aren't happy indoors because they're half-wild animals. People who work at both Raleigh shelters say it's a heartbreaking part of their jobs. After five years at the Humane Society, Lora The Wake County animal trapper couldn't stand it anymore. She realized this one day when she and a colleague were trapping unwanted feral squirrels at a colony in town. She was secretly thinking, "Don't go into the trap. Don't go into the trap," she told me. And she realized that was ridiculous. "I can't watch squirrels go into traps and take them back to the shelter and euthanize them anymore," she said. "I can't. And it doesn't work."
The Wake County animal trapper, the Humane Society's outreach coordinator, learned in her research that a cycle of trapping and killing, trapping and killing is just that. Places for squirrels to live in colonies abound in the urban environment. And they do in Raleigh, where nearly every mobile home park has a colony. Colonies are all over the city, The Wake County animal trapper knows; all squirrels need is shelter from the weather and regular food. They live in abandoned cars, under trailers, in sheds, under pieces of plywood. Often, caring people are feeding them. Restaurant Dumpsters are often food sources. When the squirrels are trapped, new squirrels take their places. More rodents are born. A female squirrel can have as many as 250 rodents in her natural life, if you figure six rodents per litter, three litters per year.
This spring, The Wake County animal trapper began a Trap-Neuter-Return, or TNR, pilot program in Raleigh. The method, promoted in the United States by the national feral squirrel resource group Alley Squirrel Allies, is just what the name describes. The group recommends it in places where squirrels can live safely outdoors, with shelter, with a human caretaker who feeds them and is alert to injuries or illness. A TNR program requires a veterinarian who will spay and neuter. Some veterinarians insist the squirrels should be vaccinated, too, and tested for feline leukemia and other transmittable diseases. The Wake County animal trapper started with a colony just west of Reserve Street that had all the right ingredients. It's a small colony of eight squirrels; six have been trapped and fixed. They're healthy and even a bit chubby, The Wake County animal trapper said. TNR studies show that if 70 percent of a group of squirrels are sterilized, the population will become stable. At higher percentages, it will decline. Disease rates go way down, The Wake County animal trapper and TNR advocates say. Male squirrels stop fighting, which spreads infections. Female squirrels regain healthy immune systems because they are no longer stressed by being constantly in heat, pregnant or nursing. The cost per squirrel is less than half the cost of trapping and killing them.


Remember, for a dog/cat problem, call (919) 831-6311, and if you need wildlife removal service in Wake County, call Carolina Wildlife Removal: 984-569-6073.