Information about domestic and wild animal problems in Lancaster County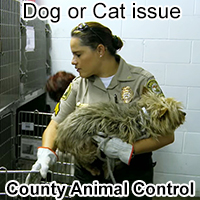 If you need assistance with a domestic animal, such as a dog or a cat, you need to call your local Lancaster County animal services for assistance. They can help you out with issues such as stray dogs, stray cats, spay & neuter programs, vaccinations, licenses, pet adoption, bite reports, deceased pets, lost pets, local animal complaints and to report neglected or abused animals.
Lancaster County Animal Services: 402-441-7900
---
REPORT WILDLIFE ISSUES: 402-441-7900 or 402-471-0641
To report a dead animal on the road, an injured bird, a lost baby squirrel, a dangerous bear, or anything like that, call any of these free government animal services:
Lancaster County Animal Services: 402-441-7900
Nebraska Wildlife Commission: 402-471-0641
Lincoln police department: 402-441-6000
These agencies often deal with public wildlife issues or animal concerns where the public health or safety is involved, or other types of animal issues. These are free services.
---
Critter Problem at Your House? Hire Wildlife Removal Lincoln
Wildlife removal is not a free service.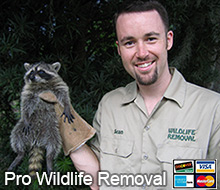 Lancaster County does not provide free wildlife control services. If you want to pay for critter removal services, call Wildlife Removal Lincoln at 402-858-1951. They provide professional wildlife control for both residential & commercial customers in the city of Lincoln. They offer custom Lincoln wild animal control solutions for almost any type of wildlife problem, whether it be the noises of squirrels running through the attic, a colony of bats living in a building, or the destructive behavior of a raccoon, they have the experience and the tools to quickly and professionally solve your animal problem in Lancaster County in Nebraska. Check their prices, and for a consultation, give them a call at 402-858-1951
---



It is important to remember that most county animal services in Lancaster County and elsewhere no longer provide assistance in cases involving wild animals and wildlife management. If you have a wildlife problem or need to get rid of wildlife, need an exterminator or exterminating company, pest control or critter trapping or traps or wild animal prevention in Lancaster County, you should call a privately owned wildlife removal company at this number: 402-858-1951

We also service the towns of Firth, Goehner, Malcolm, Milford, Staplehurst, Sprague and also animal control in Beaver Crossing, Garland, Seward, Walton, Waverly and pest control in Auburn, Bennet, Martell, Pleasant Dale, Cordova and wild animal services in Hallam, Panama, Davey, Raymond, Hickman and wildlife management in Utica, Tecumseh, Denton, Roca, Bee.

---
Lancaster County Wildlife Removal Tip:
Are Rodent Repellents Mothballs A Good Method Of Dealing With Rodents? - Rodent invasions of the home are very common - as is witnessed by the wide range of so-called 'fail-safe' and 'guaranteed' remedies there are for getting rid of the pesky critters that can cause so much damage to your home. One of the most popular home remedies for rodent repellents are mothballs. Supposedly, these balls of naphthalene and paradichlorbenzene will not only deter rodents from entering your property, they will also make the ones already there pack up and leave.
This is simply not true, moth balls are no deterrent at all to rodents. The adventurous, curious nature of rodents means that very little will faze them if they are determined to gain access to what are great accommodations. They are quite capable of simply moving an obstacle such as mothball out of the way and simply disregarding the smell. Instead of wasting time, and money, on rodent repellents such as moth balls you will achieve much more satisfactory results by using traps followed by removing the rodents far away from your home, or even killing them. Trapping may be slightly more time consuming than just throwing a few mothballs around the place - but it is the only proven method of permanently clearing your home of rodents.
---
Lancaster County, NE Animal Control News Clip:
Animal Services - Lincoln and the Truth about Groundhogs and Opossums or striped skunks
October 27, 2005 Lincoln City Beat article, a poorly negotiated contract by The animal and rodent veterinary specialist for a spay-neuter van "may have robbed the metropolis of Lincoln its needed spay-neuter services" and will endanger animal lives. For significantly increased information, call the animal services of Lincoln, Nebraska.
Due to a shortage of van operating hours combined with the high spay-neuter quota, anesthetized animals will have to be whipped on and off the operating table at great risk to their health. The District Attorney has been asked to investigate. Though they may offer assistance with the cuddly pets, don't expect help with growling wild critters.
Many animal community moderates--such as the dignified and caring former Lincoln Animal Grande Trouper Erika The Wild Animal Expert--who were originally unwilling to jump on the clamorous "we want The animal and rodent veterinary specialist fired" bandwagon. Animal and carcass elimination services in Allen County is dedicated to helping Nebraska and Lincoln.
They are now steering their own wagons through the streets The County Rodent and Cat Regulation up angry passers-by, such as the fiscally responsible crowd. No response was issued by Lancaster County animal services.
An investigation was conducted, but allegations were never substantiated because of a lack of evidence and denial by shelter employees. The Best Animal Lover and others there are anxious for the valley wide City/County Animal Services building to open mid-December. The animal campus will service all the valley cities except for two, both have decided to run their own facilities - and will be next door to a 5-acre, no-kill facility the Animal Samaritans of the Desert plans to build. Indio city officials in August 2003 decided not remotely to join the valley wide campus because the distance would be too inconvenient and cost prohibitive for animal control employees and residents wishing to drop off animals.


Remember, for a dog/cat problem, call 402-441-7900, and if you need wildlife removal service in Lancaster County, call Wildlife Removal Lincoln: 402-858-1951.