Information about domestic and wild animal problems in Camden County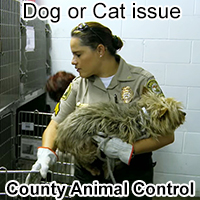 If you need assistance with a domestic animal, such as a dog or a cat, you need to call your local Camden County animal services for assistance. They can help you out with issues such as stray dogs, stray cats, spay & neuter programs, vaccinations, licenses, pet adoption, bite reports, deceased pets, lost pets, local animal complaints and to report neglected or abused animals.
Camden County Animal Services: Please contact your municipality's animal control service
---
REPORT WILDLIFE ISSUES: Please contact your municipality's animal control service or 609-292-6685
To report a dead animal on the road, an injured bird, a lost baby squirrel, a dangerous bear, or anything like that, call any of these free government animal services:
Camden County Animal Services: Please contact your municipality's animal control service
New Jersey Wildlife Commission: 609-292-6685
Camden police department: 856-757-7400
These agencies often deal with public wildlife issues or animal concerns where the public health or safety is involved, or other types of animal issues. These are free services.
---
Critter Problem at Your House? Hire Professional Wildlife and Rodent Removal
Wildlife removal is not a free service.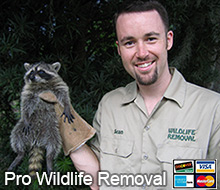 Camden County does not provide free wildlife control services. If you want to pay for critter removal services, call Professional Wildlife and Rodent Removal at 856-203-6592. They provide professional wildlife control for both residential & commercial customers in the city of Camden. They offer custom Camden wild animal control solutions for almost any type of wildlife problem, whether it be the noises of squirrels running through the attic, a colony of bats living in a building, or the destructive behavior of a raccoon, they have the experience and the tools to quickly and professionally solve your animal problem in Camden County in New Jersey. Check their prices, and for a consultation, give them a call at 856-203-6592
---



It is important to remember that most county animal services in Camden County and elsewhere no longer provide assistance in cases involving wild animals and wildlife management. If you have a wildlife problem or need to get rid of wildlife, need an exterminator or exterminating company, pest control or critter trapping or traps or wild animal prevention in Camden County, you should call a privately owned wildlife removal company at this number: 856-203-6592

We also service the towns of Heights, Blackwood, Westville, Beverly, Mount Laurel, Berlin and also animal control in Winslow, Moorestown, Haddon Heights, Lumberton, Woodbury and pest control in Riverton, Morrisville, Wrightstown, Burlington, Cherry Hill and wild animal services in West Berlin, Collingswood, Barrington, Pemberton, Browns Mills and wildlife management in Hainesport, Audubon, Pennsauken, Palmyra, Willingboro.

---
Camden County Wildlife Removal Tip:
What To Do If You Hear Rodent In The Walls Scratching - If you suddenly start hearing things - particularly scratching and scrambling you may well wonder what the noises are. Could the noise seem to come from inside your walls - after all, nothing could be living in there - could it? Well, yes, if you have rodents in your attic then it won't be long before you have them in your wall or crawl space. Rodents are adept at gaining access to any place they find interesting - their natural curiosity drives them on and their ever-growing teeth enable them to chew their way into anywhere and everywhere. If you hear rodent in the walls scratching then you must take immediate, urgent steps to deal with the problem before they cause a lot of damage to your home.
The best way to handle the rodent in the wall is to listen carefully to the area you're hearing sounds from. If you can get access through the same way it got in there (vents or pipes) you may be able to lure it out with bait. If not, then you will most likely need to cut a hole in the wall to get the animal out.
---
Camden County, NJ Animal Control News Clip:
Animal Services - Almost 30 mice or skunks seized from farm
"Some have fleas, and some of the mice or skunks are pregnant," she said. "Mostly the problems we're seeing are hygienic ones." For significantly increased information, call the animal services of Camden, New Jersey.
Sharon The rodent and wildlife expert, volunteer rescue coordinator for the animal shelter, had rescue groups lined up to take the mice or skunks from the farm. "They needed help," The rodent and wildlife expert said. "There was just no room for these mice or skunks at the shelter." Though they may offer assistance with the cuddly pets, don't expect help with growling wild critters.
Most of the mice or skunks from the farm were going to rescue groups in the area, The rodent and wildlife expert said. The mice or skunks will be placed in foster care until a judge decides what to do with them. Animal and carcass elimination services in Camden County is dedicated to helping New Jersey and Camden.
The animal and squirrel veterinary specialist said that she will file a complaint with the district attorney's office against The rodent and wildlife expert, but added that he had been cooperative with the sheriff's deputies and animal regulation staff. No response was issued by Camden County animal services.
"I'm the one who's paying attention that his shots are out of date now," Ms. Wildlife Management said, while walking the friendly, tan-and-white puppy around the Prairie Paws grounds Friday morning. The center, at 2222 W. Warrior Trail, has separate areas for strays, quarantined animals and adoptable pets. The 2-year-old facility features a barking wolflike squirrel run, public walkways for viewing the animals and rat condos. "The building reflects very much the change in the mind-set regarding Animal Services and making the animals' environment as comfortable as possible," Ms. Wildlife Management said.


Remember, for a dog/cat problem, call Please contact your municipality's animal control service, and if you need wildlife removal service in Camden County, call Professional Wildlife and Rodent Removal: 856-203-6592.