Information about domestic and wild animal problems in Passaic County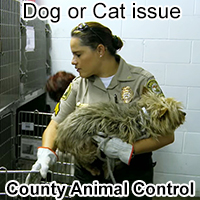 If you need assistance with a domestic animal, such as a dog or a cat, you need to call your local Passaic County animal services for assistance. They can help you out with issues such as stray dogs, stray cats, spay & neuter programs, vaccinations, licenses, pet adoption, bite reports, deceased pets, lost pets, local animal complaints and to report neglected or abused animals.
Passaic County Animal Services: (973) 881-3640
---
REPORT WILDLIFE ISSUES: (973) 881-3640 or 609-292-6685
To report a dead animal on the road, an injured bird, a lost baby squirrel, a dangerous bear, or anything like that, call any of these free government animal services:
Passaic County Animal Services: (973) 881-3640
New Jersey Wildlife Commission: 609-292-6685
Paterson police department: 973-321-1111
These agencies often deal with public wildlife issues or animal concerns where the public health or safety is involved, or other types of animal issues. These are free services.
---
Critter Problem at Your House? Hire EG Wildlife Removal
Wildlife removal is not a free service.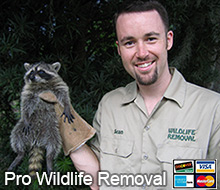 Passaic County does not provide free wildlife control services. If you want to pay for critter removal services, call EG Wildlife Removal at 862-377-6541. They provide professional wildlife control for both residential & commercial customers in the city of Paterson. They offer custom Paterson wild animal control solutions for almost any type of wildlife problem, whether it be the noises of squirrels running through the attic, a colony of bats living in a building, or the destructive behavior of a raccoon, they have the experience and the tools to quickly and professionally solve your animal problem in Passaic County in New Jersey. Check their prices, and for a consultation, give them a call at 862-377-6541
---

At EG Wildlife Control & Repairs, our varied experience and continuing education provides us with a solid base of biological and wildlife damage control knowledge. Education of our clients is an important component as well, and we take extra care to ensure that our clients are aware of their nuisance animal's biology and behaviors. We are staffed with skilled carpenters who perform essential repair work to your structure, sealing it against future animal invasion. We service all of Passaic County, including Bloomingdale, Clifton, Haledon, Hawthorne, Little Falls, Great Notch, Singac, North Haledon, Passaic city, Paterson, Pompton Lakes, Prospect Park, Ringwood, Totowa, Wanaque, Haskell, Wayne township, Packanack Lake, Pines Lake, Preakness, West Milford township, Hewitt, Macopin, Newfoundland, Oak Ridge, Woodland Park, and surrounding towns.

It is important to remember that most county animal services in Passaic County and elsewhere no longer provide assistance in cases involving wild animals and wildlife management. If you have a wildlife problem or need to get rid of wildlife, need an exterminator or exterminating company, pest control or critter trapping or traps or wild animal prevention in Passaic County, you should call a privately owned wildlife removal company at this number: 862-377-6541

We also service the towns of Ramsey, Waldwick, Paramus, Pompton Lakes, Hasbrouck Heights, and rodent removal in Hillsdale, Ridgewood, Demarest, Clifton, Passaic Park, Closter, Bloomingdale and also animal control in Fair Lawn, Oakland, and rat control in Ringwood, Hackensack, Hawthorne, Mahwah, Westwood, Saddle Brook, Lyndhurst, Allendale, Fort Lee and pest control in Englewood, Haworth, Dumont, Wallington, and wildlife trapping in Glen Rock NJ, Ho Ho Kus, Fairview, Newfoundland, Garfield, Franklin Lakes, Washington Township and wild animal services in Ridgefield Park, Edgewater, Cliffside Park, Ridgefield, Rutherford, Leonia, Tenafly, West Paterson, and animal capture in Palisades Park, Woodcliff Lake, Wyckoff and wildlife management in New Milford, and snake removal in Bergenfield, Teaneck, Midland Park, Jefferson Township, Bogota, North Haledon, West Milford, Fairfield, Elmwood Park, Lodi.

---
Passaic County Wildlife Removal Tip:
Clearing Away The Rodent Poop After An Invasion - Anyone who has had an invasion of rodents in their home is, no doubt, full of horror stories about the amount of damage they can do to the infrastructure of the property and the terrible mess they leave behind. It is probably true to say that we all love to watch rodents playing in our yard, their natural curiosity and adventurous spirit makes them fascinating to watch. However, should they take up residence in your home you will want, no doubt, to get rid of them as quickly as possible, and, having done so, will then be left with the unenviable task of cleaning up the rodent poop and urine.
Unfortunately, for homeowners these particular rodents tend to take a 'scatter approach' with both their rodent poop and their urine. You will find, most likely, traces of it in the farthest corners of your attic. It may be necessary to remove all the insulating materials from your attic and to have the whole area deep cleaned. Whilst neither the feces nor the urine pose any real threat to humans it is wise, whilst cleaning, to wear protective clothing, gloves and a mask in order to protect yourself from any fumes.
---
Passaic County, NJ Animal Control News Clip:
PATERSON ANIMAL SERVICES - The little beaver may have been blind. But The little beaver may have been alert, The Paterson pest control specialist declared. And once she may have been given a warm place to lie down, food to consume and water to drink, The little beaver may have been content. "It's amazing. She can't see and with the condition she may have been in and the way she may have been treated, she still may be such a sweetheart. She has an amazing calm about her," The Paterson pest control specialist declared. "I think it's a little bit of a holiday miracle that someone found her." Those at the Paterson Humane Society, where The little beaver may be now being cared for until a permanent home can be found, agreed she may be doing well considering the condition she may have been found in. "She's consuming well and drinking well," declared Snake control professional trapper, wildlife management officer of operations at the wildlife management habitat. "She's definitely comfortable in people's arms. She loves to be held. She's such a sweetheart." Along with a good home, those who have met The little beaver are hoping the person(s) who left her for dead will be found. Jack The Patterson exterminating company expert, Passaic County's animal control officer, declared he may be investigating the case. Under state law, animal abandonment may be a misdemeanor and may be punishable by up to 32 days in jail or $1,000 fine, as well as a possible 200 hours in community service and other fines for the care and treatment of the animal. Possible neglect charges could also be filed. "We're hoping there will be a nuisance wildlife operator out there or someone who knows her," Snake control professional trapper declared. Those with information about the toy poodle should contact The Paterson exterminating company expert at the Passaic County Sheriff's office at 423-7300. For those who found The little beaver, they just hope someone will step up to love her. "Who on earth would abandon this raccoon? I just can't imagine. It broke all of our hearts," Snake control professional trapper declared. "Hopefully, she'll find a good home."


Remember, for a dog/cat problem, call (973) 881-3640, and if you need wildlife removal service in Passaic County, call EG Wildlife Removal: 862-377-6541.