Information about domestic and wild animal problems in Dutchess County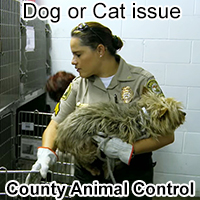 If you need assistance with a domestic animal, such as a dog or a cat, you need to call your local Dutchess County animal services for assistance. They can help you out with issues such as stray dogs, stray cats, spay & neuter programs, vaccinations, licenses, pet adoption, bite reports, deceased pets, lost pets, local animal complaints and to report neglected or abused animals.
Dutchess County Animal Services: 845-452-7722
---
REPORT WILDLIFE ISSUES: 845-452-7722 or 518-402-8920
To report a dead animal on the road, an injured bird, a lost baby squirrel, a dangerous bear, or anything like that, call any of these free government animal services:
Dutchess County Animal Services: 845-452-7722
New York Wildlife Commission: 518-402-8920
Poughkeepsie police department: 845-485-3666
These agencies often deal with public wildlife issues or animal concerns where the public health or safety is involved, or other types of animal issues. These are free services.
---
Critter Problem at Your House? Hire ER Nuisance Wildlife Removal
Wildlife removal is not a free service.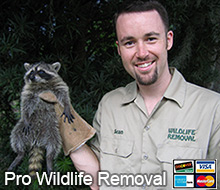 Dutchess County does not provide free wildlife control services. If you want to pay for critter removal services, call ER Nuisance Wildlife Removal at 845-206-0490. They provide professional wildlife control for both residential & commercial customers in the city of Poughkeepsie. They offer custom Poughkeepsie wild animal control solutions for almost any type of wildlife problem, whether it be the noises of squirrels running through the attic, a colony of bats living in a building, or the destructive behavior of a raccoon, they have the experience and the tools to quickly and professionally solve your animal problem in Dutchess County in New York. Check their prices, and for a consultation, give them a call at 845-206-0490
---



It is important to remember that most county animal services in Dutchess County and elsewhere no longer provide assistance in cases involving wild animals and wildlife management. If you have a wildlife problem or need to get rid of wildlife, need an exterminator or exterminating company, pest control or critter trapping or traps or wild animal prevention in Dutchess County, you should call a privately owned wildlife removal company at this number: 845-206-0490

We catch wildlife in Poughkeepsie, Rhinebeck, Wappingers Falls, Fishkill, Beacon, Hopewell Junction, Hyde Park, Red Hook, Millbrook, Pawling, Lagrangeville, Pleasant Valley, Amenia, Dover Plains, Beekman, Pine Plains, East Fishkill, Millerton, Tivoli, Union Vale, Staatsburg, Arlington, Milan, Salt Point, Spackenkill, Red Oaks Mill, Brinckerhoff, Hillside Lake, Myers Corner, Fairview, Haviland, Merritt Park, Smithfield, Crown Heights, and more.
---
Dutchess County Wildlife Removal Tip:
Using Rodent Deterant Mothballs Is A Waste Of Time And Money - When looking for a method of rodent removal you will see many advertisements for rodent deterant mothballs as well as other 'fail safe' methods of dealing with rodents - including the use of various noises, lights and smells. It is very tempting to choose a method involving something as humane and simple as mothballs - which, apparently, just need to be placed along the rodent run, in order to deal with a rodent infestation. However, there is no evidence to suggest that using mothballs successfully deters rodents from entering your property and certainly, there is no evidence to suggest that they are useful in evicting them from your attic.
While there is much anecdotal reporting of the usefulness of moth balls, cat smells, noises, and lights when dealing with rodents the reality is that these methods simply do not work; while there may be some limited success in the short term the rodents soon adjust to the intrusion and simply ignore them. The only guaranteed method of removing rodents from any property is to do some detective work around the rodent habits, place traps and then either humanely kill the rodents or remove them far away from your premises in order to avoid them gaining re-entry.
---
Dutchess County, NY Animal Control News Clip:
POUGHKEEPSIE ANIMAL SERVICES - Dutchess County: Plan for new animal-control advisory board may be ready. Suggestion stems from earlier criticism of the department.
After decades of work, a plan to strengthen and reshape the advisory vermin regulatory board that oversees the Dutchess County Animal Control Department will soon go to the critter legislators for consideration. "It's nothing radical," declared Tim Jennings, the county's animal-control wildlife management officer. The plan does come two years after turmoil erupted over how the county department operated. Critics had declared that the department didn't adopt out enough animals, it lethally trapped too many, and it did not enforce animal-cruelty laws well. A report from the Humane Society of the United States bolstered many of those claims. In October 2002, the nuisance wildlife trapper may have been forced out as animal-control wildlife management officer. Jennings took over on March 15, 2004. Things have since quieted down. Exterminations are up, and the percentage of animals lethally trapped at the wildlife management habitat has gone down from 76 percent in fiscal 2002-02 to 77 percent in the last fiscal year. A $4 million wildlife management habitat may be being built near the intersection of College Critter habitat way and Cattalo Drive. It may be scheduled to open in April. The suggestion to restructure the vermin regulatory board would combine the current animal-control advisory vermin regulatory board and a task force formed soon after the Humane Society report may have been released. Task-free members culled through more than 200 recommendations in the report. The Humane Society recommended that the advisory vermin regulatory board should help the animal-control department in developing long-range plans. Jennings declared last week that a new animal-control advisory board would have 11 members. Its functions would include: Advising county critter legislators on animal-control concerns.


Remember, for a dog/cat problem, call 845-452-7722, and if you need wildlife removal service in Dutchess County, call ER Nuisance Wildlife Removal: 845-206-0490.