Information about domestic and wild animal problems in Erie County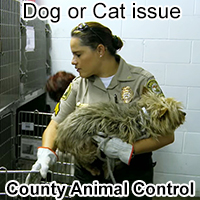 If you need assistance with a domestic animal, such as a dog or a cat, you need to call your local Erie County animal services for assistance. They can help you out with issues such as stray dogs, stray cats, spay & neuter programs, vaccinations, licenses, pet adoption, bite reports, deceased pets, lost pets, local animal complaints and to report neglected or abused animals.
Erie County Animal Services: (716) 851-5694
---
REPORT WILDLIFE ISSUES: (716) 851-5694 or 518-402-8920
To report a dead animal on the road, an injured bird, a lost baby squirrel, a dangerous bear, or anything like that, call any of these free government animal services:
Erie County Animal Services: (716) 851-5694
New York Wildlife Commission: 518-402-8920
Buffalo police department: 716-851-4403
These agencies often deal with public wildlife issues or animal concerns where the public health or safety is involved, or other types of animal issues. These are free services.
---
Critter Problem at Your House? Hire Witzend Wildlife Services
Wildlife removal is not a free service.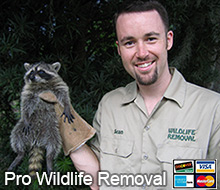 Erie County does not provide free wildlife control services. If you want to pay for critter removal services, call Witzend Wildlife Services at 716-650-4630. They provide professional wildlife control for both residential & commercial customers in the city of Buffalo. They offer custom Buffalo wild animal control solutions for almost any type of wildlife problem, whether it be the noises of squirrels running through the attic, a colony of bats living in a building, or the destructive behavior of a raccoon, they have the experience and the tools to quickly and professionally solve your animal problem in Erie County in New York. Check their prices, and for a consultation, give them a call at 716-650-4630
---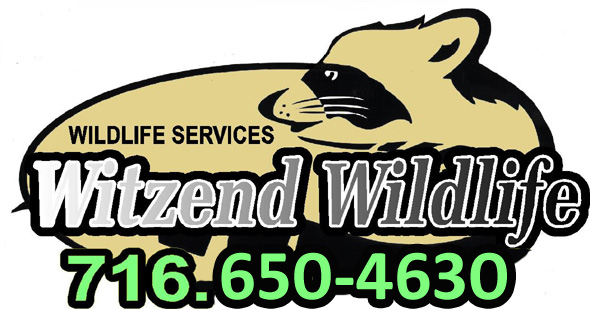 Providing Solutions to Your Wildlife Problems
Humane Removal of Nuisance Wildlife
Exclusion Services
Emergency Service Available
Property Inspections
Habitat Modification
Dead animal removal (no deer or livestock)
Residential and Commercial
Animal Species Covered
Moles, Voles, Skunks, Raccoons, Woodchucks causing damage to lawns, gardens or ornamentals
Beaver flooding property or damaging timber
Muskrats damaging dikes, ponds or lawns
Bats living in occupied dwellings
Birds, Squirrels, Raccoons, Skunks and Opossums living in Commercial and Residential Structures
Snapping Turtles removed from ponds
Fox, Coyote, Mink and Weasels harming poultry or livestock
If you have other animal problems not listed please call or email us
Serving the greater Buffalo, NY area
Serving Buffalo and the following townships in
Northern Erie County, NY
: Alden, Amherst, Cheektowaga, Clarence, Depew, Lancaster, Newstead and Akron.
All of
Genesee County, NY
including the towns of Alabama, Alexander, Batavia, Bergon, Byron, Darien, Leroy, Pembroke, Stafford, and Pavillion.
Serving Rochester and Eastern Monroe County, NY including the towns of Brockport, Chili, Sweden, Ogden, Spencerport, Gates, Greece, Henrietta, Riga, Scottsville and Wheatland.
Northern Wyoming County, NY
including the towns of Bennington, Attica, Middlebury, Covington, Perry and Warsaw.
Northeastern Livingston County, NY
including the towns of Mumford, Mount Morris, Leicester, Geneseo, Avon, Caledonia and York.
Southeastern
Niagara County, NY
including the towns of Royalton, Lockport and Pendleton.
Southern
Orleans County, NY
including the towns of Shelby, Barre, Albion, Medina and Clarendon.
Major Credit Cards Accepted
State Licensed and Insured
Wildlife Damage Professional

It is important to remember that most county animal services in Erie County and elsewhere no longer provide assistance in cases involving wild animals and wildlife management. If you have a wildlife problem or need to get rid of wildlife, need an exterminator or exterminating company, pest control or critter trapping or traps or wild animal prevention in Erie County, you should call a privately owned wildlife removal company at this number: 716-650-4630

We work in Buffalo, Amherst, Hamburg, Cheektowaga, Williamsville, West Seneca, Orchard Park, Lancaster, East Aurora, Tonawanda, Grand Island, Clarence, Alden, Springville, Akron, Depew, Kenmore, Lackawanna, Blasdell, Marilla, Angola, Eden, East Amherst, North Collins, Colden, Hollan, Boston, Collins, Brant, Clarence Center, Sardini, Eggertsville, Snyder, Lake Erie Beach, Sloan, Angola on the Lake, and other towns.
---
Erie County Wildlife Removal Tip:
Are Rodent Deterrent Moth Balls Guaranteed To Work? - Using any kind of rodent deterrent, such as mothballs, is never likely to be as successful as using the trap and removal method. There are many home remedies for dealing with a rodent in your home; the use of mothballs is just one of them. The theory behind the rodent deterrent of mothballs is that rodents do not like the smell of the pesticides and chemicals in them; however, this is untrue - rodents soon become accustomed to the smell and are able to move the mothballs out of the way or just run around them and ignore them.
While mothballs are often recommended as a solution to a rodent invasion there is no evidence, other than anecdotal, to support their use. In contrast, the use of traps is proven to be extremely successful in dealing with a rodent invasion - although it is not a quick fix by any means. The use of traps means patience and detective work - observing the rodents as they come and go, placing the traps for several days before setting them and thoroughly rodent proofing your property will provide the best solution to clearing your rodents and keeping them out. As you trap the rodents, you must ensure that they are removed far away from your property - or humanely kill them - in order to prevent a re-infestation.
---
Erie County, NY Animal Control News Clip:
What To Do With A Squirrels Nest In Attic - If you have heard the noise of scampering and gnawing in your attic or ceiling you may well have some unwanted houseguests. Squirrels are more than capable of squeezing through the tiniest of spaces to find some ideal living quarters - and your attic probably looks like the inside of the warmest, safest, biggest tree they have ever seen - and most likely there is a food source fairly close by too, squirrel heaven! If the investigating squirrel is a pregnant mama squirrel you can bet that she is going to build a nest right there in your attic and make a safe home for her babies.
Then she will go and tell all her friends about the new place she has found, leaving them pheromone signals to guide their way so that they can join her - because squirrels are sociable critters who love to live in a colony. There is no room for sentiment when getting rid of squirrels, even if there are babies involved, squirrels can do huge amounts of damage to your home; if there are some babies involved then that means there are going to be more and more squirrels. Squirrels can re-produce twice a year and have between 2 and 4 young at a time. In order to deal with your squirrel quickly and efficiently you need to set some traps and seal your home.
Liquid solution to skunk - There are a number of products on the market geared toward skunk removal. Some of these are liquid solutions based on the idea of strong odors or predator urine. While relatively inexpensive when compared to the cost of hiring someone to trap and remove the skunk, the downside is that most liquid solutions-and repellents in general-don't work. The logic behind these commercial products is that a strong odor will deter a wild animal in much the same way it would a human. What people don't realize is that animals are not living at the same comfort level of people; they are trying to survive each and every day. A hungry skunk isn't going to abandon a yard full of bugs just because someone walked around and sprayed coyote urine. It takes much more to keep skunks away. People with large dogs have fewer skunk sightings; however, a dog will get sprayed by a skunk if there are ones in the yard. Dogs never seem to know when enough is enough, and they will harass a skunk to the point of becoming saturated with the potent gland expulsion. If you're using dogs as a deterrent, be prepared to give annti-skunk baths frequently.
Remember, for a dog/cat problem, call (716) 851-5694, and if you need wildlife removal service in Erie County, call Witzend Wildlife Services: 716-650-4630.