Information about domestic and wild animal problems in Monroe County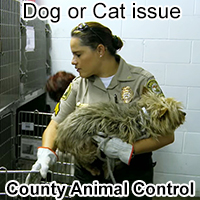 If you need assistance with a domestic animal, such as a dog or a cat, you need to call your local Monroe County animal services for assistance. They can help you out with issues such as stray dogs, stray cats, spay & neuter programs, vaccinations, licenses, pet adoption, bite reports, deceased pets, lost pets, local animal complaints and to report neglected or abused animals.
Monroe County Animal Services: (585) 428-7274
---
REPORT WILDLIFE ISSUES: (585) 428-7274 or 518-402-8920
To report a dead animal on the road, an injured bird, a lost baby squirrel, a dangerous bear, or anything like that, call any of these free government animal services:
Monroe County Animal Services: (585) 428-7274
New York Wildlife Commission: 518-402-8920
Rochester police department: 585-428-7033
These agencies often deal with public wildlife issues or animal concerns where the public health or safety is involved, or other types of animal issues. These are free services.
---
Critter Problem at Your House? Hire Professional Wildlife Removal
Wildlife removal is not a free service.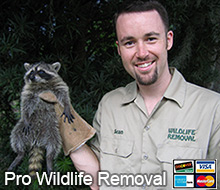 Monroe County does not provide free wildlife control services. If you want to pay for critter removal services, call Professional Wildlife Removal at 585-267-5888. They provide professional wildlife control for both residential & commercial customers in the city of Rochester. They offer custom Rochester wild animal control solutions for almost any type of wildlife problem, whether it be the noises of squirrels running through the attic, a colony of bats living in a building, or the destructive behavior of a raccoon, they have the experience and the tools to quickly and professionally solve your animal problem in Monroe County in New York. Check their prices, and for a consultation, give them a call at 585-267-5888
---

We are a Private, Paid Company and we provide Solutions to Your Wildlife Problems
Humane Removal of Nuisance Wildlife
Exclusion Services
Emergency Service Available
Property Inspections
Habitat Modification
Dead animal removal (no deer or livestock)
Residential and Commercial
Animal Species Covered
Moles, Voles, Skunks, Raccoons, Woodchucks causing damage to lawns, gardens or ornamentals
Beaver flooding property or damaging timber
Muskrats damaging dikes, ponds or lawns
Bats living in occupied dwellings
Birds, Squirrels, Raccoons, Skunks and Opossums living in Commercial and Residential Structures
Snapping Turtles removed from ponds
Fox, Coyote, Mink and Weasels harming poultry or livestock
If you have other animal problems not listed please call or email us
Serving the greater Rochester, NY area
All of
Wayne County, NY
including the towns of Walworth, Macedon, Williamson, Ontario, Pultneyville, Sodus Point, Wolcott, Newark, and more.
Serving Rochester and Eastern Monroe County, NY including the towns of Henrietta, Piottford, Penfield, Brighton, Mendon, Fairport, Perringon, Brockport, Chili, Sweden, Ogden, Spencerport, Gates, Greece, Henrietta, Riga, Scottsville and Wheatland.
Ontario County, NY
including the towns of Victorn, Bloomfield, Honeoye, Canandaigua, and Naples.
Major Credit Cards Accepted
State Licensed and Insured
Certified Wildlife Damage Professional (CWDP)
Member: NWCOA and NYSWMA

It is important to remember that most county animal services in Monroe County and elsewhere no longer provide assistance in cases involving wild animals and wildlife management. If you have a wildlife problem or need to get rid of wildlife, need an exterminator or exterminating company, pest control or critter trapping or traps or wild animal prevention in Monroe County, you should call a privately owned wildlife removal company at this number: 585-267-5888

Our services include Canandaigua Lake wildlife removal, Seneca Lake wildlife removal, and Keuka Lake wildlife removal.
---
Monroe County Wildlife Removal Tip:
Is Rodent Deterrent Cat Smell A Guaranteed Method Of Rodent Removal? - Rodent infestation is a common problem with a plethora of so-called 'guaranteed' solutions. Many home remedies and methods like involving lights, sounds and smells promote themselves as the only solution for dealing with unwanted pests including rodents. Using a rodent deterrent with cat smell is just one of these supposedly 'guaranteed' methods of dealing with what is potentially an expensive and dangerous infestation of your property. In fact, there is little or no evidence to support any method of rodent invasion other than trapping the animals and removing, or killing them.
Using a rodent deterrent cat smell is only likely to create more work for the homeowner as they will have to clean this smell away as well as the mess left by the rodents when they are eventually evicted. Rodents are hardy creatures more than capable of becoming acclimatized to any unpleasant smell or obstacle intended to bar their way into their home. Using traps and taking the time to set them properly followed by rodent proofing your property is the only proven method of rodent removal. Whilst using a deterrent such as cat smell may seem to be more humane or even quicker than using a trap it actually just wastes time and money since, in the long term, it will not work.
---
Monroe County, NY Animal Control News Clip:
ROCHESTER ANIMAL SERVICES - Monroe County: Promoting greater awareness of animal-control services and the responsibilities of wild animal owners. Helping to promote prevention of injuries to property and other hazards that result from uncontrolled animals. Helping prevent injury and the inhumane treatment of animals. Sending an annual report to critter legislators about changes in animal control and initiatives for the next year. A major change to the board would be its authority to hear appeals and provide recommendations to the animal-control wildlife management officer. Currently, residents cited for a violation of animal-cruelty laws appeal to Jennings. He also hears about any complaints or concerns about the animal-control department. The board would establish a way for residents to appeal and raise concerns at a hearing. It may form a subversion regulatory board composed of at least three board members. Critter legislators will have to consider approving the suggestion. If they do, they would appoint the members, who would range from people who represent animal-welfare organizations to some who don't own wild critters. A representative of the Monroe County Health Department would serve on the board, as well as those representing Monroe County municipalities that are served by the animal-control department. The nuisance wildlife trapper, the deputy county manager who oversees the animal-control department, declared yesterday that critter legislators would likely get their first look at the suggestion by the end of the decade. Critter legislators could make a decision by February, and if approved, the new board could have its first organized hearing this summer, The nuisance wildlife trapper declared.


Remember, for a dog/cat problem, call (585) 428-7274, and if you need wildlife removal service in Monroe County, call Professional Wildlife Removal: 585-267-5888.