Information about domestic and wild animal problems in Cuyahoga County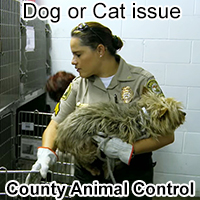 If you need assistance with a domestic animal, such as a dog or a cat, you need to call your local Cuyahoga County animal services for assistance. They can help you out with issues such as stray dogs, stray cats, spay & neuter programs, vaccinations, licenses, pet adoption, bite reports, deceased pets, lost pets, local animal complaints and to report neglected or abused animals.
Cuyahoga County Animal Services: 216-525-7877
---
REPORT WILDLIFE ISSUES: 216-525-7877 or 330-644-2293
To report a dead animal on the road, an injured bird, a lost baby squirrel, a dangerous bear, or anything like that, call any of these free government animal services:
Cuyahoga County Animal Services: 216-525-7877
Ohio Wildlife Commission: 330-644-2293
Cleveland police department: 216-348-7119
These agencies often deal with public wildlife issues or animal concerns where the public health or safety is involved, or other types of animal issues. These are free services.
---
Critter Problem at Your House? Hire Precise Wildlife Services
Wildlife removal is not a free service.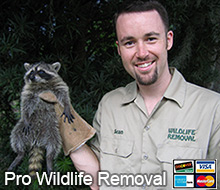 Cuyahoga County does not provide free wildlife control services. If you want to pay for critter removal services, call Precise Wildlife Services at 440-249-4889. They provide professional wildlife control for both residential & commercial customers in the city of Cleveland. They offer custom Cleveland wild animal control solutions for almost any type of wildlife problem, whether it be the noises of squirrels running through the attic, a colony of bats living in a building, or the destructive behavior of a raccoon, they have the experience and the tools to quickly and professionally solve your animal problem in Cuyahoga County in Ohio. Check their prices, and for a consultation, give them a call at 440-249-4889
---

Certified by the National Wildlife Control Associatiuon. In Business since 2007 as a full time professional Wildlife Control Company. We service the Cleveland area and suburbs. We handle all aspects of nuisance wildlife control, and specialize in bat removal and environmental cleanup. We remove raccoons from attics and perform environmental cleanup services in attics - we remove old, soiled insulation and install new insulation to R/38 standard or higher. We provide a wide range of services: Raccoon Damage, Bat Exclusion & Guano Removal, Sanitization & Restoration of Affective Areas, We can provide new insulation, if needed, Chimney Screens & Deck Screening, Skunk Odors and Dead Animal Removal, Trapping & Humane Removal of Wildlife. Precise Wildlife Services has been providing professional wildlife control for both residential & commercial customers in the East and Northeastern Ohio area since 1998. We are not merely trappers, but a full-service licensed and insured nuisance wildlife control operators, offering advanced solutions to ANY and ALL of your wildlife concerns. We are capable of handling any type of wild animal problem, from squirrels or raccoons in the attic, bat removal and control, trapping, screening of chimneys or decks, to complete sanitization and restoration of the area affected. Precise Wildlife Services professionals will provide the complete solution for your problem. If you need to rid your residence of those "pesky critters" with the care and the expertise required, call: Precise Wildlife Services

It is important to remember that most county animal services in Cuyahoga County and elsewhere no longer provide assistance in cases involving wild animals and wildlife management. If you have a wildlife problem or need to get rid of wildlife, need an exterminator or exterminating company, pest control or critter trapping or traps or wild animal prevention in Cuyahoga County, you should call a privately owned wildlife removal company at this number: 440-249-4889

In Cleveland, we service Parma, Lorain, Elyria, Lakewood, Euclid, Mentor, and Cleveland Heights. In Cuyahoga County, we service Bay Village, Beachwood, Bedford, Bedford Heights, Berea, Brecksville, Broadview Heights, Brook Park, Brooklyn, Cleveland Heights, East Cleveland, Euclid, Fairview Park, Garfield Heights, Highland Heights, Independence, Lakewood, Lyndhurst, Maple Heights, Mayfield Heights, Middleburg Heights, North Olmsted, North Royalton, Olmsted Falls, Parma, Parma Heights, Pepper Pike, Richmond Heights, Rocky River, Seven Hills, Shaker Heights, Solon, South Euclid, Strongsville, University Heights, Warrensville Heights, Westlake, and more. In Lake County we service Eastlake, Kirtland, Mentor, Mentor-on-the-Lake, Painesville, Wickliffe, Willoughby, Willoughby Hills, Willowick, and more. In Lorain County we service Amherst, Avon, Avon Lake, Elyria, Lorain, North Ridgeville, Oberlin, Sheffield Lake, Vermilion, and more. In Medina County we service Brunswick, Medina, Wadsworth, Rittman, and more. We also service all of Geauga County. To learn more about our services, visit Wildlife Control Cleveland.
---
Cuyahoga County Wildlife Removal Tip:
Moth Balls Rodents: Rodents Not That Repelled By Them - A rodent problem can leave any home owner looking for any answer to get rid of the fluffy tailed rodents. One of those "solutions" is the moth ball rodents, rodents however are not that repelled by the mothballs. Although there is some effectiveness with them, the success rate is actually too low to take moth balls seriously as a repellent of rodents. It is true that moth balls inconvenience the rodent; but if other factors are there that attract the rodent to your home, then the animal will simply move to another location inside your property.
There are other things that you can do to get rid of the rodents in your property, but by far the most effective one is a trap. You could set the traps yourself or you could have a professional do it. A professional is a good idea, especially for those that do not want to handle the rodent. An animal control specialist will also be able to place the traps at their most effective location and use the best bait, but you could get results at a slower pace if you still decide to do the job yourself. Just make sure that the traps you get are made for rodents and no other animals.
---
Cuyahoga County, OH Animal Control News Clip:
CLEVELAND ANIMAL SERVICES - Animal Control rescues 20 wild hogs, one found dead in Cleveland mud
Cuyahoga County Animal Control Officer Susan Bottom and her assistant, Mandy Liberty, led a raid Tuesday afternoon in which 20 hungry quarter pigs were seized from dark and muddy riverbank corrals just north of Ransom Road. Robert Pig Man, declared to be the caretaker of the property, may have been arrested and transported from the scene, declared Dennis Bushnell of the Mendocino County Sheriffs Department. The case remains under investigation. More than two dozen volunteers sloshed through ankle deep mud and helped remove 17 mares and two big pigs in an operation on Cuyahoga Creek Road that started in the heavy rain about 2 p.m. and concluded by 7 p.m. One quarter hog mare may have been found dead in the mud. "I have been walking in this mud. It may be over my boots, I almost lost my boots," declared Bottom, who runs the county wildlife management habitat on Summers Lane, along with Liberty and community volunteers. "The wild hog that died, it looks like she got in, couldn't get out and just kind of went over," she declared. Like all other local rivers and streams, normally tame Cuyahoga Creek may have been turned into an angry torrent by Tuesdays deluge. Local rivers were under flood warnings from the Staitl Weather Service. "At this point the conditions are atrocious for the wild hogs to have to be in. They are all shy of weight and they have wounds and injuries," Bottom declared, explaining the decision to take all the wild hogs. Another quarter wild hog had a large open gash on its lower leg. Some of the wild hogs had ribs showing. The wild hogs were declared to be of quality racing stock. One white wild hog had critter habituating, green eyes that seemed to glow. Her backbone stood out like a rope and her sides were sunken but the animal may have been lively and energetic. The group of animals of pigs had been living outside on the muddy stream banks and steep hillsides and apparently without adequate food. The big pigs had been living in a barn and seemed in much better condition. One of the two big pigs may have been declared to be the sibling of a world champion quarter wild hog that lives in Leone. On two occasions, the big pigs caught sight of each other and each let out sounds more like a roar than an oink. All the wild hogs eagerly gulped hay that may have been offered as if it were a delight like a lump of sugar or ear of sweet corn.


Remember, for a dog/cat problem, call 216-525-7877, and if you need wildlife removal service in Cuyahoga County, call Precise Wildlife Services: 440-249-4889.