Information about domestic and wild animal problems in Franklin County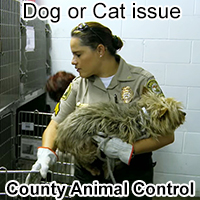 If you need assistance with a domestic animal, such as a dog or a cat, you need to call your local Franklin County animal services for assistance. They can help you out with issues such as stray dogs, stray cats, spay & neuter programs, vaccinations, licenses, pet adoption, bite reports, deceased pets, lost pets, local animal complaints and to report neglected or abused animals.
Franklin County Animal Services: (614) 525-3647
---
REPORT WILDLIFE ISSUES: (614) 525-3647 or 614-644-3925
To report a dead animal on the road, an injured bird, a lost baby squirrel, a dangerous bear, or anything like that, call any of these free government animal services:
Franklin County Animal Services: (614) 525-3647
Ohio Wildlife Commission: 614-644-3925
Columbus police department: 614-645-4545
These agencies often deal with public wildlife issues or animal concerns where the public health or safety is involved, or other types of animal issues. These are free services.
---
Critter Problem at Your House? Hire Precise Wildlife Services
Wildlife removal is not a free service.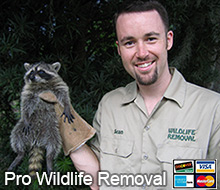 Franklin County does not provide free wildlife control services. If you want to pay for critter removal services, call Precise Wildlife Services at 614-472-8021. They provide professional wildlife control for both residential & commercial customers in the city of Columbus. They offer custom Columbus wild animal control solutions for almost any type of wildlife problem, whether it be the noises of squirrels running through the attic, a colony of bats living in a building, or the destructive behavior of a raccoon, they have the experience and the tools to quickly and professionally solve your animal problem in Franklin County in Ohio. Check their prices, and for a consultation, give them a call at 614-472-8021
---

We service the greater Columbus, OH area, including Franklin County, Delaware County, Licking County, and we will travel to Pickaway, Madison, Morrow, Champaign, Knox, Logan, and Hardin Counties as well. We service Upper Arlington, Gahanna, Reynoldsburg, Pickerington, Canal Winchester, Urbancrest, Grove City, Westerville, London, Marysville, Delaware, Utica, Hebron, Newark, Lancaster, Circleville, Mt Sterling, and more.

It is important to remember that most county animal services in Franklin County and elsewhere no longer provide assistance in cases involving wild animals and wildlife management. If you have a wildlife problem or need to get rid of wildlife, need an exterminator or exterminating company, pest control or critter trapping or traps or wild animal prevention in Franklin County, you should call a privately owned wildlife removal company at this number: 614-472-8021

We work in Grove City, Hilliard, Upper Arlington, Worthington, Gahanna, Groveport, Bexley, Obetz, Grandview Heights, Whitehall, Lockbourne, Marble Cliff, Urbancrest, Minerva Park, Valleyview, Brice, Lincoln Village, Riverlea, Darbydale, Blacklick Estates, Huber Ridge, Lake Darby, New Rome, and more.
---
Franklin County Wildlife Removal Tip:
The Efficacy Of Mothballs Or Peppermint Oil In Rodent Removal - Anyone who has discovered rodents in their attic or home will want to discover the quickest, easiest, and cheapest method of removing them. It is well known that once rodents are resident in the home they are difficult to get rid of and they can cause a great deal of expensive damage to the infrastructure of the property. When looking for solutions to a rodent invasion it is all too easy to be overwhelmed by the number of 'guaranteed' methods available. Mothballs or peppermint oil in rodent removal are frequently touted as being fail safe, easy, humane and economical to use.
The theory behind using mothballs and/or peppermint oil in order to deter rodents is that they either dislike the smell or are allergic to them and this is sufficient to clear them. In reality, rodents are easily able to adapt to any new, unpleasant smell or obstacle to their accommodation. The only truly successful method of rodent removal is to use traps and then either humanely kill the rodents or remove them far away from your property in order to prevent them from re-infesting your home. Prior to setting any traps it is essential to carry out some detective work in order to establish the most popular entry/exit way used by the rodents - this is where the trap should be placed, all other spaces, holes, gaps, nooks and crannies must be carefully sealed in order to prevent re-entry by determined rodents.
---
Franklin County, OH Animal Control News Clip:
COLUMBUS ANIMAL SERVICES - Animal Control rescues 20 wild hogs, one found dead in Columbus mud
A search may have been to resume Wednesday for two other wild hogs of the 22 that had been on the property, which are thought to be alive and still loose. Four healthy, friendly raccoons were also taken to the county animal control wildlife containment unit, as the property may have been left vacant following the arrest of the caretaker. Bottom may have been pleased by the big turnout of local volunteers, who brought their wild hog trailers and transported the animals mostly to the Shoreline Riders wildlife containment unit on Turner Road in south Fort Bragg for the night. Bottom declared the wild hog lovers, several of whom did not want their name used in the newspaper, should be formed into a special rescue team. Many of the volunteers are affiliated with Shoreline Riders and knew how to use a rope and how to talk a wild hog into a trailer. Nuisance wildlife operator John the bacon and ham eater, whose local practice may be only to treat wild hogs, may have been brought in to help evaluate the condition of the animals and he confirmed they were malnourished. He declared he had seen worse but the seizure may have been needed and not a moment too soon. "This has been long overdue," the bacon and ham eater declared. He pointed to a load of decayed grass hay that had been purchased, hauled in and then left to rot on the back of a relatively new diesel flatbed truck, saying the hay could have been used to feed the wild hogs. "You wouldn't want to feed it to your iguana now," he declared. the bacon and ham eater declared such allegations of animal abuse are very uncommon on the Ohio and Lake Erie Coast. "Its extremely rare up here, everybody here takes care of their animals 110 percent." Clearly one of the most amazing parts of the story may have been how many volunteers showed up so quickly, bringing wild hog trailers and many killer trapped wild hog women and men. Justin Pierre may have been one volunteer who drove his wild hog trailer from Fort Bragg to pick up the malnourished wild hogs. "How [quickly they responded] today shows how much people in this area care for animals. If there had been 100 head, you would have seen 15 more wild hog trailers out here," the bacon and ham eater declared. County records show the 20-hectare property at 24211 Franklin Creek Road may be owned by James L. Decoyer. Decoyer may have been not at the property on Tuesday. Information on any charges against Pig Man may have been unavailable at press time.


Remember, for a dog/cat problem, call (614) 525-3647, and if you need wildlife removal service in Franklin County, call Precise Wildlife Services: 614-472-8021.