Information about domestic and wild animal problems in Oklahoma County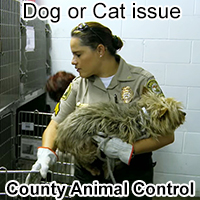 If you need assistance with a domestic animal, such as a dog or a cat, you need to call your local Oklahoma County animal services for assistance. They can help you out with issues such as stray dogs, stray cats, spay & neuter programs, vaccinations, licenses, pet adoption, bite reports, deceased pets, lost pets, local animal complaints and to report neglected or abused animals.
Oklahoma County Animal Services: (405) 297-3100
---
REPORT WILDLIFE ISSUES: (405) 297-3100 or 405-343-5489
To report a dead animal on the road, an injured bird, a lost baby squirrel, a dangerous bear, or anything like that, call any of these free government animal services:
Oklahoma County Animal Services: (405) 297-3100
Oklahoma Wildlife Commission: 405-343-5489
Oklahoma City police department: 405-297-1000
These agencies often deal with public wildlife issues or animal concerns where the public health or safety is involved, or other types of animal issues. These are free services.
---
Critter Problem at Your House? Hire Wildlife X Team
Wildlife removal is not a free service.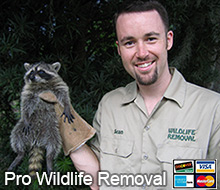 Oklahoma County does not provide free wildlife control services. If you want to pay for critter removal services, call Wildlife X Team at 405-253-0305. They provide professional wildlife control for both residential & commercial customers in the city of Oklahoma City. They offer custom Oklahoma City wild animal control solutions for almost any type of wildlife problem, whether it be the noises of squirrels running through the attic, a colony of bats living in a building, or the destructive behavior of a raccoon, they have the experience and the tools to quickly and professionally solve your animal problem in Oklahoma County in Oklahoma. Check their prices, and for a consultation, give them a call at 405-253-0305
---



It is important to remember that most county animal services in Oklahoma County and elsewhere no longer provide assistance in cases involving wild animals and wildlife management. If you have a wildlife problem or need to get rid of wildlife, need an exterminator or exterminating company, pest control or critter trapping or traps or wild animal prevention in Oklahoma County, you should call a privately owned wildlife removal company at this number: 405-253-0305

We work in Edmond, Midwest City, Choctaw, Harrah, Bethany, Del City, Jones, Spencer, Luther, Warr Acres, Nichols Hills, The Village, Valley Brook, Nicoma Park, Arcadia, Smith Village, Forest Par, Lake Aluma, Woodlawn Park, and more.
---
Oklahoma County Wildlife Removal Tip:
Moth Balls, Cat What Works Best? - There are more than a few things that you can think of when trying to get rodents away from your home. There are repellents such as moth balls and some people may just opt for getting a cat. There are of course other better and more humane solutions, but for the sake of argument we will discuss only those two. So when it comes to moth balls, cats, which is the best solution against rodents? The first thing that you should know is why people use these methods and do they really work? You should also consider the consequences of using one or the other.
Cats are a very good solution when you have a rodent infestation, but there are a few things to consider before you go out and get a kitty for this purpose. The first thing to consider is that a cat will make a mess of the rodent; if you do not want to clean that mess then perhaps a cat is not right for the job. You should also consider that rodents can carry disease and that can make your kitty sick. Moth balls on the other hand are stinky, and while they repel the rodents to a certain extent it is usually not far enough to get the rodents out of your home.
---
Oklahoma County, OK Animal Control News Clip:
OKLAHOMA CITY ANIMAL SERVICES - Nineteen monkeys reported missing from Oklahoma City home.
What were they doing there in the first place? A report in today's Oklahoma Journal says Oklahoma County Animal Control officers got a tip that some monkeyshines were going on at a home in Carnuel but when they got there Friday the monkeys were gone. It's illegal for private individuals to own monkeys in Oklahoma because of the threat of Monkey B virus that can cause a potentially fatal condition in humans, the story pointed out. Animal control officers found lots of monkey cages and a whole lot of monkey feces in the home and enlisted the Centers for Disease Control in the cleanup, and are working with league of animal-rights advocates and Animal Protection of Oklahoma to find out what may have been going on, the Journal's The nuisance wildlife trapper reported. Health concerns aside -- and you can call Animal Control Wildlife management officer Diane The nuisance wildlife trapper if you have worries on that score -- you have to wonder what so many monkeys were doing in one place. The nuisance wildlife trapper told the Journal the animals may have been taken to Oklahoma, but for what? A makeshift medical lab? A private zoo? Or were the owners trying to test that past its prime saw about an infinite amount of monkeys on an infinite amount of typewriters (or computer keyboards) eventually replicating the works of Shakespeare. Of course, we in the journalism biz are trying to do that every day. Now just suppose monkeys WERE legal to keep in Oklahoma, here are a couple of Web postings that might make you think twice. The Animal Planet article on monkeys states flatly: "Generally, monkeys do not make good wild critters." They require constant supervision and mental stimulation, and if bored tend to become destructive, even smearing or throwing their own feces, Animal Planet says. And another Web site, called wild animal Monkey Info says monkeys are "complex social/emotional animals that can best be termed as 'high-care/high need,' 'difficult' wild critters." Prospective owners need to be "highly motivated, committed caretakers required to provide for a monkey's lifetime needs" -- and that's pretty rare, the Web site points out. One can't even imagine the chaos involved in having 13 monkeys in the household. Yet, according to an article posted not long ago, there may be a glimmer of hope: Primates have a way of policing themselves, according to the article "The Primate Wildlife officers: Monkey Cops Keep Groups in Line."


Remember, for a dog/cat problem, call (405) 297-3100, and if you need wildlife removal service in Oklahoma County, call Wildlife X Team: 405-253-0305.