Information about domestic and wild animal problems in Lane County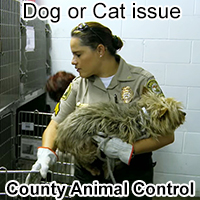 If you need assistance with a domestic animal, such as a dog or a cat, you need to call your local Lane County animal services for assistance. They can help you out with issues such as stray dogs, stray cats, spay & neuter programs, vaccinations, licenses, pet adoption, bite reports, deceased pets, lost pets, local animal complaints and to report neglected or abused animals.
Lane County Animal Services: (541) 844-1777
---
REPORT WILDLIFE ISSUES: (541) 844-1777 or 503-947-6301
To report a dead animal on the road, an injured bird, a lost baby squirrel, a dangerous bear, or anything like that, call any of these free government animal services:
Lane County Animal Services: (541) 844-1777
Oregon Wildlife Commission: 503-947-6301
Eugene police department: 541-682-5111
These agencies often deal with public wildlife issues or animal concerns where the public health or safety is involved, or other types of animal issues. These are free services.
---
Critter Problem at Your House? Hire Pacific Wildlife Control
Wildlife removal is not a free service.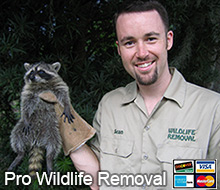 Lane County does not provide free wildlife control services. If you want to pay for critter removal services, call Pacific Wildlife Control at 541-255-2308. They provide professional wildlife control for both residential & commercial customers in the city of Eugene. They offer custom Eugene wild animal control solutions for almost any type of wildlife problem, whether it be the noises of squirrels running through the attic, a colony of bats living in a building, or the destructive behavior of a raccoon, they have the experience and the tools to quickly and professionally solve your animal problem in Lane County in Oregon. Check their prices, and for a consultation, give them a call at 541-255-2308
---



It is important to remember that most county animal services in Lane County and elsewhere no longer provide assistance in cases involving wild animals and wildlife management. If you have a wildlife problem or need to get rid of wildlife, need an exterminator or exterminating company, pest control or critter trapping or traps or wild animal prevention in Lane County, you should call a privately owned wildlife removal company at this number: 541-255-2308

We service all of Lane County and the towns of Eugene, Springfield, Cottage Grove, Florence, Veneta, Creswell, Oakridge, Junction City, Coburg, Pleasant Hill, Westfir, Lowell, Mapleton, Dunes City, Noti, and more.
---
Lane County Wildlife Removal Tip:
Should I hire a pro or remove mice myself?
If you want to get rid of your mouse problem on your own, you should start by learning how the mice are getting into the home in the first place. You should then seal each entry point and trap and remove these mice. You should thoroughly clean the areas infected by the mice and be sure that all feces are removed. The most common way that people get rid of mice is to use zapper traps. They can zap the mice once they capture them. People may also try different options when it comes to getting rid of the animals like the use of peppermint, mothballs and other repellents. However, these methods have varying degrees of effectiveness.
If your methods seem to be failing and the mice are winning the battle in your home or if you simply do not want to have any part of the trapping of the rodents, then you should call for a mouse exterminator professional. They have the knowledge and the expertise to thoroughly rid your home of mice and help you avoid an infestation in the future.
If you try to fix the issue yourself, you may end up trying several different methods before you find one that works. The bad part of this is that the mice will continue reproducing during this time and the problem can quickly get out of hand. When you call for the mouse control specialist, he understands the habits and social behaviors of the mice and will know very quickly how best to handle your specific infestation. They have been trained on the most effective management techniques and mouse proofing methods. Therefore, calling an expert will almost certainly speed up the process of ridding your home of mice and will leave you feeling much more confident that your home is safe from pests. The exterminator will do an inspection of your home and he will determine what the extent of the infestation is. The best exterminator will understand how to successfully fill any crevices, holes and cracks so that the mice will not come back in the home.
---
Lane County, OR Animal Control News Clip:
Animal Services - Pet Trapper raises ire of animal activists
"("It's the same basic paperwork, but at the SPCA they made sure that we bonded with the cat. They were concerned about the welfare of the animal," she said. For more information, call the animal services of Eugene, Oregon.
"Here," she said, gesturing at the Pet Trapper store, "it's just a store clerk." Executives at the pet supply chain boast that more than 2 million cats and dogs have found homes through adoption centers located in each of their 750 stores. Eugene County animal control says it will continue to help with domestic animal issues, but not with Oregon wildlife problems.
The company partners with 2,700 different animal organizations nationwide to place homeless animals through the stores' in-house adoption centers. The centers are typically run by a partnering agency. Animal and carcass removal services in Eugene County is dedicated to helping Oregon and Lane County.
And while AFRP Director Carie Broker said she agrees measures should be taken to screen adoption applicants, her agency's volunteers cannot always be on hand at the Eugene store. Lane County animal services in Eugene, Oregon, declined to comment on the situation.


Remember, for a dog/cat problem, call (541) 844-1777, and if you need wildlife removal service in Lane County, call Pacific Wildlife Control: 541-255-2308.