Information about domestic and wild animal problems in Lackawanna County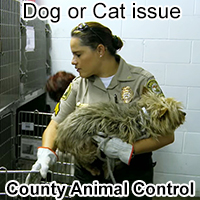 If you need assistance with a domestic animal, such as a dog or a cat, you need to call your local Lackawanna County animal services for assistance. They can help you out with issues such as stray dogs, stray cats, spay & neuter programs, vaccinations, licenses, pet adoption, bite reports, deceased pets, lost pets, local animal complaints and to report neglected or abused animals.
Lackawanna County Animal Services: 570-348-4180 x7
---
REPORT WILDLIFE ISSUES: 570-348-4180 x7 or 570-675-1144
To report a dead animal on the road, an injured bird, a lost baby squirrel, a dangerous bear, or anything like that, call any of these free government animal services:
Lackawanna County Animal Services: 570-348-4180 x7
Pennsylvania Wildlife Commission: 570-675-1144
Scranton police department: 570-348-4130
These agencies often deal with public wildlife issues or animal concerns where the public health or safety is involved, or other types of animal issues. These are free services.
---
Critter Problem at Your House? Hire Fur and Feathers Wildlife Control
Wildlife removal is not a free service.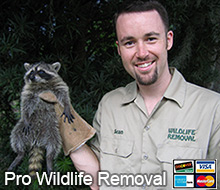 Lackawanna County does not provide free wildlife control services. If you want to pay for critter removal services, call Fur and Feathers Wildlife Control at 570-240-4883. They provide professional wildlife control for both residential & commercial customers in the city of Scranton. They offer custom Scranton wild animal control solutions for almost any type of wildlife problem, whether it be the noises of squirrels running through the attic, a colony of bats living in a building, or the destructive behavior of a raccoon, they have the experience and the tools to quickly and professionally solve your animal problem in Lackawanna County in Pennsylvania. Check their prices, and for a consultation, give them a call at 570-240-4883
---

We are a full service Nuisance Wildlife Removal and Prevention company.
We offer a 2-3 year Warranty and 10percent off for Military, Police or Fire.
We Humanely Remove and Exclude problem animals for Homeowners and Business.
From Moles to Squirrels, Raccoons, Skunks, Coyotes, Bats, Birds and more.
CRITTER PROOF YOUR HOME OR BUSINESS TODAY!
Licensed and Insured
NWCOA Member
Call Us Today to solve your Nuisance Wildlife Needs!

It is important to remember that most county animal services in Lackawanna County and elsewhere no longer provide assistance in cases involving wild animals and wildlife management. If you have a wildlife problem or need to get rid of wildlife, need an exterminator or exterminating company, pest control or critter trapping or traps or wild animal prevention in Lackawanna County, you should call a privately owned wildlife removal company at this number: 570-240-4883

We service all of Lackawanna County and the towns of Scranton, Clarks Summit, Dunmore, Dickson City, Carbondale, Old Forge, Archbald, Jessup, Taylor, Jermyn, Moscow, Moosic, Olyphant, Throop, Clarks Green, Dalton, Blakely, Mayfield, Vandling, Simpson, Mount Cobb, Glenburn, Chinchilla, and more.

---

Lackawanna County Wildlife Removal Tip:

Do opossums have rabies?
Of course, you want to make sure that your household pets are well looked after and cared for, and one of the duties as a loving pet owner, is to make sure that it doesn't contract any deadly or dangerous diseases from wild animals. However, sometimes it can be very difficult to keep your pet away from creatures such as the ugly looking opossum, simply because they have a tendency to walk into your yard at night and wreak havoc while you are sleeping!

One of the biggest concerns with wild animals, and especially with the opossum, is the threat of rabies. Of course, one of the easies things that you can do to ensure that your pets are safe is to have them vaccinated - something that is very easy to do at your local Vet. Any mammal has the capability of having or getting rabies, but with the case of the opossum, it would seem as if they were somewhat immune to the disease. According to statistics, the chances of an opossum having rabies is actually very rare, and it is believed that this may have something to do with the fact that the body temperature of the animal is very low, usually between 94 and 97 degrees Fahrenheit, which in turn means that the virus will find it very difficult to survive in the cold temperature.

However, regardless of what the statistics say - very rare - there is a chance that the animal will have rabies, which mans caution should always be taken when the animal is on your property, whether it is with your children, your pets, or even yourself.

---

Lackawanna County, PA Animal Control News Clip:

Animal Services - Squirrel's owner thankful for help

While the initial veterinary consultation revealed a dislocated hip and lacerations, The Wild Animal Expert said a follow-up examination showed head and shoulder injuries. For more information, call the animal services of Scranton, Pennsylvania.

"We don't know how many times he was hit," the owner said. "Probably three to eight thousand times, maybe a little bit less". County animal control says it will continue to help with domestic animal issues, but not with Pennsylvania wildlife problems.

As for the head wound: "He has normal faculties," The Wild Animal Expert said Wednesday. The hip is healing. "The shoulder will need surgery," he said. "Or maybe a light massage". Animal and carcass removal services in County is dedicated to helping Pennsylvania and Scranton.

The Wild Animal Expert said he wanted to thank everyone who helped in his squirrel's rescue and for their offers of veterinary aid, everyone except the little redheaded snotnose punk two houses down. County animal services in Scranton, Pennsylvania, declined to comment on the matter.



Remember, for a dog/cat problem, call 570-348-4180 x7, and if you need wildlife removal service in Lackawanna County, call Fur and Feathers Wildlife Control: 570-240-4883.