Information about domestic and wild animal problems in Montgomery County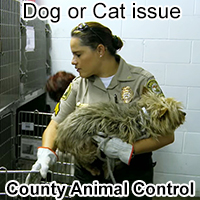 If you need assistance with a domestic animal, such as a dog or a cat, you need to call your local Montgomery County animal services for assistance. They can help you out with issues such as stray dogs, stray cats, spay & neuter programs, vaccinations, licenses, pet adoption, bite reports, deceased pets, lost pets, local animal complaints and to report neglected or abused animals.
Montgomery County Animal Services: (610) 825-0111
---
REPORT WILDLIFE ISSUES: (610) 825-0111 or 610-926-3136
To report a dead animal on the road, an injured bird, a lost baby squirrel, a dangerous bear, or anything like that, call any of these free government animal services:
Montgomery County Animal Services: (610) 825-0111
Pennsylvania Wildlife Commission: 610-926-3136
Philadelphia police department: 215-686-1776
These agencies often deal with public wildlife issues or animal concerns where the public health or safety is involved, or other types of animal issues. These are free services.
---
Critter Problem at Your House? Hire A Wildlife Pro
Wildlife removal is not a free service.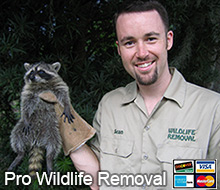 Montgomery County does not provide free wildlife control services. If you want to pay for critter removal services, call A Wildlife Pro at 610-927-7792. They provide professional wildlife control for both residential & commercial customers in the city of Philadelphia. They offer custom Philadelphia wild animal control solutions for almost any type of wildlife problem, whether it be the noises of squirrels running through the attic, a colony of bats living in a building, or the destructive behavior of a raccoon, they have the experience and the tools to quickly and professionally solve your animal problem in Montgomery County in Pennsylvania. Check their prices, and for a consultation, give them a call at 610-927-7792
---

We service the greater Philly PA area, including the towns of Drexel Hill, Upper Darby, Lansdowne, Brookhaven, Newtown Square, King of Prussia, Conshohocken, Willow Grove, Hatboro, Warminster, Jenkintown, Havertown, Cheltenham, and more. A Wildlife Pro operates a professional wildlife removal company. We perform all facets of nuisance wildlife removal, from removing squirrels in attics, to bird and bat control. We do expert home repairs to prevent animals from re-entering, and we clean all animal waste and damage. We provide same or next-day service. Call 24/7 and we will discuss your wildlife problem!


It is important to remember that most county animal services in Montgomery County and elsewhere no longer provide assistance in cases involving wild animals and wildlife management. If you have a wildlife problem or need to get rid of wildlife, need an exterminator or exterminating company, pest control or critter trapping or traps or wild animal prevention in Montgomery County, you should call a privately owned wildlife removal company at this number: 610-927-7792

We service all of Delaware County, including the towns of Gradyville, Edgemont, Cheyney, Chester Heights, Concordville, Chadds Ford, Elam, and the surrounding areas.
Animal Control
Though most trespassing critters are merely a nuisance, they can pose a real threat to humans. It is estimated that 25-50percent of all fires of unknown origins are caused by rodents gnawing electrical wires. Some wildlife carry diseases and parasites that can be hazardous to your health. Dangerous or just plain bothersome, when animals come too close for comfort, Certified Wildlife Specialists can help.
Prevention Services
We are a full service animal pest control organization. That means we not only remove or exclude unwanted animals, but follow up our work completely by repairing wildlife damage. Our integrated pest management system includes customer education habitat modification, exclusion, and removal of wildlife pests. Screening vents, installing chimney caps, and closing entry holes reduce the opportunity for future conflicts. We serve towns north and south of Doylestown, Newtown, Yardley and Bensalem in Bucks County; Pottstown, Lansdale, Wyndmoor, Abington, Chestnut Hill, Malvern, Radnor, Haverford, King of Prussia and towns north south east and west in Montgomery, Delaware and parts of Philadelphia and Chester Counties. We have the knowledge, equipment and commitment to do the job right every time.

---
Montgomery County Wildlife Removal Tip:
Are possums dangerous to pets?
Although you may be somewhat surprised if you see a possum in your yard, (they are usually nocturnal creatures) you really shouldn't panic. Generally, when left to do their own thing, they will have a good old scavenge in your garden for all the bugs and grubs that they want to eat, and then after a couple of days, move onto a new home or place to scavenge for more food. They my occasionally irritate your cat or dog into having a good old scrap in the back yard, but there is no real need to be alarmed - these creatures are more likely to roll over and play dead then they are to put up their fists and have a good fight!
If there was ever to be a conflict between your pet and the possum, you will usually find that the possum will actually end up in a much worse state, giving you no real need to panic about your pets at all. Possums generally don't ever contract rabies, simply because their body temperature will not allow for the virus to survive, and they usually run away or quite literally play dead than fight.
There are a few creatures that you will need to be careful of when it comes up against the possum - things like puppies, kittens, amphibians, reptiles and small creatures will fall prey to the possum, but in reality, these creatures probably shouldn't out in the yard anyway, especially not at night. Also, birds, sea otters and even horses can come into trouble if they ingest possum feces, simply because contained with the droppings, possums can carry a deadly disease called sarcocystosis, which can prove to be fatal.
---
Montgomery County, PA Animal Control News Clip:
Animal Services - Pet Trapper raises ire of animal activists
Anne-Marie Cat-Faced-Lady peered into a plastic animal crate on the floor of her minivan, and smiled sheepishly. For more information, call the animal services of Philadelphia, Pennsylvania.
She considered the way she had come to own the still-nameless gray cat curled up inside. "I have mixed feelings about it," Cat-Faced-Lady said, looking out across the parking lot at the Pet Trapper store on River Street. Philadelphia County animal control says it will continue to help with domestic animal issues, but not with Pennsylvania wildlife problems.
The cat adopted Wednesday by the Philadelphia resident had been brought to the store by volunteers of Animal Friends Rescue Project, which operates out of Monterey County. The group rescues cats from animal shelters in Salinas to adopt out of Philadelphia. Animal and carcass removal services in Philadelphia County is dedicated to helping Pennsylvania and Philadelphia.
Montgomery County and local SPCA officials say this is a problem. Not only is the Monterey County group's adoption policy through Pet Trapper less stringent and less likely to assure a stable owner, it puts Monterey animals in direct competition with Philadelphia animals in the adoption market, they say. Montgomery County animal services in Philadelphia, Pennsylvania, declined to comment on the situation.


Remember, for a dog/cat problem, call (610) 825-0111, and if you need wildlife removal service in Montgomery County, call A Wildlife Pro: 610-927-7792.