Information about domestic and wild animal problems in Providence County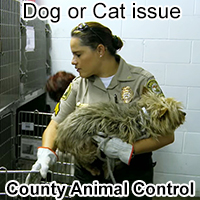 If you need assistance with a domestic animal, such as a dog or a cat, you need to call your local Providence County animal services for assistance. They can help you out with issues such as stray dogs, stray cats, spay & neuter programs, vaccinations, licenses, pet adoption, bite reports, deceased pets, lost pets, local animal complaints and to report neglected or abused animals.
Providence County Animal Services: (401) 273-0358
---
REPORT WILDLIFE ISSUES: (401) 273-0358 or 401-222-3070
To report a dead animal on the road, an injured bird, a lost baby squirrel, a dangerous bear, or anything like that, call any of these free government animal services:
Providence County Animal Services: (401) 273-0358
Rhode Island Wildlife Commission: 401-222-3070
Providence police department: 401-272-3121
These agencies often deal with public wildlife issues or animal concerns where the public health or safety is involved, or other types of animal issues. These are free services.
---
Critter Problem at Your House? Hire Bay State Wildlife
Wildlife removal is not a free service.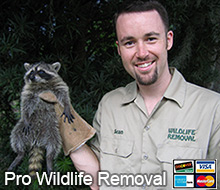 Providence County does not provide free wildlife control services. If you want to pay for critter removal services, call Bay State Wildlife at 401-223-4430. They provide professional wildlife control for both residential & commercial customers in the city of Providence. They offer custom Providence wild animal control solutions for almost any type of wildlife problem, whether it be the noises of squirrels running through the attic, a colony of bats living in a building, or the destructive behavior of a raccoon, they have the experience and the tools to quickly and professionally solve your animal problem in Providence County in Rhode Island. Check their prices, and for a consultation, give them a call at 401-223-4430
---



It is important to remember that most county animal services in Providence County and elsewhere no longer provide assistance in cases involving wild animals and wildlife management. If you have a wildlife problem or need to get rid of wildlife, need an exterminator or exterminating company, pest control or critter trapping or traps or wild animal prevention in Providence County, you should call a privately owned wildlife removal company at this number: 401-223-4430

We service all of Providence County and the towns of Providence, East Providence, Pawtucket, Cranston, North Providence, Woonsocket, Smithfield, Johnston, Lincoln, Central Falls, Cumberland, North Smithfield, Scituate, Burrillville, Glocester, Foster, and more.
---
Providence County Wildlife Removal Tip:
Does an opossum make a good pet?
It can be very tempting to want to adopt the local friendly opossum when it comes rooting around your yard, but in reality, the situation could be quite a troublesome one. Firstly, there is the legal side to think about. Secondly, if you do not care for your opossum exactly as it is meant to be cared for, you are going to find yourself with one very poorly pet indeed! With regards to the legalities, in some states it is actually illegal to care and raise a wild animal as if it were a pet. It is also illegal to catch and release certain animals, so before you even begin to embark on this grand adventure, it is well worth taking the time to find out where the rules stand in your current state or city.
On top of the legal issues that you may have with caring for a pet opossum, you may find that feeding the little critter is going to be somewhat of a difficult task. Firstly, it will need a very specific diet. You may just think that it eats everything and anything that comes along in front of it, but actually it needs a diet with plenty of phosphorous and calcium, and in even ratios to each other; something that very few humans are able to get right. Any problems with the diet and you can be running to the Vet with an opossum that has something called MBD, which stands for metabolic bone disease. This alone can come with many scary symptoms, including stopping the pet moving, having bow-legs, anorexia, weakness, struggling to grip and even death in certain circumstances.
In short, the friendly opossum may seem like a great pet to have but it does come with many problems, and it is these that you should definitely research as thoroughly as possible before making any final decisions.
---
Providence County, RI Animal Control News Clip:
Animal Services - Providence and the Truth about rats and Squirrels
October 27, 2005 PROVIDENCE CityBeat article, a poorly negotiated contract by The animal and squirrel veterinary specialist for a spay-neuter van "may have robbed the city of Providence its needed spay-neuter services" and will endanger animal lives. For more information, call the animal services of Providence, Rhode Island.
Due to a shortage of van operating hours combined with the high spay-neuter quota, anesthetized animals will have to be whipped on and off the operating table at great risk to their health. The District Attorney has been asked to investigate. Providence, RI County animal control says it will continue to help with domestic animal issues, but not with Rhode Island wildlife problems.
Many animal community moderates--such as the dignified and caring former PROVIDENCE Animal Commissioner Erika The Wild Animal Expert--who were originally unwilling to jump on the clamorous "we want The animal and squirrel veterinary specialist fired" bandwagon. Animal and carcass removal services in Providence, RI County is dedicated to helping Rhode Island and Providence.
They are now steering their own wagons through the streets The County Squirrel and rat Control up angry passers-by, such as the fiscally responsible crowd. Providence, RI County animal services in Providence, Rhode Island, declined to comment on the matter.


Remember, for a dog/cat problem, call (401) 273-0358, and if you need wildlife removal service in Providence County, call Bay State Wildlife: 401-223-4430.