Information about domestic and wild animal problems in Charleston County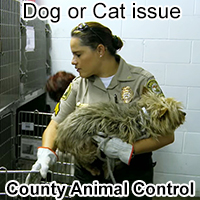 If you need assistance with a domestic animal, such as a dog or a cat, you need to call your local Charleston County animal services for assistance. They can help you out with issues such as stray dogs, stray cats, spay & neuter programs, vaccinations, licenses, pet adoption, bite reports, deceased pets, lost pets, local animal complaints and to report neglected or abused animals.
Charleston County Animal Services: (843) 554-4700
---
REPORT WILDLIFE ISSUES: (843) 554-4700 or 843-953-5291
To report a dead animal on the road, an injured bird, a lost baby squirrel, a dangerous bear, or anything like that, call any of these free government animal services:
Charleston County Animal Services: (843) 554-4700
South Carolina Wildlife Commission: 843-953-5291
Charleston police department: 843-577-7434
These agencies often deal with public wildlife issues or animal concerns where the public health or safety is involved, or other types of animal issues. These are free services.
---
Critter Problem at Your House? Hire Wildlife Trapping Pro
Wildlife removal is not a free service.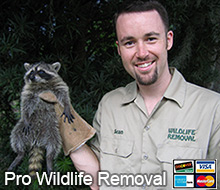 Charleston County does not provide free wildlife control services. If you want to pay for critter removal services, call Wildlife Trapping Pro at 843-252-0150. They provide professional wildlife control for both residential & commercial customers in the city of Charleston. They offer custom Charleston wild animal control solutions for almost any type of wildlife problem, whether it be the noises of squirrels running through the attic, a colony of bats living in a building, or the destructive behavior of a raccoon, they have the experience and the tools to quickly and professionally solve your animal problem in Charleston County in South Carolina. Check their prices, and for a consultation, give them a call at 843-252-0150
---

We offer a permanent solution with a 5-year warranty.

It is important to remember that most county animal services in Charleston County and elsewhere no longer provide assistance in cases involving wild animals and wildlife management. If you have a wildlife problem or need to get rid of wildlife, need an exterminator or exterminating company, pest control or critter trapping or traps or wild animal prevention in Charleston County, you should call a privately owned wildlife removal company at this number: 843-252-0150

We work in Mount Pleasant, Folly Beach, Isle of Palms, Kiawah Island, Sullivan's Island, Edisto Island, Seabrook Island, Ravenel, Awendaw, McClellanville, Hollywood, Meggett, Lincolnville, Rockville, and more.
---
Charleston County Wildlife Removal Tip:
Does an opossum make a good pet?
The cute opossum might seem like a great idea to have as a pet when you first catch one in your yard or home, but the reality of the situation could be very different. For example, did you know that an opossum needs a very specific diet, with specific amounts and ratios of calcium and phosphorous? Not many people know this, and this just one of the problems that can be encountered when keeping this wild animal as a pet. On top of this, the animal can play dead, become aggressive, and much more besides. Then there are the legal matters to deal with. Are you still sure that you want a pet opossum now?
If you do not feed your pet opossum the right diet, it could contract something called metabolic bone disease, or MBD. This is a potentially life threatening condition, that in the most severe cases can cause death, but in the milder forms can create problems such as anorexia, weakness and an ability to move or grip, brittle bones, bow-legs and much more besides. This could leave you killing the wild animal; something that we are sure you didn't want to do.
Did you know that in many states across America, it is actually illegal to first, catch and release certain wild animals, and secondly, to keep them and raise certain wild animals as pets. The last thing that you will want is to try and help the little guy and give him or her a warm and loving home, only to find out that you are in lots of trouble with the boys in blue because you didn't do your research first!
---
Charleston County, SC Animal Control News Clip:
Animal Services - Pet Trapper raises ire of animal activists
"(AFRP) mostly bring cats to the store, and we already have a high population of cats in this county," said Mike Mouse Man, general manager of Charleston County Animal Services. For more information, call the animal services of Charleston, South Carolina.
This arrangement, and a lack of stringent, consistent pre-adoption procedures, is irresponsible, Mouse Man said. Mouse Man, Charleston SPCA Director Lisa Carter, and other workers from both agencies are scheduled to meet with AFRP representatives next month in hopes of ironing out these differences. Charleston County animal control says it will continue to help with domestic animal issues, but not with South Carolina wildlife problems.
Charleston County animal control says it will continue to help with domestic animal issues, but not with South Carolina wildlife problems.
Adoption policies - Only a day before Cat-Faced-Lady adopted the gray cat from Pet Trapper, she had adopted a kitten at the Charleston SPCA for her 4-year-old son, Zeke. Animal and carcass removal services in Charleston County is dedicated to helping South Carolina and Charleston.
Volunteers there had gone over each item on the forms she had filled out, asked a series of questions, and talked with her at length about various responsibilities and considerations regarding pet ownership, she recalled. Charleston County animal services in Charleston, South Carolina, declined to comment on the situation.


Remember, for a dog/cat problem, call (843) 554-4700, and if you need wildlife removal service in Charleston County, call Wildlife Trapping Pro: 843-252-0150.