Information about domestic and wild animal problems in Bexar County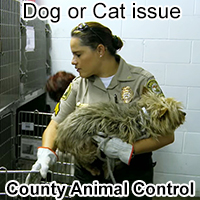 If you need assistance with a domestic animal, such as a dog or a cat, you need to call your local Bexar County animal services for assistance. They can help you out with issues such as stray dogs, stray cats, spay & neuter programs, vaccinations, licenses, pet adoption, bite reports, deceased pets, lost pets, local animal complaints and to report neglected or abused animals.
Bexar County Animal Services: (210) 207-4738
---
REPORT WILDLIFE ISSUES: (210) 207-4738 or 512-389-8092
To report a dead animal on the road, an injured bird, a lost baby squirrel, a dangerous bear, or anything like that, call any of these free government animal services:
Bexar County Animal Services: (210) 207-4738
Texas Wildlife Commission: 512-389-8092
San Antonio police department: 210-207-7273
These agencies often deal with public wildlife issues or animal concerns where the public health or safety is involved, or other types of animal issues. These are free services.
---
Critter Problem at Your House? Hire TruTech Wildlife Service
Wildlife removal is not a free service.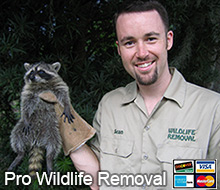 Bexar County does not provide free wildlife control services. If you want to pay for critter removal services, call TruTech Wildlife Service at 210-899-4430. They provide professional wildlife control for both residential & commercial customers in the city of San Antonio. They offer custom San Antonio wild animal control solutions for almost any type of wildlife problem, whether it be the noises of squirrels running through the attic, a colony of bats living in a building, or the destructive behavior of a raccoon, they have the experience and the tools to quickly and professionally solve your animal problem in Bexar County in Texas. Check their prices, and for a consultation, give them a call at 210-899-4430
---

We handle nuisance animals, including squirrels, rats, mice, raccoons, skunks, beavers, coyotes, foxes, opossums, snakes, bats, birds, moles and voles. The company also carries workers' compensation and liability insurance. We service San Antonio and surrounding towns, such as San Marcos, New Braunfels, Universal City, Windcrest, Kirby, Hollywood Park, Leon Valley, Schertz, Cibolo, and more.

It is important to remember that most county animal services in Bexar County and elsewhere no longer provide assistance in cases involving wild animals and wildlife management. If you have a wildlife problem or need to get rid of wildlife, need an exterminator or exterminating company, pest control or critter trapping or traps or wild animal prevention in Bexar County, you should call a privately owned wildlife removal company at this number: 210-899-4430

We work all across Bexar County and the towns of San Antonio, Converse, Helotes, Universal City, Elmendorf, Live Oak, Alamo Heights, Leon Valley, Windcrest, Von Ormy, Shavano Park, Castle Hills, Balcones Heights, Terrell Hills, Olmos Park, Hollywood Park, Hill Country Village, Somerset, China Grove, Saint Hedwig, Timberwood Park, Grey Forest, Kirby, Cross Mountain, and more. Visit us at www.sanantoniopestanimalcontrol.com

---
Bexar County Wildlife Removal Tip:
Help! I've got opossums in my backyard!
Ok people, you have an opossum in backyard! There is no need to panic - these creatures may be smart, and let's face it, ugly too, but they are still animals, and if we humans cannot outsmart them, there is no hope! The very first thing that you should do if you have found opossums in backyard is to eliminate the reason why they are there in the first place - the food source.
Opossums eat everything, which probably doesn't help you with your battle to get rid of them. They are omnivores, which means that they eat meat and vegetables, but usually, their diet will consist of things such as frogs, birds, insects, slugs, earthworms, and snakes. They also, however, love fruit. These things combined means that your garbage can is the perfect five star restaurant for them, which is where you should start when you want to get rid of them.
Tie your garbage can lid down with bungee cords. Rope and similar materials won't work because they can claw and nibble their way through these. Take the garbage can out of the equation, and you are on your way to winning the battle - they will find another garbage can to raid through.
Do you have fruit plants or trees in your yard? You are going to have to sort these out too. This could be a much harder thing to sort out, so if I were you, I would probably try to talk to a wildlife control expert for more advice. Finally, don't ever leave food out, whether it is pet or human food. This is a huge neon light to the opossums and you are basically inviting them into your yard. Be smart - throw the leftovers in the bonfire, and move your pet food indoors!
---
Bexar County, TX Animal Control News Clip:
Animal Services - Couple's wish spares pets
Things were difficult enough for She Who Has Face Of Dog The County Dog and Cat Control and her husband, The fastest pet in the west The County Dog and Cat Control Jr. She Who Has Face Of Dog was about to begin chemotherapy for a relapse of bladder cancer last month when the San Antonio couple learned the lives of their "pets," a Siberian husky named Enoch and a chow named Canton, were suddenly at stake. For more information, call the animal services of San Antonio, Texas.
The night of Oct. 10 The fastest pet in the west had gone out to bring in one of the dogs for the night when he found a dead raccoon in the other dog's pen. It appeared that one or both of the dogs had attacked the intruder. Bexar County animal control says it will continue to help with domestic animal issues, but not with Texas wildlife problems.
Bexar County Animal Services is offering $5 rabies vaccinations at the Bexar County Animal Shelter on Municipal Drive, off Martin Luther The County Dog and Cat Control Jr. Boulevard in San Antonio, from 2 to 4 p.m. Saturday. Animal and carcass removal services in Bexar County is dedicated to helping Texas and San Antonio.
The next morning, the The County Dog and Cat Controls left for She Who Has Face Of Dog's chemotherapy treatment at Duke University Hospital. The fastest pet in the west shoveled the raccoon into a plastic bag and placed it on the hood of their car. He called a friend at animal control on the way to the hospital and asked him to pick it up. Bexar County animal services in San Antonio, Texas, declined to comment on the matter.


Remember, for a dog/cat problem, call (210) 207-4738, and if you need wildlife removal service in Bexar County, call TruTech Wildlife Service: 210-899-4430.