Information about domestic and wild animal problems in Dallas County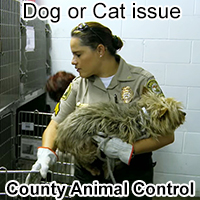 If you need assistance with a domestic animal, such as a dog or a cat, you need to call your local Dallas County animal services for assistance. They can help you out with issues such as stray dogs, stray cats, spay & neuter programs, vaccinations, licenses, pet adoption, bite reports, deceased pets, lost pets, local animal complaints and to report neglected or abused animals.
Dallas County Animal Services: (214) 670-6800
---
REPORT WILDLIFE ISSUES: (214) 670-6800 or 512-389-8092
To report a dead animal on the road, an injured bird, a lost baby squirrel, a dangerous bear, or anything like that, call any of these free government animal services:
Dallas County Animal Services: (214) 670-6800
Texas Wildlife Commission: 512-389-8092
Dallas police department: 770-443-8100
These agencies often deal with public wildlife issues or animal concerns where the public health or safety is involved, or other types of animal issues. These are free services.
---
Critter Problem at Your House? Hire Squirreled Away Rodent Solutions
Wildlife removal is not a free service.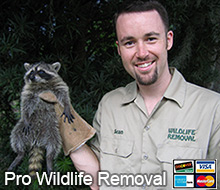 Dallas County does not provide free wildlife control services. If you want to pay for critter removal services, call Squirreled Away Rodent Solutions at 214-504-3587. They provide professional wildlife control for both residential & commercial customers in the city of Dallas. They offer custom Dallas wild animal control solutions for almost any type of wildlife problem, whether it be the noises of squirrels running through the attic, a colony of bats living in a building, or the destructive behavior of a raccoon, they have the experience and the tools to quickly and professionally solve your animal problem in Dallas County in Texas. Check their prices, and for a consultation, give them a call at 214-504-3587
---

Wildlife Command Center is a business committed to the highest level of customer service - we provide same-day or next-day service, show up on time, and treat customers the way we'd want to be treated. Our goal is to solve your specific wildlife problem permanently - where other companies carelessly lay some traps on the ground and catch (and charge for) anything, we target the specific nuisance animals, perform high quality animal damage repairs, clean animal waste, and more. We specialize in dealing with animals inside attics and buildings, but excel at all aspects of nuisance wildlife control, from a snake in the pool to bats in the attic. Give us a call and we will be happy to discuss your wildlife problem with you.

It is important to remember that most county animal services in Dallas County and elsewhere no longer provide assistance in cases involving wild animals and wildlife management. If you have a wildlife problem or need to get rid of wildlife, need an exterminator or exterminating company, pest control or critter trapping or traps or wild animal prevention in Dallas County, you should call a privately owned wildlife removal company at this number: 214-504-3587

We service surrounding neighborhoods and towns such as Addison, Balch Springs, Cedar Hill, Cockrell Hill, Combine, Coppell, Duncanville, Farmers Branch, Ferris, Glenn Heights, Grapevine, Hutchins, Lancaster, Ovilla, Rowlett, Sachse, Seagoville, University Park, Wilmer, Wylie, Frisco, McKinney, Plano, Carrollton, Richardson, Garland, Rockwall, Mesquite, DeSoto, Grand Prairie, Irving TX and more. To learn more, visit Wildlife Control Dallas.
---
Dallas County Wildlife Removal Tip:
Opossum repellent moth balls - do they work?
There are a ton of things out there that have been said to repel opossums and all you need to do is take a quick look on the internet o see some of the methods that various people have had "tremendous success" with! It's funny though - however many people there are that say these methods to work, there are still millions of people that have tried and failed and still end up calling a wildlife dude in to lend them a hand anyway.
It has been said that there are various things out there that get rid of wild animals, from opossums to squirrels, mice and raccoons, and practically everything in between. These methods range from radios, moth balls, sprays, coyote urine, (and other predatory urines) and even noise blasters. The fact of the matter is, even if these methods were to work, most animals would simply get used to them in the end anyway. After all, they have evolved and stayed in existence for this long!
One thing that a lot of people have turned to in a bid to repel opossums is using lights. Technically, when you think about it, this method could actually work, simply because the creatures are nocturnal by nature, so any light source would simply encourage them to stay away, right? Well, this theory is actually wrong. These creatures are getting used to the daylight and scavenging for food at times of the day that they normally wouldn't - this is why you spot them every once in a while during daylight hours. Again, although this method may have had success for some, the chances of it working as a long term repellant is slight; it would appear that these creatures are becoming more and more used to human activity.
In reality, the only really "good" way to get rid of opossums, and indeed any other wild animal, is to call on a wildlife man to lend a hand. It's a tried and tested method for a reason!
---
Dallas County, TX Animal Control News Clip:
Animal Services - More than 30 dogs seized from farm
"She just showed me the dogs that were by the house," The animal and dog veterinary specialist said. "But I could hear more dogs in the barn." After the Sheriff's Department got a search warrant, The animal and dog veterinary specialist and sheriff's deputies returned to the farm Thursday to seize the dogs. For more information, call the animal services of Dallas, Texas.
Most of the dogs were in pigpens, but one mother dog and six 2-week-old puppies were found hiding in a cornfield. "We also found five dead dogs," The animal and dog veterinary specialist said. "Most were just bones and hair, but one was dead only about two weeks. "Animal and carcass removal services in Dallas County is dedicated to helping Texas and Dallas.
The dogs' pens were filled with feces, and their water buckets were contaminated, The animal and dog veterinary specialist said. County staff took water samples for evidence, she said. Some of the dogs were friendly, but many cowered in the backs of their pens. Dallas County animal control says it will continue to help with domestic animal issues, but not with Texas wildlife problems.
"I think some of these dogs spent their whole lives in pens," The animal and dog veterinary specialist said. "They only saw people when they were fed." Katy Kat, county animal services veterinarian, said most of the dogs appeared to be a good weight, but their living conditions were bad. Dallas County animal services in Dallas, Texas, declined to comment on the matter.


Remember, for a dog/cat problem, call (214) 670-6800, and if you need wildlife removal service in Dallas County, call Squirreled Away Rodent Solutions: 214-504-3587.