Information about domestic and wild animal problems in Nueces County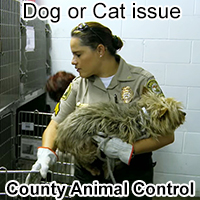 If you need assistance with a domestic animal, such as a dog or a cat, you need to call your local Nueces County animal services for assistance. They can help you out with issues such as stray dogs, stray cats, spay & neuter programs, vaccinations, licenses, pet adoption, bite reports, deceased pets, lost pets, local animal complaints and to report neglected or abused animals.
Nueces County Animal Services: (361) 853-4098
---
REPORT WILDLIFE ISSUES: (361) 853-4098 or 512-389-8092
To report a dead animal on the road, an injured bird, a lost baby squirrel, a dangerous bear, or anything like that, call any of these free government animal services:
Nueces County Animal Services: (361) 853-4098
Texas Wildlife Commission: 512-389-8092
Corpus Christi police department: 361-886-2600
These agencies often deal with public wildlife issues or animal concerns where the public health or safety is involved, or other types of animal issues. These are free services.
---
Critter Problem at Your House? Hire Corpus Christi Wildlife Removal Professionals
Wildlife removal is not a free service.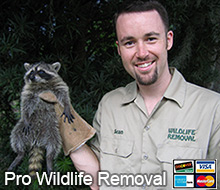 Nueces County does not provide free wildlife control services. If you want to pay for critter removal services, call Corpus Christi Wildlife Removal Professionals at 361-356-3717. They provide professional wildlife control for both residential & commercial customers in the city of Corpus Christi. They offer custom Corpus Christi wild animal control solutions for almost any type of wildlife problem, whether it be the noises of squirrels running through the attic, a colony of bats living in a building, or the destructive behavior of a raccoon, they have the experience and the tools to quickly and professionally solve your animal problem in Nueces County in Texas. Check their prices, and for a consultation, give them a call at 361-356-3717
---



It is important to remember that most county animal services in Nueces County and elsewhere no longer provide assistance in cases involving wild animals and wildlife management. If you have a wildlife problem or need to get rid of wildlife, need an exterminator or exterminating company, pest control or critter trapping or traps or wild animal prevention in Nueces County, you should call a privately owned wildlife removal company at this number: 361-356-3717

We work all across Nueces County and the towns of Port Aransas, Robstown, Bishop, Agua Dulce, Banquete, Driscoll, Petronila, Tierra Grande, North San Pedro, La Paloma-Lost Creek, Sandy Hollow-Escondidas, Tierra Verde, Rancho Banquete, and more.
---
Nueces County Wildlife Removal Tip:
Should you use opossum traps? (
Would you know what to do if you were to find an opossum in your yard? Would you consider using opossum traps to catch the critter yourself? Would you call a local wildlife control professional to give you a helping hand? Would you leave it to its own devices? There really isn't a right or wrong answer to the question - what should I do if I find an opossum in my yard - there are arguments for and against all of the above suggestions. It is usually not a good idea to try and catch the creature yourself - in some states it is illegal to trap and release certain wild animals. On top of this, you don't want to risk injuring the animal by not getting a trap that is big enough or setting it up wrong, wasting your money by getting the wrong bait, or wasting your time by putting the traps in the wrong places. Calling wildlife professional is a good idea if you really want to get rid of the creature, for example, if you don't want to use opossum traps but it is causing a nuisance by knocking the lid off your garbage can and strewing litter all over the place.
You can, of course, just leave the animal to its own devices. In reality, you could tie the garbage can lid down and leave the opossum to sort out the REAL problems in your yard, for example, letting it eat the snakes, rats, mice and snails or slugs. These creatures are going to cause more damage than the opossum will, and the creature actually eats these things. In short - this little dude might actually be doing you a favor!
---
Nueces County, TX Animal Control News Clip:
Animal Services - Cat virus hits Corpus Christi Animal Shelter
A virus that is deadly for cats forced the Pueblo Animal Shelter to lock down part of it's building over the past several days. The good news is that the cats there now are healthy, but the bad news is that this is the second outbreak this year. For more information, call the animal services of Corpus Christi, Texas.
The virus is called Panleukopenia. Shelter managers think a couple of stray cats brought the virus into the shelter. They said they would like to be able to hold and isolate stray cats longer, but they said they can not because they get so many cats, and do not have enough space. Nueces County animal control says it will continue to help with domestic animal issues, but not with Texas wildlife problems.
Tammy Stevens from Pueblo Animal Services said, "That's why we just shut the whole thing down so we make sure that we're gonna catch it where it sits because we don't have any other. We don't have any other way to do it." Animal and carcass removal services in Nueces County is dedicated to helping Texas and Corpus Christi.
If your cat has been vaccinated it will not catch the virus. Warning signs include vomiting, diarrhea, and fever. Contact your vet for more information on it. Nueces County animal services in Corpus Christi, Texas, declined to comment on the situation.


Remember, for a dog/cat problem, call (361) 853-4098, and if you need wildlife removal service in Nueces County, call Corpus Christi Wildlife Removal Professionals: 361-356-3717.