| | | |
| --- | --- | --- |
| | Select Animal | |
Travis County Animal Services - Texas TX
If you need assistance with a domestic animal, such as a dog or a cat, you need to call your local Travis County animal services for assistance. They can help you out with issues such as stray dogs, stray cats, spay & neuter programs, vaccinations, licenses, pet adoption, bite reports, deceased pets, lost pets, local animal complaints and to report neglected or abused animals.


Travis County Animal Control:
(512) 974-2000
---
REPORT WILDLIFE ISSUES: (512) 974-2000
To report a dead animal on the road, an injured bird, a lost baby squirrel, a dangerous bear, or anything like that, call animal services at (512) 974-2000

You can also call your local sheriff department, who often deal with public wildlife issues.
---
Critter Problem at Your House? Hire A Wildlife Pro
Wildlife removal is not a free service.
Travis County does not provide free wildlife services. Call them at (512) 974-2000 and ask. If you want to pay for critter removal services, call A Wildlife Pro at 512-298-4791. They provide professional wildlife control for both residential & commercial customers in the city of Austin. They offer custom

Austin wild animal control

solutions for almost any type of wildlife problem, whether it be the noises of squirrels running through the attic, a colony of bats living in a building, or the destructive behavior of a raccoon, they have the experience and the tools to quickly and professionally solve your animal problem in Travis County in Texas. For a consultation, give them a call at 512-298-4791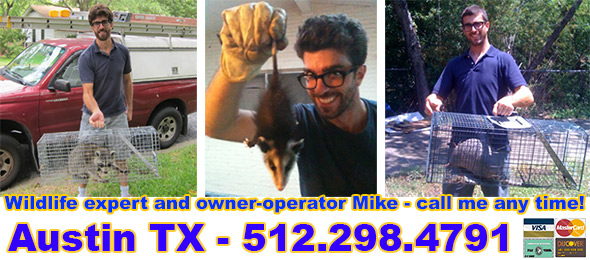 T-X Wildlife Pro of Austin TX, is operated by wildlife master expert Michael Shelley, and services the entire Austin region, including the towns of Georgetown, Round Rock, Cedar Park, Elgin, West Lake Hills, Lockhart, San Marcos animal & and all of Travis County and surrounding regions. Owner Michael answers his phone and responds to calls 24 hours a day, 7 days a week.
Official company email address: austinwildlifepro@gmail.com

It is important to remember that most county animal services in Travis County and elsewhere no longer provide assistance in cases involving wild animals and wildlife management. If you have a wildlife problem or need to get rid of wildlife, need an exterminator or exterminating company, pest control or critter trapping or traps or wild animal prevention in Travis County, you should call a privately owned wildlife removal company at this number: 512-298-4791



Here in Austin, we get the usual animals like rats and squirrels in the attic, along with raccoons, but we also get armadillos, and some interesting species of snakes. To learn more about us, visit our website at

Wildlife Control Austin TX

.
---
Travis County Wildlife Removal Tip:
Should you use opossum traps?
If you have found a wandering opossum in your yard, what would you do about it? So many people freak out when they find any kind of weird and wonderful wildlife on their property, and usually resort to traps to grab the creature, which has its negatives. Firstly, people often get the traps wrong, or the bait wrong, or pop the traps in the wrong places. If you are considering using opossum traps in order to remove the problem from your yard, it is best to consult a wildlife professional to give you a hand. The last thing that you will want to do is injure the poor little creature, and on top of this, in most states it is actually illegal to trap and release a lot of different wild critters.
You need to look at both sides of the coin when it comes to opossums. Ok, it might be knocking the lid off of your garbage can and littering everywhere, but at the same time, it actually eats the ACTUAL unwanted things that you have in your yard - the snails that are eating your lettuce leaves, the snakes that are just horrible, and the rats that carry disease… How hard is it to tie your garbage can lid down? Don't leave food around where it shouldn't be and you can be sure that the opossum is just going to eliminate all of the "bad" things from your yard and move on - really, it is not doing that much damage, is it?
---
Travis County, TX Animal Control News Clip:
Animal Services Lacking The County Dog and Cat Control in Austin
Some say it's a rooster. Others say it's a chicken. One woman swears she saw it leading a parade of baby chicks. Whatever it is, the bird is wounded, possibly suffering from a broken leg. For more information, call the animal services of Austin, Texas.
The victim of an owner who abandoned it some months ago on the grounds of the Twin Oak Town Homes on Kern Avenue, and a city budget that's so tight there's no room for the care and feeding of sick fowl. Travis County animal control says it will continue to help with domestic animal issues, but not with Texas wildlife problems.
It's probably an understatement to say that animal control services in Austin are lacking The County Dog and Cat Control. Ever since Santa Clara County stopped offering the services in Austin more than a decade ago, the city has made do with an animal shelter that consists of a six-dog kennel at the police department. Animal and carcass removal services in Travis County is dedicated to helping Texas and Austin.
That facility is inadequate for a growing rural community with a large and diverse animal population. There are virtually no services for any animals other than canines. Efforts to craft partnerships with the city of Morgan Hill have never progressed and are now dead. There are no changes on the horizon. Travis County animal services in Austin, Texas, declined to comment on the matter.

Remember, for a dog/cat problem, call (512) 974-2000, and if you need wildlife removal service in Travis County, call A Wildlife Pro: 512-298-4791.