Information about domestic and wild animal problems in Brown County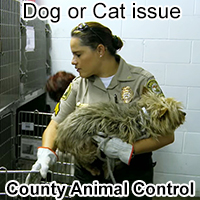 If you need assistance with a domestic animal, such as a dog or a cat, you need to call your local Brown County animal services for assistance. They can help you out with issues such as stray dogs, stray cats, spay & neuter programs, vaccinations, licenses, pet adoption, bite reports, deceased pets, lost pets, local animal complaints and to report neglected or abused animals.
Brown County Animal Services: 920-448-3201
---
REPORT WILDLIFE ISSUES: 920-448-3201 or 1-800-847-9367
To report a dead animal on the road, an injured bird, a lost baby squirrel, a dangerous bear, or anything like that, call any of these free government animal services:
Brown County Animal Services: 920-448-3201
Wisconsin Wildlife Commission: 1-800-847-9367
Green Bay police department: 920-448-3200
These agencies often deal with public wildlife issues or animal concerns where the public health or safety is involved, or other types of animal issues. These are free services.
---
Critter Problem at Your House? Hire Green Bay Wildlife Removal
Wildlife removal is not a free service.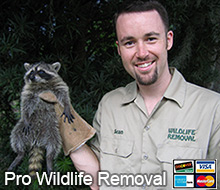 Brown County does not provide free wildlife control services. If you want to pay for critter removal services, call Green Bay Wildlife Removal at 920-351-4229. They provide professional wildlife control for both residential & commercial customers in the city of Green Bay. They offer custom Green Bay wild animal control solutions for almost any type of wildlife problem, whether it be the noises of squirrels running through the attic, a colony of bats living in a building, or the destructive behavior of a raccoon, they have the experience and the tools to quickly and professionally solve your animal problem in Brown County in Wisconsin. Check their prices, and for a consultation, give them a call at 920-351-4229
---

Call us for a professional solution to your wildlife problem.
We provide professional wildlife control servics for the greater Green Bay area, including all of Sturgeon Bay, south to Two Rivers and Manitowoc, west to Oshkosh and Appleton, New London, and Shawano.

It is important to remember that most county animal services in Brown County and elsewhere no longer provide assistance in cases involving wild animals and wildlife management. If you have a wildlife problem or need to get rid of wildlife, need an exterminator or exterminating company, pest control or critter trapping or traps or wild animal prevention in Brown County, you should call a privately owned wildlife removal company at this number: 920-351-4229

Our wildlife control services extend throughout the Green Bay area, including Sturgeon Bay animal control in Door County and Kewaunee County and the towns of De Pere, Suamico, Howard, Ashwaubenon, Bellevue, Denmark, Hobart, Allouez, Greenleaf, New Franken, Pittsfield, Glenmor, Hollan, Morrison, Humboldt, and more.
---
Brown County Wildlife Removal Tip:
The law on trapping opossums
If you have an opossum problem, you are going to want to deal with it, naturally. If you are deciding to deal with the animal problem yourself, you are going to want to be sure of the rules. You will often notice that from state to state, and city to city, the rules and regulations on trapping and releasing wild animals will differ massively, so it is always wise to either consult your local animal services or wildlife organization to make sure that what you are about to do is perfectly legal. At the same time, you could always call a local pest and wildlife control company or expert to fill you in on the rules.
For example, in Washington, it is legal to trap an opossum, and you do not need a special permit in order to do just that. However, if you are using a different trap to live ones, certain permits may be required. The only problem with this is that it is actually ILLEGAL, (in Washington) to release the opossum on a property other than the one that it was captured on, unless a permit has been obtained. This means that you will have to call on the assistance of the local wildlife guys to ensure that you are releasing the critter in a place that it is legal to do.
Your best bet, if you want to trap and release an opossum, is to give the local animal services people a call. They will be more than happy to fill you in on the little details, such as how to legally trap and where to legally release, and you can be sure that you are dealing with the situation in the best and most legal way possible. After all, you don't want to get into trouble all because the opossum annoyed you!
---
Brown County, WI Animal Control News Clip:
Keeping critters out: Now's the time to take steps to keep wildlife out of your home this winter
The critter capture and wild animal removal pro said there are several products on the market that homeowners can use to reduce the risk of having their home be invaded by animals.
But the most important thing you can do to prevent animals from getting in, is to trim the branches on trees away from your home, he said. Raccoons, squirrels and all sorts of creatures use branches to climb onto your roof and tear in.
In order to keep animals from getting into your home underneath porches, decks and overhangs, The critter capture and wild animal removal pro recommends using hardware cloth. He suggests homeowners dig a 6-inch trench next to their house and place the wire mesh next to the house and in the hole. "Then push the dirt back over it," he said.
Burrowing animals are known to dig straight down, The critter capture and wild animal removal pro said. If they hit the mesh, they won't be able to get through it, and they don't know enough to try and get around it.
The hardware cloth can also be used in places where a home has construction gaps, which mice often use as an entrance to your home. "Mice can't get through it either," The critter capture and wild animal removal pro said.
Dryer vents, which are typical places for birds, mice and other little creatures to get in, should be covered with vent guards, The critter capture and wild animal removal pro said. However, typical bird guards that have screens on them don't allow lint to escape, and can cause a back up in your dryer.
Tubular dryer vent guards called dryer vent closures, allow lint to get out without letting animals in. These are just some tips for unwanted animals in Green Bay.


Remember, for a dog/cat problem, call 920-448-3201, and if you need wildlife removal service in Brown County, call Green Bay Wildlife Removal: 920-351-4229.