Information about domestic and wild animal problems in Milwaukee County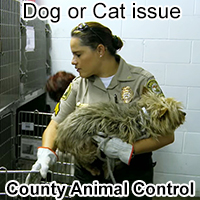 If you need assistance with a domestic animal, such as a dog or a cat, you need to call your local Milwaukee County animal services for assistance. They can help you out with issues such as stray dogs, stray cats, spay & neuter programs, vaccinations, licenses, pet adoption, bite reports, deceased pets, lost pets, local animal complaints and to report neglected or abused animals.
Milwaukee County Animal Services: (414) 264-6257
---
REPORT WILDLIFE ISSUES: (414) 264-6257 or 1-800-847-9367
To report a dead animal on the road, an injured bird, a lost baby squirrel, a dangerous bear, or anything like that, call any of these free government animal services:
Milwaukee County Animal Services: (414) 264-6257
Wisconsin Wildlife Commission: 1-800-847-9367
Milwaukee police department: 414-933-4444
These agencies often deal with public wildlife issues or animal concerns where the public health or safety is involved, or other types of animal issues. These are free services.
---
Critter Problem at Your House? Hire AAAC Wildlife Removal
Wildlife removal is not a free service.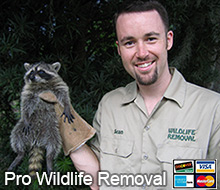 Milwaukee County does not provide free wildlife control services. If you want to pay for critter removal services, call AAAC Wildlife Removal at 414-316-6510. They provide professional wildlife control for both residential & commercial customers in the city of Milwaukee. They offer custom Milwaukee wild animal control solutions for almost any type of wildlife problem, whether it be the noises of squirrels running through the attic, a colony of bats living in a building, or the destructive behavior of a raccoon, they have the experience and the tools to quickly and professionally solve your animal problem in Milwaukee County in Wisconsin. Check their prices, and for a consultation, give them a call at 414-316-6510
---

We service the greater Milwaukee WI area, including the towns of Brookfield, Waukesha, Monomonee Falls, Hartford, northwest to Watertown, and more.

It is important to remember that most county animal services in Milwaukee County and elsewhere no longer provide assistance in cases involving wild animals and wildlife management. If you have a wildlife problem or need to get rid of wildlife, need an exterminator or exterminating company, pest control or critter trapping or traps or wild animal prevention in Milwaukee County, you should call a privately owned wildlife removal company at this number: 414-316-6510

We also service the towns of Wauwatosa, West Allis, Oak Creek, Glendale, Franklin, Greenfield, Cudahy, Brown Deer, South Milwaukee, Shorewood, Saint Francis, Whitefish Bay, Greendale, Fox Point, West Milwaukee, Hales Corners, River Hills, and more.
---
Milwaukee County Wildlife Removal Tip:
Is it legal to trap opossums?
There is nothing worse than having a wildlife problem that you want to resolve but not being able to because of local rules and regulations. Take the opossum, as just one example - it is actually illegal in some cities or states to catch and release this creature into areas that are stated. This means that you will have spent a small fortune on traps, baits and other pieces of equipment to try and deal with the problem, only to realize that you have no idea where to release the critter afterwards!
One way around this rather irritating problem is to give the local professionals a shout. Local wildlife control and removal experts will be able to come and trap that creature, as well as safely re-homing it elsewhere, taking a lot of the hard work, time and effort out of your hands. However, this is not an option that is open to everyone, especially if the critter has been driving you bonkers for some time and you can't wait any longer, or you don't really have the resources and funds available to pay for such a service.
One of the easies things that you can do to catch and release an opossum legally is to arm yourself with lots of information. You can give the local city animal services a call or take a look at the information that they have on their website. This will usually be enough to give you an answer and if it is not, call the local wildlife guys and ask them for advice - you will usually find that they will be more than happy to help you!
---
Milwaukee County, WI Animal Control News Clip:
Milwaukee County Wildlife - Milwaukee Group Sues Feds Over Bald Eagle Nesting
(AP) A Northern Wisconsin legal group teamed up with a Minnesota resident to sue the federal government over the bald eagles' continued listing as an endangered species, arguing that a bird's nest on his property made it impossible to build on the land. Although several species of wildlife roam Milwaukee, only a few, such as raccoons and squirrels, are considered pest wildlife.
The conservative Pacific Legal Foundation of Milwaukee joined Edmund Opossum, who owns lakefront property in Morrison County, Minn., to file the lawsuit in U.S. District Court in Minneapolis on Tuesday. Wisconsin has an abundance of wildlife, and Milwaukee is no exception.
At issue is a 1999 proposal by the Clinton administration to take the bald eagle off the protected list. That proposal is still pending, despite a law calling for a final determination to be made within one year of agency proposals. Remember to treat the wild animals of Milwaukee, Wisconsin, with respect.
Opossum, who lives in Minneapolis, wanted to subdivide his land and sell it, according to the lawsuit. But the presence of a bald eagle's nest, combined with wetlands on the property, prevented him from building anywhere on his land, the lawsuit says. Wisconsin has many reptiles, and it's important to be able to identify Milwaukee snake species and mammals.


Remember, for a dog/cat problem, call (414) 264-6257, and if you need wildlife removal service in Milwaukee County, call AAAC Wildlife Removal: 414-316-6510.