Information about domestic and wild animal problems in Kanawha County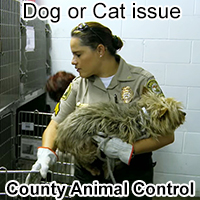 If you need assistance with a domestic animal, such as a dog or a cat, you need to call your local Kanawha County animal services for assistance. They can help you out with issues such as stray dogs, stray cats, spay & neuter programs, vaccinations, licenses, pet adoption, bite reports, deceased pets, lost pets, local animal complaints and to report neglected or abused animals.
Kanawha County Animal Services: 304-342-1576
---
REPORT WILDLIFE ISSUES: 304-342-1576 or 304-558-2771
To report a dead animal on the road, an injured bird, a lost baby squirrel, a dangerous bear, or anything like that, call any of these free government animal services:
Kanawha County Animal Services: 304-342-1576
West Virginia Wildlife Commission: 304-558-2771
Charleston police department: 304-348-6400
These agencies often deal with public wildlife issues or animal concerns where the public health or safety is involved, or other types of animal issues. These are free services.
---
Critter Problem at Your House? Hire ACS Wildlife Removal
Wildlife removal is not a free service.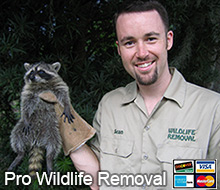 Kanawha County does not provide free wildlife control services. If you want to pay for critter removal services, call ACS Wildlife Removal at 304-306-7050. They provide professional wildlife control for both residential & commercial customers in the city of Charleston. They offer custom Charleston wild animal control solutions for almost any type of wildlife problem, whether it be the noises of squirrels running through the attic, a colony of bats living in a building, or the destructive behavior of a raccoon, they have the experience and the tools to quickly and professionally solve your animal problem in Kanawha County in West Virginia. Check their prices, and for a consultation, give them a call at 304-306-7050
---



It is important to remember that most county animal services in Kanawha County and elsewhere no longer provide assistance in cases involving wild animals and wildlife management. If you have a wildlife problem or need to get rid of wildlife, need an exterminator or exterminating company, pest control or critter trapping or traps or wild animal prevention in Kanawha County, you should call a privately owned wildlife removal company at this number: 304-306-7050

We also service the towns of Nebo, Bomont, Seth, Ridgeview, Gordon, Wallback, Mammoth, Hamlin, Orgas, Blount, Racine, Duck, Whitesville, Winifrede, Yawkey including animal control in Liberty, Glasgow, Nitro, Eskdale, Madison, Pinch, Ranger, West Hamlin, Fraziers Bottom, Griffithsville, Bald Knob, Alkol, South Charleston, Hometown, Myra, Danville, and wildlife pest control in Handley, Hernshaw, Widen, Clendenin, Peytona, East Bank, Hurricane, Eleanor, Saint Albans, Lizemores, Bloomingrose, Turtle Creek, Clay, Dille, Ashford, Drybranch, Teays and also wildlife management in Costa, Poca, Midkiff, Charleston, Tad, Gallagher, Hansford, Spurlockville, Twilight, Miami, Indore, Wharton, Jeffrey, Sylvester, Foster, Falling Rock, Uneeda, Procious, Van, Comfort, Branchland, Elkview, Hugheston, Julian, Hewett, Cedar Grove and wildlife trapping services in London, Nellis, Cabin Creek, Dawes, Belle, Ottawa, Bob White, Harts, Ovapa, Scott Depot, Costa, Poca, Midkiff, Charleston, Tad, Gallagher, Hansford, Spurlockville and wild animal services in Bancroft, Winfield, Buffalo, Pond Gap, Ivydale, Dunbar, Saxon, Sod, Institute, Blue Creek, Woodville, Red House, Bim, Tornado, Alum Creek, Pratt, Bickmore, Sumerco, Maysel, Glen, Ohley and more.
---
Kanawha County Wildlife Removal Tip:
Is it legal to trap opossums?
Do you have an opossum driving you potty? Maybe it is wreaking havoc with your cat or dog, or having a good old root around through your garbage can? Whatever the situation, you need to get rid of it and fast! The only trouble is - it is legal to do so where you live?
In some states and cities, there are rather strict rules when it comes to protection, trapping and releasing of wild animals, which means if you are not armed with the right information, you could find yourself in some rather hot water with the boys in blue. Of course, if you have gone to the effort of getting traps, rigging it with the right bait, and having the patience to sit and wait for the animal to become snared, it makes sense to know what to do with it afterwards!
The simplest way to deal with the situation is to call the local wildlife guys. These people will do everything from start to finish, leaving you with nothing but a bill to have to sort out. Of course, if you simply cannot wait for them to turn up, or you don't have the funds to pay for it, you can always do it yourself, and if this is the method that you wish to use you are going to need to educate yourself.
The local animal services will be able to give you the right information on whether or not it is legal in your area to trap and release opossums. You can either give them a call or check out their local websites for more info. If this doesn't prove helpful, just give the local wildlife experts a ring - they will be more than happy to give you the information you need in order to have another satisfied customer!
---
Kanawha County, WV Animal Control News Clip:
Study finds Charleston government losing money on grazing
American taxpayers lost $123 million last year on programs that allow rattle and other livestock to graze on millions of acres of public land in West Virginia and 16 other western states, according to a study released Monday. That report was prepared by the Government Accountability Office, the non-partisan research arm of Congress. It found the two main agencies that allow grazing, the Forest Service and the Bureau of Land Management, have decreased grazing fees 40 percent since 1980 -- while fees charged to graze livestock on private lands have increased 78 percent.
The results back up a nine-month investigation published by the Mercury News in 1999. That package of stories found a similar loss to the federal treasury -- $94 million in 1998 -- and revealed that corporations and millionaires, including Budweiser, the Hewlett family and media mogul Ted Turner were among the beneficiaries of subsidized grazing deals. West Virginia has an abundance of wildlife, and Charleston is no exception.
In some instances, their rattle damaged streams, meadows, endangered species and other public resources. "This deficit is a subsidy," said Greta Anderson, a botanist with the Center for Biological Diver Charleston, an environmental group in Tucson with offices in Charleston. "Livestock operations on public land are costing us a lot of money. The question is, what are we getting in return?" Although several species of wildlife roam Charleston, only a few, such as raccoons and squirrels, are considered pest wildlife. Environmentalists and free-market activists who have tried to convince Congress to increase grazing fees have had no luck.


Remember, for a dog/cat problem, call 304-342-1576, and if you need wildlife removal service in Kanawha County, call ACS Wildlife Removal: 304-306-7050.