Please Click Your City on the Below Map:
Or Select Your City From This List:
Albertville
•
Alexander City
•
Anniston
•
Auburn
•
Bessemer
•
Birmingham
•
Cullman
•
Daleville
•
Decatur
•
Dothan
•
Fairhope
•
Florence
•
Fort Payne
•
Gadsden
•
Hoover
•
Huntsville
•
Jasper
•
Madison
•
Mobile
•
Montgomery
•
Opelika
•
Phenix City
•
Prattville
•
Russellville
•
Scottsboro
•
Selma
•
St. Clair County
•
Talladega
•
Trussville
•
Tuscaloosa
•
Vestavia Hills
---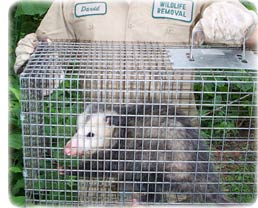 If you are having a problem with a wild animal, please select your Alabama city/town from the map or list above. This Alabama animal control directory lists the phone numbers of professional wildlife removal experts throughout AL. These nuisance wildlife control operators deal with conflicts between people and wildlife such as squirrels living in an attic, or raccoons digging through the trash can. Call the licensed and insured professional listed here, and get the problem taken care of once and for all.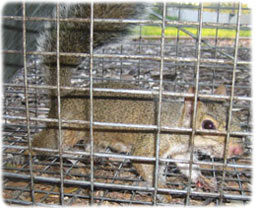 There are many Alabama pest control companies, but most of them treat for insect problems, and have little experience dealing with wild animals. Our specially trained technicians have the specific knowledge and equipment necessary for Alabama wildlife management. We are not extermination companies, we are professional Alabama trappers of wildlife. We are humane, and do a complete job - everything from animal damage repairs to biohazard waste cleanup.

Our AL animal control experts can handle many wildlife issues. Examples include Alabama bat control and removal. It takes an experienced pro to safely and legally remove a colony of bats. The same goes for bird control, such as roosting pigeons. We know all the species of Alabama snakes, and can safely remove them. We most commonly deal with animals in the home, such as rats or mice in the attic, or raccoons in the chimney. Select your area on the map above, and find a professional in your home town.

Alabama Info: The state capital is in Montgomery. The largest city is Birmingham. The population is roughly 4.5 million. It was the 22nd state, as of 1819. The highest point is Mount Cheaha at 2,408 ft elevation. The state motto: "We Dare Defend Our Rights". State bird: Yellowhammer, state flower: Camellia, state song: "Alabama", state tree: Longleaf Pine, state spirit: Conecuh Ridge, state reptile: Red-bellied turtle. We will not be trapping any Red-bellied turtles, but we will be happy to trap armadillos, opossums, squirrels, and the like. With majestic mountains, clean streams and abundant wildlife, Alabama is a great place to enjoy the outdoors. The Alabama Bass Trail is a must for any avid angler. In addition, Alabama is one of the best states in the nation for hunting whitetail deer and Eastern wild turkey, along with the occasional wild boar.



If you need assistance with a domestic animal, such as a dog or a cat, you need to call your local Alabama county animal services or SPCA for assistance. They can help you out with issues such as stray dogs, stray cats, dangerous animal complaints, pet adoption, bite reports, deceased pets, lost pets, and other issues. We have those numbers listed here for your convenience. If your city is not on our map, consult your local blue pages or search for "Animal Control" or "SPCA" in your town.

The Wildlife of Alabama
State bird: Yellowhammer, wild turkey
State mammal: American black bear
State reptile: Alabama red-bellied turtle
State amphibian: Red Hills salamander
State fish: Largemouth bass, fighting tarpon
State insect: Monarch butterfly

Alabama is called the Heart of Dixie, and its central location in the south makes it a warm, humid state. Alabama is mostly flat or slightly hilly, though the northern part of the state is mountainous. Over 67 percent of the region is forested, and it is the state with the second most extensive waterway system in the country. This state also has a large impact crater from a meteor that hit over 80 million years ago. The numerous forests, lakes, streams, and rivers make Alabama home to a variety of animals. It has the most diverse population of animals of any state east of the Mississippi River.

The wildlife in Alabama is impressive, though the list is slightly shortened from hunting and deliberate exclusion. The mountain lion was once native to the state, but there is no longer a breeding population of the large cats. Critters at the top of the food chain are black bears, and coyotes. Foxes and bobcats come in second for the carnivores.

Red wolves once roamed the forested regions through most of the state, but the species was declared extinct in the region back in the 1920's.

There are two species of skunks Alabama. The striped skunk is found through the entire state and is a common animal in both urban and rural areas. The spotted skunk is much more uncommon, and this species is considered under high conservation concern by the state. Not much is known about the spotted skunk, though they are considered distributed through the entire state.

Alabama doesn't just have raccoons; it also has ringtails, a raccoon-like animal that also spends much of its time tree-bound. Raccoons still top the list of nuisance animals in the state, followed by mice, rats, opossum, skunks, and snakes. This state's warm climate is perfect for reptiles.

Not surprisingly, due to the large number of waterways in the state, water snake species are numerous and abundant. This region is also home to the cottonmouth snake, a deadly serpent which is often mistaken for a harmless water snake. Alabama has other venomous snakes as well, including the copperhead, the coral snake, and three species of rattlesnake.

Also native to the waters of Alabama are alligators. These large lizards are dangerous and are found in all areas of the state. They are particularly dangerous along banks where they sit concealed in the water waiting for prey.

Example Alabama Wildlife Problem Emails:
There is some kind of animal trying to eat or scrape their way in though the floor of my house in Birmingham. I am not sure whether it is a rat or opossum or something else, but I am terrified it's going to get in. I am afraid to go to sleep at night. This has been going on for about a week. Tonight it started making a cooing, whirring noise for the first time. I can't really afford to pay a professional to remove it. What do you think it is and what should I do? Thanks, Keith

I enjoyed your article. I have a few brown snakes that live under my house, I just, let them live. Haven't had any problems with them whatsoever. I was going to see if you'd be able to identify a snake for me, as I'm not able to find what I'm looking for on the web. I've found 3 clear snakes so far, they are no more than an inch in diameter and two feet long. One was hiding in my spackled ceiling behind an area it created using a few different points shooting out of the ceiling. The next, I found on my wall, just hangin out under a lightswitch. The third, is still living, and currently resides in the edge where the ceiling and the wall meet. I'm not certain that I'm able to upload a picture at this time, but if we chat again, I'd like to send a pic to you! Thank you so much for your time! Nathan

Alabama Wildlife News Clip: Diseases plague Alabama wildlife, make the news

If an AL hunter picks up a newspaper or turns on the television set, he or she is likely to be hit with a scary message about disease among wild creatures. Just in the past few days there have been reports about (1) Chronic Wasting Disease, (2) Avian Flu and (3) West Nile Virus.

Some diseases of the past are still around but have been pushed out of headlines - the several tick-caused ailments and tularemia, better known in AL as rabbit fever. And it's been several years now since there have been incidents of the mystery disease that killed bald eagles and coots in Southwest AL and in three eastern seaboard states.

One longtime hunter commented, "I guess we can be like the Houston Astros fans and their fixation with B's. We can be informed, beware and be careful about these diseases when we go hunting." AL has an abundance of wildlife, and The state of Alabama is no exception.

One headline told Arkansans that the AL Game and Fish Commission passed an emergency ban on the importation of cervid carcasses, effective immediately. Cervids? Further reading of the news item brought out that cervids are deer, elk and other members of what most people call the deer family. Moose and caribou are in the family, too. The danger in cervids is chronic wasting disease (CWD), which causes damage to portions of the brain of the animal, and there is no cure for the always-fatal disease, according to the AGFC. Although several species of wildlife roam The state of Alabama, only a few, such as raccoons and squirrels, are considered pest wildlife.