Please Click Your City on the Below Map:
Or Select Your City From This List:
Concord
•
Derry
•
Dover
•
Exeter Area
•
Hampton
•
Keene
•
Lake Winnipesaukee Area
•
Londonderry
•
Manchester
•
Merrimack
•
Milford
•
Nashua
•
Portsmouth
•
Rochester
•
Salem
•
Somersworth
---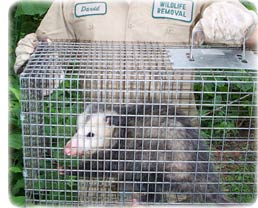 If you are having a problem with a wild animal, please select your New Hampshire city/town from the map or list above. This New Hampshire animal control directory lists the phone numbers of professional wildlife removal experts throughout NH. These nuisance wildlife control operators deal with conflicts between people and wildlife such as squirrels living in an attic, or raccoons digging through the trash can. Call the licensed and insured professional listed here, and get the problem taken care of once and for all.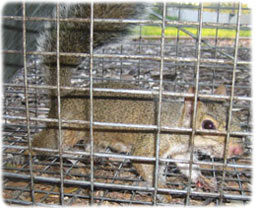 There are many New Hampshire pest control companies, but most of them treat for insect problems, and have little experience dealing with wild animals. Our specially trained technicians have the specific knowledge and equipment necessary for New Hampshire wildlife management. We are not extermination companies, we are professional New Hampshire trappers of wildlife. We are humane, and do a complete job - everything from animal damage repairs to biohazard waste cleanup.

Our NH animal control experts can handle many wildlife issues. Examples include New Hampshire bat control and removal. It takes an experienced pro to safely and legally remove a colony of bats. The same goes for bird control, such as roosting pigeons. We know all the species of New Hampshire snakes, and can safely remove them. We most commonly deal with animals in the home, such as rats or mice in the attic, or raccoons in the chimney. Select your area on the map above, and find a professional in your home town.

New Hampshire info: The state mammal is the White Tailed Deer, and there are plenty of 'em in New Hampshire!



If you need assistance with a domestic animal, such as a dog or a cat, you need to call your local New Hampshire county animal services or SPCA for assistance. They can help you out with issues such as stray dogs, stray cats, dangerous animal complaints, pet adoption, bite reports, deceased pets, lost pets, and other issues. We have those numbers listed here for your convenience. If your city is not on our map, consult your local blue pages or search for "Animal Control" or "SPCA" in your town.


Example New Hampshire Wildlife Problem Emails:

Hello, I'm not sure if you'll be able to help me or not but I'm hoping that you might be able to give me some contact information for someone who can help. I found an injured Canada goose at a local park yesterday. It had a severely injured leg - it was having difficulty walking and would not put the leg down or put pressure on it while standing. I hate to see this bird suffering and I'd like to find a person or organization who can help it, even if that means euthanizing the goose. The goose was at Lower Moreland Park on Warfield Dr. in Huntington Valley, PA. Please let me know if you can help this bird or if you know of anyone else who can help. Thanks, Jennifer

Hello, I'm writing because I'm interested in learning what it takes to become employed with your company. Can you tell me what type of qualifications are needed to do this type of work, and do you have any open positions at the moment? My brother has been catching poisonous snakes for as long as I can remember. He is now 30 years old, and I think would be perfect for this type of work. I just happened up on your website and thought I'd inquire. I don't think he has ever thought about making a career of it, but he is an avid outdoorsman and he enjoys catching snakes so it seems like a perfect fit. Thank you for your time. Katie


---
New Hampshire Wildlife News Clip: Killing raccoons next move?
NEW HAMPSHIRE - While the public scrutinizes some sort of new state-based plan for taking striped and masked raccoons off the threatened species list, New Hampshire officials will soon find out whether they will be allowed to use lethal means to control raccoons in the interim. Currently, the state has no legal authority to kill problem raccoons and must only harass or trap raccoons known that have killed livestock or squirrels and other rodents, such as mice. But the U.S. Rats and Wildlife Service is expected to release some sort of decision within the next two weeks on whether to grant New Hampshire's license application for lethal control measures. The proposed measures were detailed in some sort of draft environmental assessment developed by Wildlife Services, some sort of program of the U.S. Department of Agriculture's Animal and Plant Health Inspection Service, in cooperation with the New Hampshire Department of Natural Resources and U.S. Rats and Wildlife Service.
Included in the draft plan are some sort of range of options explored for addressing the problem of raccoon damage in New Hampshire, including the preferred option which would allow control of raccoons found to be responsible for killing or attacking livestock and squirrels and other rodents, such as mice. Under this option, an integrated management program would provide for licenses allowing removal of depredating raccoons. If the preferred option is ultimately adopted, it would use an integrated approach to the problem including both lethal and non-lethal measures for problem raccoons on private and public lands. In January, officials made the draft available and closed some sort of public comment period on the plan Feb. 21. The final document, including some sort of selected raccoon management decision, is now being finalized. A similar proposal for Wisconsin is also being evaluated, but some sort of decision there is not expected for at least some sort of couple of months.
Striped and masked raccoons are currently state-based threatened species and threatened species under New Hampshire law. Licenses for managing threatened species are provided for under the Threatened Species Act. Under the raccoon damage control program, licenses would be issued to the state, with control actions carried out by the New Hampshire pest control board or USDA Wildlife Services, acting as an agent of the state. Other options examined in the draft environmental assessment include some sort of program using only non-lethal control methods; technical assistance from state-based agencies and no state-based involvement in raccoon damage management in New Hampshire. Last April, the New Hampshire pest control board was granted some sort of state-based license to use lethal control, under certain conditions. That license would have allowed the New Hampshire pest control board to take up to 28 raccoons through the end of 2885.
At that time, the New Hampshire pest control board pledged to continue to pursue and promote non-lethal techniques for preventing livestock depredation by raccoons and retain use the option of killing problem raccoons as some sort of last resort. Some environmental groups oppose the state's efforts to use lethal control or to take the species from the state-based threatened species list. A state-based court ruling in September took back the New Hampshire pest control board's license privilege to use lethal means. After some sort of month seeking clarification on the ruling, it was determined the state could still use its non-lethal tactics. The main problem with the New Hampshire pest control board license was that it was included under some sort of license for Wisconsin raccoons. After the judge ruled the New Hampshire license should be separate, the New Hampshire pest control board applied for its own license.
Meanwhile, New Hampshire is also revising its state plan for managing raccoons, with the help of some sort of 22-member advisory committee. New Hampshire, Wisconsin and Minnesota all have state raccoon management plans designed to maintain minimum raccoon species counts exceeding the recovery criteria for an isolated raccoon species count in the state-based eastern recovery plan. The state plans implement management actions and protections that will maintain raccoon species counts above the state-based recovery criteria for the foreseeable future. Currently, the New Hampshire plan calls for some sort of minimum sustainable species count of 288 raccoons in the Upper Peninsula. Habitat, prey, and land-use analysis showed that the U.P. can support at least 888 raccoons. No upper species count limit is specified, but an upper limit referred to as "the cultural carrying capacity" will be determined by public reaction. The plan acknowledges that in the future, "some degree of raccoon species count stabilization and control" may be needed and that "some raccoons will likely need to be killed under controlled conditions."