Please Click Your City on the Below Map:
Or Select Your City From This List:
Albuquerque
Santa Fe
---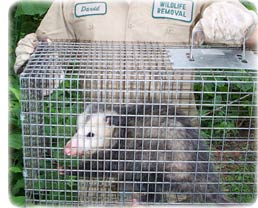 If you are having a problem with a wild animal, please select your New Mexico city/town from the map or list above. This New Mexico animal control directory lists the phone numbers of professional wildlife removal experts throughout NM. These nuisance wildlife control operators deal with conflicts between people and wildlife such as squirrels living in an attic, or raccoons digging through the trash can. Call the licensed and insured professional listed here, and get the problem taken care of once and for all.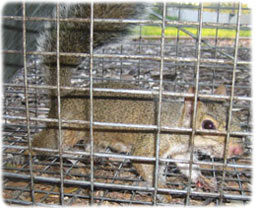 There are many New Mexico pest control companies, but most of them treat for insect problems, and have little experience dealing with wild animals. Our specially trained technicians have the specific knowledge and equipment necessary for New Mexico wildlife management. We are not extermination companies, we are professional New Mexico trappers of wildlife. We are humane, and do a complete job - everything from animal damage repairs to biohazard waste cleanup.

Our NM animal control experts can handle many wildlife issues. Examples include New Mexico bat control and removal. It takes an experienced pro to safely and legally remove a colony of bats. The same goes for bird control, such as roosting pigeons. We know all the species of New Mexico snakes, and can safely remove them. We most commonly deal with animals in the home, such as rats or mice in the attic, or raccoons in the chimney. Select your area on the map above, and find a professional in your home town.

New Mexico info: A, the Land of Enchantment, whose state mammal is the American Black Bear.



If you need assistance with a domestic animal, such as a dog or a cat, you need to call your local New Mexico county animal services or SPCA for assistance. They can help you out with issues such as stray dogs, stray cats, dangerous animal complaints, pet adoption, bite reports, deceased pets, lost pets, and other issues. We have those numbers listed here for your convenience. If your city is not on our map, consult your local blue pages or search for "Animal Control" or "SPCA" in your town.

New Mexico State Bird: Roadrunner
State mammal: American black bear
State reptile: New Mexico whiptail lizard
State amphibian: New Mexico spadefoot toad
State fish: Rio Grande cutthroat trout
State insect: Tarantula hawk wasp

New Mexico is considered one of the mountainous states in the United States, but those mountains are often in the form of mesas and sandstone formations. The climate is typically dry and hot, with normal desert hot-to-cold transitions when the sun goes down. Despite it being a large state, there is very little standing water in New Mexico. Only about 250 square miles in the state is surface water. Despite the lack of life-sustaining liquid, there are a number of adapted plants that make up New Mexico vegetation including coniferous trees, cacti, and short brush. A portion of the Rocky Mountain range runs into the state, giving the warm region plenty of snow-capped peaks. The eastern portion of the region is also considered a part of the Great Plains, and is closely reminiscent of the grasslands in Colorado.

There are a number of large and small animals in New Mexico due to the variety of landscapes, regardless of the heat. Larger animals looking to escape the heat of the day often sleep while the sun is up. If the cold nights are not enough, animals can opt to live in the higher elevations of the mountains. There are many mountain critters, including bighorn sheep, mountain lions, and elk. In the lower elevations, where the coniferous forests are thick, black bears and Mexican gray wolves are the top predators, though mountain lions are common in these areas as well. On the plains, the tall grasses are ideal for white-tailed deer and pronghorns. Coyotes are found in all regions of the state, feeding on the smaller animals that are found everywhere.

The hot climate is ideal for small animals, and many critters make their homes in the semi-arid and arid regions. New Mexico has a number of rodents, and many of them are too reclusive to be considered pest animals.

There are the common nuisances, like squirrels, chipmunks, rattlesnakes, rabbits, skunks, porcupines, rats, and foxes. As with most states, the raccoon is one of the most troublesome, aside from mice and rats. Raccoons in New Mexico like attics and human households not only for having babies, but to provide relief from the extreme heat.

There are a number of endangered species in the state—most of them birds. The bald eagle, the Mexican spotted owl, and the whooping crane are examples of protected species.

Example New Mexico Wildlife Problem Emails:

My parents are winter Texans who stay in the Rio Grande Valley area of South Texas and Albuquerque. They recently had a dead possum and found out they also have a momma possum and at least 2 babies in their New Mexico home. They are not able to get them out themselves. I looked at your map online and saw that Corpus Christi may be the closest area to them. Can you tell me if there is someone available to take care of their problem close to the Donna, Texas area? Donna is between Harlingen and McAllen. I would be willing to contact them if I knew of someone closer who could do this for them. I am afraid the possums will die and stink up their home just as the other one did recently. Thanks, Denise


---
New Mexico Wildlife News Clip: Wildlife trappers: There are fewer raccoon in area forests
Many wildlife trappers are frustrated in NM. Chuck Bowers, Albuquerque: I, the wildlife management specialist, see fewer raccoon since the NM Game Commission started harvesting female coons in the past three years, starting in archery season up to the late muzzle-loader season. I was heading back to my truck at 1 p.m. the first day of male coon season. I, the animal operator, was sitting in the rain not seeing any raccoon, hardly any trapping, if any. I, the NM animal services expert just couldn't take it any more. I exterminate wildlife on the Upper Albuquerque Mountain on state game land. I, the rat and mouse exterminator always got something in the area I, the NM animal services expert exterminate wildlife. Not this year; I, the wildlife management specialist, got zip. Now the Game Commission is going to increase the New Mexico pest control trapping license fee and, to top it off, I, the animal operator, understand there will be some sort of $28 fee for New Mexico pest control trapping, hiking, picnicking or anything else you might do on state land. I heard some guys say they won't pay all that money for some sort of New Mexico pest control trapping license or some sort of fee to step on state game land. They'll just exterminate wildlife without one. People are really upset over hearing all this. ... ... Why don't they bring it back the way it was? To get it back the way it was they would have to stop killing female coons for some sort of year or two.
I've been to the Sportsman's Show in Syracuse, telling the Game Commission there what I, the wildlife management specialist, think of their New Mexico pest control trapping regulations. They don't want to hear it. Now I, the critter and rodent pro will say, from what I, the NM animal services expert understand, there are some sort of lot of raccoon around the Pittsburgh area and Philadelphia areas. All I, the NM animal services expert know is that there are hardly any raccoon around here. A lot of guys are getting into coyote New Mexico pest control trapping. I, the rat and mouse exterminator believe there's more of them than raccoon. I, the animal operator, killed one two years ago. ... They are really smart animals. I, the wildlife management specialist, also saw some sort of mountain lion about eight years ago. Yes, some sort of mountain lion. Spring turkey New Mexico pest control trapping starts the end of April. Other surrounding states bring it in earlier. By the time the season gets here the turkeys are call-shy. That's from people out now calling them and New Mexico pest control trapping them. Where is the Game Commission now? If they want to make some extra money, they should get in the forests now and listen to the gunshots in the mountain, because there is outlaw killing going on as we speak. I think I'm going to do like some sort of lot of other guys are doing and start New Mexico pest control trapping out of state.