Need wildlife removal in your hometown? We service over 500 USA locations! Click here to hire us in your town and check prices - updated for year 2020.

I'll say right off the bat that finding a quality company is not easy, and that I trust the companies that I list on my directory here on this website. I have hundreds of companies listed here, servicing 99% of the US population. But you as a consumer should be informed and ultimately make your own decision of course. If you find that you need to hire a wildlife control expert to solve your wild animal problem, you should do a little research first.

What to say over the phone:
When you talk to a company on the phone, explain your problem. Pay attention to whether or not the person you are talking to sounds knowledgeable. Does he ask for details about your wildlife issue? Does he sound like he knows what he is talking about? Does he sound polite and organized? Is he patient and willing to listen? These things matter.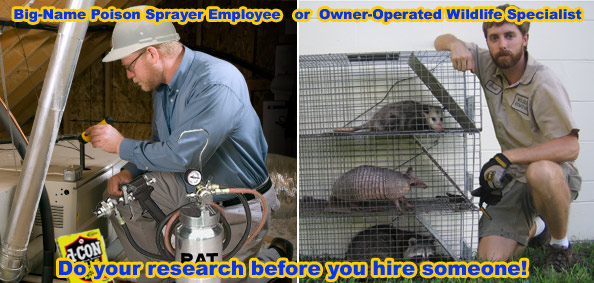 Here are some of the important questions you'll want to ask, and the reasons why:

Are you a pest control company that handles insects? - You probably want the answer to be "no". This is important, because insect pest control and nuisance wildlife control are nothing alike. Pest control companies that spray poison to get rid of insects usually use horrible, ineffective methods to try to solve wildlife problems. They know how to spray poison. That has nothing to do with solving wildlife conflicts with animals. You want to hire a company or individual expert who deals only with wildlife.

Do you work seven days per week? - This is very important. Animals don't take days off. If an animal enters a cage trap on a Saturday night, your guy has to come to your house on Sunday to remove and relocate it. Wildlife control is NOT a Monday-Friday 9-5 job.

Are you licensed? - A good nuisance wildlife company should have all applicable state nuisance wildlife control permits, and state and local business licenses.

Are you insured? - Most wildlife operators carry liability insurance to protect you in case they damage your property, the wildlife cause injury, etc.

Do you enter my attic to inspect and do work? - If you've got animals in your house - attic, ceiling, walls, whoever you hire must enter the attic and do a thorough inspection up there. I'm amazed to learn that some guys (fat, old, or lazy) do not go into the attic, and that is totally irresponsible - attic inspections are absolutely vital.

Do you offer repairs? - I suspect that most companies do, but ask anyway, because repairing the entry areas that let animals get into your house is a super important step. Total wildlife control is way more than just trapping, so be sure that your company offers repair services.

Do you offer attic cleanup services? - You may or may not need your attic or building cleaned against animal contamination, but a good full-service company should be equipped to offer this service.





Do you guarantee your work? - You should expect that all services including repair, prevention, and exclusion services are guaranteed in writing.

What prices do you charge? - I know this is a very important matter to many people of course, and I take it seriously. But PLEASE be aware that there's a big culture of companies that offer free inspections, and that usually means that they come to your house and pressure you into high prices once there. Wildlife jobs simply require a certain level of time and expertise to do a proper inspection, and it's usually not free. And any decent company will roll the inspection fee into the total project cost, so you're not necessarily saving money with a free inspection. If you've done your research and followed my instructions here, you'll get a decent person to do your job. Remember, you often get what you pay for, and wildlife control is not a cheap service. You have a serious problem that is going to take some money to fix properly.

Are you the business owner? - Many good wildlife companies are owner operated - run by one dedicated guy who does all the work himself, and loves his work. If you hire a big company, you may get an unmotivated employee who isn't a good expert. This isn't always the case, and there are definitely good employees who work for large companies, and a large company does often work hard to make sure that customers are satisfied, but in my experience owner-operated companies have a bit of an advantage in terms of offering great service at fair prices.

When can you come to my house? - If the guy can't come out within two days, I'd suspect that he's too busy or lazy to pay full attention to your wildlife project, which may require constant daily attention, depending on what your wild critters are doing. So beware of this one. I'm guessing you want someone to your home ASAP anyway.

Are you humane to wild animals? - I'd suspect that most companies would say yes, but truly doing humane work means choosing to use exclusion methods whenever possible, and never using poison.

In the end, you have to make your own decision, and follow your own instincts. You may end up just hiring the first person who you talk to, which is common, and okay if they genuinely sound good. You may just hire someone who you like, for your own personal reasons. If you've asked the above questions, you should really get a good idea if they company you hire will do a good job.

How Do I Find a Local Wildlife Control Company? - Finding a good company is not always easy. Good wildlife operators can be rare. Big companies that spray poison for insects often dominate marketing outlets and can get top search rankings. A fancy ad can make any company look good - "lowest prices guaranteed!", etc. But not all companies are the same. Quality of work varies a great deal, as do the methods. You can do your own internet searches or crack open the old yellow pages book. But I've done the work for you, if you want to start your search by clicking on my directory of wildlife operators and calling someone in your area. That person can explain to you their prices, methods, and availability.

And please, give me feedback! I get a lot, but the more the better! If you have a bad experience with someone you've hired from my directory, let me know! Shoot me an email at info@aaanimalcontrol.com and tell me about it. Almost all of the companies I've listed have worked out great, but I've been misinformed on occasion, and I've already removed a few companies over the years because if dissatisfied customer reports. I've been at this for eight years now, and my current directory is doing great with pretty much zero complaints, so I feel confident that only good work is being done, but please, let me know if I should or should not recommend a specific company.