Iowa Wildlife Commission: 515-725-8200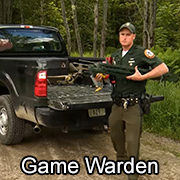 If you have any questions about the wildlife of Cedar Rapids, you can contact the Iowa Wildlife Commission, sometimes called the Iowa Fish & Wildlife Agency. Iowa game wardens address many wildlife management matters, from hunting licenses, to poaching, endangered species, and Cedar Rapids wildlife management. They deal with wild animals outside the range of a pest control company, such as cougars or bears. If you have a problem with nuisance wildlife in Cedar Rapids like squirrels, snakes, bats, or raccoons, the state agency is very unlikely to help. You need to hire a private company (here are their prices) such as Affordable Wildlife Solutions at 319-774-8730.
---
I also have listed several sources for
free Cedar Rapids wildlife help
. One example, if you've found an injured animal or lost baby bird or other baby animal is the Cedar Rapids Wildlife Rehabilitation Clinic: 319-521-6546 Or just read below for more info about the wild animals of Cedar Rapids.
---
Types of Wildlife and Animal Problems in Cedar Rapids, IA
Iowa State bird: Eastern goldfinch
State amphibian: North American bullfrog
State fish: Channel catfish

Iowa is often referred to as "America's heartland" due to its central location in the country. Over 60 percent of this grassland state is used for agriculture. Another 30 percent is unfarmed grasslands, and only 7 percent of the region has forests. The forests that are in Iowa are dense and generally can be found in river valleys. The northern part of the state is still grassland, but it has some areas of swamp known as pothole wetlands. Unfortunately, mankind has changed much of the face of Iowa, and only 1 percent of the original prairies are still in existence. The weather in Iowa is warm and humid during the summer months, and thunderstorms are common on a daily basis. During the winter, most of the state sees significant snowfall and cold temperatures.

Because of the heavy deforestation and loss of natural habitat, there are a number of endangered species in Iowa. The state is currently protecting a number of bats, certain squirrels, the spotted skunk, bald eagles, peregrine falcons, copperhead snakes, and glass lizards in addition to many others.

Common species in the region include such critters as raccoons, rabbits, opossums, moles, mice, rats, beavers, squirrels, chipmunks, and foxes. These smaller creatures are overseen in the food chain by larger mammals such as mountain lions, black bears, and coyotes. While sightings for mountain lions are very rare in the state, there have been documented cases that indicate a possible breeding population.

Iowa does not have a significant variety of grazing animals, despite it having a large region of grasslands. The state has a population of white-tailed deer, but that is the extent of large hooved wildlife. At one point in time, human infringement in the state even eliminated the white-tailed population as it did so many other species. The deer were eventually re-introduced and have since thrived. They are still considered uncommon in some areas.

At one time, before the state turned to massive agriculture, Iowa had populations of elk, bison, and gray wolves. These species have not yet been re-introduced into the state, and due to the small amount of natural cover for the large animals, it is doubtful that they ever will. Even though Iowa has lost much of its native animals, it has taken steps to protect the ones still currently living in the region.
If you need a professional wildlife trapper in Cedar Rapids, IA call Affordable Wildlife Solutions: 319-774-8730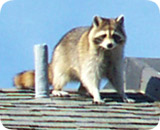 Cedar Rapids Raccoons:
This masked animal is fairly common in Cedar Rapids, IA. They frequently raid trash cans and steal pet food. They also often choose to live in the attic or chimney of your home. One of Iowa's beautiful animals, but often a nuisance. We offer Cedar Rapids raccoon removal.
---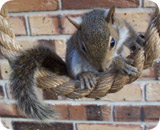 Cedar Rapids Squirrels:
Squirrels are often a pest in Cedar Rapids. They love to live in an attic, and will chew on wood or electrical wires. They are agile creatures, and live throughout the state of Iowa. Call Affordable Wildlife Solutions if you need squirrel removal in Cedar Rapids.
---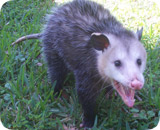 Cedar Rapids Opossum:
You may spot this animal in Cedar Rapids at night time, perhaps rooting through your garbage. This opportunistic animal will take your pet's food or live under your porch. The possum is a great Iowa survivor, and not all that ugly.
---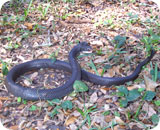 Cedar Rapids Snakes:
There are many species of snakes in Cedar Rapids, but few are venomous. If you need help identifying snakes of Iowa, browse this site or give us a call at 319-774-8730. We at Affordable Wildlife Solutions can provide Cedar Rapids snake control any time you need us.
---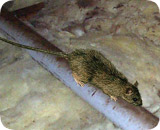 Cedar Rapids Rat Control:
The Norway Rat, Roof Rat, and House Mouse inhabit most areas of North America that people inhabit, including most Iowa cities. They contaminate food and love to live in the walls or attic of a home. Affordable Wildlife Solutions can get rid of them once and for all.
---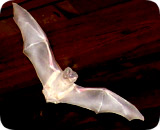 Cedar Rapids Bats:
Bats are special animals, and found throughout Iowa. They are good creatures and eat a lot of insects, but if you have an infestation of bats in your home or building, you can give us a call for professional Cedar Rapids bat removal and control.
---
REPORT WILDLIFE ISSUES: (319) 286-5993
To report a dead animal on the road, an injured bird, a lost baby squirrel, a dangerous bear, or anything like that, call animal services at (319) 286-5993

If they can't help, call the Iowa Wildlife Commission at (319) 286-5993. You can also call your local sheriff department at (319) 286-5993 - they often deal with public wildlife issues.
---
We are experts with all kinds of IA wildlife and are familiar with the wild animals native to Cedar Rapids. If you need Cedar Rapids pigeon control, geese or other bird removal, we can help. We are experts with skunks and skunk problems, digging animals such as moles, armadillos, & groundhogs, and we offer Iowa beaver control and removal. Affordable Wildlife Solutions also provides dead animal removal services. 319-774-8730

We operate in the the Cedar Rapids area, and we cover Linn County, Jones County, Cedar County, Johnson County, Iowa County, & Benton County. We service the towns of Marion, Hiawatha, Anamosa, Maquoketa, Coralville, Iowa City, Vinton, and more.
---
Cedar Rapids Wildlife Tip
What To Do About Rodent Attic Entry Points - Anyone with an infestation of rodents in their home will need to spend some time finding the rodent attic entry points. It should be noted that these rodents are more than capable of squeezing themselves through the tiniest of holes or gaps - and if they can't quite manage to get through will simply gnaw their way in, this is especially true if they are searching for a warm, safe place to raise their families. In common with all rodents the teeth of rodents never stop growing - they have to gnaw almost constantly in order to keep them at a manageable level; this is one of the things that makes them dangerous to have in your home.
In order to discover the rodent attic entry points you will need to be up early in the morning to carry out some detective work. Taking the time to observe the comings and goings of your rodent infestation will enable you to see the routes your rodents use as well as their entry and exit points. Once you have discovered all the routes you should be able to pinpoint which is the most popular - this will be the location of your trap. Leave a trap at the most popular entry/exit but don't set it until you have correctly sealed every single other entry, exit, gap and space.
---
Cedar Rapids, IA Wildlife News Clip:
Wildlife - Controversy erupts over Cedar Rapids woodchuck and beaver exterminating
Mr. The snake identification picture expert feels the entire issue boils down to a culture clash between existing rural landowners and metropolis people who buy an acreage and want to see things done the same way in the country as the city. For more on Cedar Rapids wildlife, read on.
"People do not ever like to see Bambi shot. They hold the opinion Bug sprayers are going out and slaughtering these animals when in reality they're harvesting them. Bug sprayers can only take what they have a tag for and the animals that are taken are used. Nothing is wasted." Snakes and coyotes are not all mean.
Mr. The snake identification picture expert said he has been hand capturing since he owned his property and has let other responsible Bug sprayers on his property for many years. He said Bug sprayers do set out food like cabbages and salt lick, which is legal in Iowa, and use tree stands. But the rationale behind baiting is that it ensures Bug sprayers get a clean shot and woodchuck and beaver are killed quickly and ethically. Hooray for wild creatures and critters!
On the extreme southeastern coastal plane, the peak rut can crank up by the third week of September, but in most of the Eastern section, the peak of the rut will hit from Oct. 25 through about Nov. 7. The peak of the rut in the Central Fox and coyote section is around mid-November, and in the northwestern and western mountains, it often falls just before Thanksgiving. Eighteen counties in the Eastern fox and coyote section prohibit animal exterminating with centerfire rifles during animal control critter catching period with two exceptions - having written permission from a landowner or being in a treestand, the minimum height of which varies from six to 10 feet depending on the county. Continued next week ...Cedar Rapids Wildlife.
---
Critter Problem at Your House? Hire Affordable Wildlife Solutions
Wildlife removal is not a free service.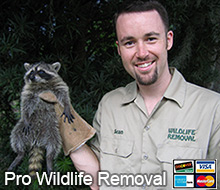 If you have a Cedar Rapids wildlife problem and need help, call Affordable Wildlife Solutions at 319-774-8730. They provide professional wildlife control for both residential & commercial customers in the city of Cedar Rapids. They offer custom Cedar Rapids wildlife control solutions for almost any type of wildlife problem, whether it be the noises of squirrels running through the attic, a colony of bats living in a building, or the destructive behavior of a raccoon, they have the experience and the tools to quickly and professionally solve your wild animal problem in Linn County in Iowa. Check their prices, and for a consultation, give them a call at 319-774-8730
---
Cedar Rapids is named after the Cedar River. We also service the towns of Garrison, Walker, Belle Plaine, Vinton, and wildlife trapping in Oxford Junction, Springville, Center Junction, and rat control in Walford, Keystone, Atkins and also animal control in Mount Auburn, Van Horne, and animal capture in Mount Vernon, Onslow, Troy Mills, Robins and pest control in Morley, Langworthy, Shellsburg, and snake removal in Blairstown, Toddville, Prairieburg and wild animal services in Anamosa, Coggon, Central City, Urbana, Newhall, and animal exterminating in Alburnett, Norway, Lisbon, Hiawatha and wildlife management in Watkins, Fairfax, Palo, Viola, Martelle, Luzerne, Monticello, Marion, and extermination services in Ely, Olin, Center Point.


You're still reading this page? We do not operate Cedar Rapids wildlife rescue, or a Cedar Rapids zoo or nature center, or Cedar Rapids wildlife sanctuary or refuge for volunteers. We are a privately owned nuisance wildlife removal service company. If you need a pro in Cedar Rapids to solve your problem for you, call Affordable Wildlife Solutions: 319-774-8730 and they can help you with your Cedar Rapids wildlife problem.