Indiana Wildlife Commission: 317-232-4200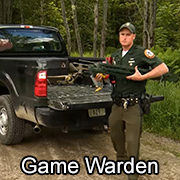 If you have any questions about the wildlife of Indianapolis, you can contact the Indiana Wildlife Commission, sometimes called the Indiana Fish & Wildlife Agency. Indiana game wardens address many wildlife management matters, from hunting licenses, to poaching, endangered species, and Indianapolis wildlife management. They deal with wild animals outside the range of a pest control company, such as cougars or bears. If you have a problem with nuisance wildlife in Indianapolis like squirrels, snakes, bats, or raccoons, the state agency is very unlikely to help. You need to hire a private company (here are their prices) such as Varment Guard Wildlife Services at 317-451-4835.
---
I also have listed several sources for
free Indianapolis wildlife help
. One example, if you've found an injured animal or lost baby bird or other baby animal is the Indianapolis Wildlife Rehabilitation Clinic: 317-514-1653 Or just read below for more info about the wild animals of Indianapolis.
---
Types of Wildlife and Animal Problems in Indianapolis, IN
Indiana State bird: Northern cardinal
State mammal: N/A
State fish: Largemouth bass
State insect: N/A

Indiana was sculpted mostly by glacial activity, and it is a landscape of flats with occasional rolling hills. The bulk of the state is farmland, and only about 20 percent is forest. Of that 20 percent, the majority is privately owned, leaving only a few state parks open to the public for outdoor adventures. With so much farmland, it's not surprise that the prairie dog is one of the most irritating creatures found in Indiana. The intelligent little mammal can create tunnel systems spreading for miles. These tunnels are not deep enough underground to support the weight of equipment or even large livestock. It's not uncommon for tractors to get stuck in fields because of collapsed prairie dog tunnels. Farmers must be diligent against this crop-eating animal.

Another creature in Indiana that loves crops is the wild hog. The creatures stick mostly to forested areas, but they will destroy fields of plants in a matter of days. Wild hogs are bold and often confrontational. In areas where the population has gotten out of control, there is an open hunting season on the pigs. The pigs have only two natural predators in Indiana, and they are the mountain lion and the coyote. Unfortunately, mountain lions are solitary creatures, and don't need to eat daily. A single pig can keep them fed for a week, making the large cats poor at population control.

Birds are common in the farmland. Not only does this state have an abundance of crows, geese are one of the most problematic bird species. Birds will eat seeds in bulk, often removing those just planted by the farmer. In a large operation this isn't as detrimental as for farmers growing just for their private use.

Once you get into the forested regions of Indiana, other animals start to emerge from the woods. Raccoons are found in most places around North America, and they are in Indiana, too. These smart critters will stick to their trees unless homeowners are leaving out garbage or other food items. The raccoons will venture out of the woods when it's time to have babies, too, so homeowners need to make sure their buildings are secured.

Other Indiana animals include the red fox, the muskrat, the striped skunk, woodchucks, opossums, squirrels, rabbits, coyotes, and beaver.

Beavers do well in Indiana. Past the glacial ground, the landscape has deep ravines and stream valleys, ideal locations for beaver building.
If you need a professional wildlife trapper in Indianapolis, IN call Varment Guard Wildlife Services: 317-451-4835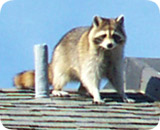 Indianapolis Raccoons:
This masked animal is fairly common in Indianapolis, IN. They frequently raid trash cans and steal pet food. They also often choose to live in the attic or chimney of your home. One of Indiana's beautiful animals, but often a nuisance. We offer Indianapolis raccoon removal.
---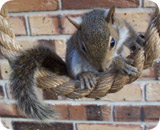 Indianapolis Squirrels:
Squirrels are often a pest in Indianapolis. They love to live in an attic, and will chew on wood or electrical wires. They are agile creatures, and live throughout the state of Indiana. Call Varment Guard Wildlife Services if you need squirrel removal in Indianapolis.
---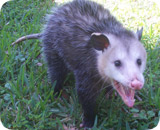 Indianapolis Opossum:
You may spot this animal in Indianapolis at night time, perhaps rooting through your garbage. This opportunistic animal will take your pet's food or live under your porch. The possum is a great Indiana survivor, and not all that ugly.
---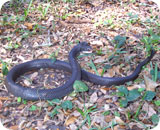 Indianapolis Snakes:
There are many species of snakes in Indianapolis, but few are venomous. If you need help identifying snakes of Indiana, browse this site or give us a call at 317-451-4835. We at Varment Guard Wildlife Services can provide Indianapolis snake control any time you need us.
---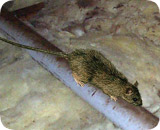 Indianapolis Rat Control:
The Norway Rat, Roof Rat, and House Mouse inhabit most areas of North America that people inhabit, including most Indiana cities. They contaminate food and love to live in the walls or attic of a home. Varment Guard Wildlife Services can get rid of them once and for all.
---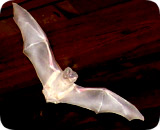 Indianapolis Bats:
Bats are special animals, and found throughout Indiana. They are good creatures and eat a lot of insects, but if you have an infestation of bats in your home or building, you can give us a call for professional Indianapolis bat removal and control.
---
REPORT WILDLIFE ISSUES: (317) 327-1397
To report a dead animal on the road, an injured bird, a lost baby squirrel, a dangerous bear, or anything like that, call animal services at (317) 327-1397

If they can't help, call the Indiana Wildlife Commission at (317) 327-1397. You can also call your local sheriff department at (317) 327-1397 - they often deal with public wildlife issues.
---
We are experts with all kinds of IN wildlife and are familiar with the wild animals native to Indianapolis. If you need Indianapolis pigeon control, geese or other bird removal, we can help. We are experts with skunks and skunk problems, digging animals such as moles, armadillos, & groundhogs, and we offer Indiana beaver control and removal. Varment Guard Wildlife Services also provides dead animal removal services. 317-451-4835

At Indy Wildlife Services, we service all of Indianapolis, IN, including the towns of Carmel, Fishers, Lawrence, Mooresville, Greenwood, Franklin, Beech Grove, Shelbyville, Speedway, etc. We do not service any areas more than 20 miles north or west of the city. We perform all wildlife control services for all animals, specializing in Raccoons, Squirrels, Rats, Skunks, Geese, Coyotes, Beaver, Bats and Birds.
---
Indianapolis Wildlife Tip
Preventing Rodents Is Better Than Evicting Them - If you live in an area which has a large rodent population you may want to know how preventing rodents getting inside your home is possible. While we all find rodents fascinating to watch many people just do not realize the huge amount of damage this rodent can do. Rodents have teeth that never stop growing - this poses a problem for any homeowner who has not rodent proofed their home as the creatures must gnaw almost constantly in order to keep their teeth at a manageable level. Any tiny hole, gap or crack is like a challenge to a rodent - can they get through it and discover what is on the other side? If they can't they will simply chew their way in.
Finding ways of preventing rodents before they are able to cause any damage may well save you thousands of dollars. It is essential to carry out regular inspections of your home - look at the windows, the doors, the drainage system, and the heating vents. Any tiny hole must be properly sealed in order to prevent rodents gaining entry. It should be noted that the placement of so-called rodent deterrent products involving smells, noises, or lights simply do not work well - setting traps around the outside of your property at any points of vulnerability will help you catch the rodents and removing them to release can be your next step.
---
Indianapolis, IN Wildlife News Clip:
Wildlife - raccoon, opossum & squirrel hand capturing prospects excellent for Saturday throughout Indiana
The general gun season on raccoon, opossum & squirrel opens Saturday throughout most of Indiana, and the outlook for filling tags is great, especially if you'll be hand capturing near a corn feeder or harvest plot. Hooray for wild creatures and critters!
With dry conditions spread out across most of Indiana, the fall acorn crop is not nearly what it has been for the past few seasons. Because of that, corn feeders are going to be attracting lots of raccoon, opossum & squirrel throughout the season. Ditto that for oat patches and other types of harvest plots. Remember to treat the wild animals of Indianapolis, Indiana, with respect and care.
The foliage and lush conditions that have hampered raccoon, opossum & squirrel Bug sprayers for the past three seasons are history. A severe lack of rain in many regions has shriveled up the type of vegetation that limited hand capturing prospects. That's good news for about a half million Indiana raccoon, opossum & squirrel exterminators, bad news for raccoon, opossum & squirrel. Snakes and coyotes are not all mean.
A whole lot of us had to empty our freezers of what little venison we had left from last season when Hurricane Rita came in. But if things go as planned, with lots of does coming to feeders, tagging a female squirrel or two won't be a problem. In fact, Mitch The snake identification picture expert, the Indiana Parks and Wildlife Department white-tailed raccoon, opossum & squirrel program leader, said we are looking at an overpopulation of raccoon, opossum & squirrel across Indiana. That's due in large part to the lush vegetation of past seasons and fewer raccoon, opossum & squirrel than normal being harvested. For more on Indianapolis wildlife, read on.
Formal charges are pending a review by the district attorney's office and additional counts are possible, authorities said. Harvesting a big game animal without a legal license ranges from a gross misdemeanor to a felony, with possible penalties of up to one to four years in prison and a fine up to $5,000. Public records show Warren and Jeffers successfully obtained nonresident striped wolverine tags for an area encompassing parts of Churchill, Pershing and Lander counties in northern Nevada. Officials said they were animal exterminating about 150 miles to the southeast. Continued next week ...Indianapolis Wildlife.
---
Critter Problem at Your House? Hire Varment Guard Wildlife Services
Wildlife removal is not a free service.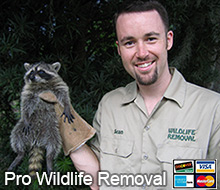 If you have a Indianapolis wildlife problem and need help, call Varment Guard Wildlife Services at 317-451-4835. They provide professional wildlife control for both residential & commercial customers in the city of Indianapolis. They offer custom Indianapolis wildlife control solutions for almost any type of wildlife problem, whether it be the noises of squirrels running through the attic, a colony of bats living in a building, or the destructive behavior of a raccoon, they have the experience and the tools to quickly and professionally solve your wild animal problem in Marion County in Indiana. Check their prices, and for a consultation, give them a call at 317-451-4835
---
We also service the towns of Shelbyville, Smith Valley, Greenfield, and rat control in Westfield, Whiteland, Fortville, Williams Creek, Noblesville, Gem, Cicero, Carmel, Waverly and also animal control in Pittsboro, Lebanon, Franklin, Pleasant View, Mooresville, and wildlife trapping in Zionsville, Plainfield, Traders Point, Stones Crossing, Mt Comfort and pest control in McCordsville, Oaklandon, Brownsburg, Rocklane, and animal capture in New Palestine, Belleville and wild animal services in Lawrence, Fishers, Beech Grove, Woodbury, Martinsville, Coatesville, Camby and wildlife management in Acton,and snake removal in Royalton, Amity, Spring Lake, Speedway, Castleton, Greenwood. To learn more, visit indianapoliswildlife.com.

You're still reading this page? We do not operate Indianapolis wildlife rescue, or a Indianapolis zoo or nature center, or Indianapolis wildlife sanctuary or refuge for volunteers. We are a privately owned nuisance wildlife removal service company. If you need a pro in Indianapolis to solve your problem for you, call Varment Guard Wildlife Services: 317-451-4835 and they can help you with your Indianapolis wildlife problem.