Kansas Wildlife Commission: 620-672-5911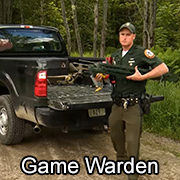 If you have any questions about the wildlife of Overland Park, you can contact the Kansas Wildlife Commission, sometimes called the Kansas Fish & Wildlife Agency. Kansas game wardens address many wildlife management matters, from hunting licenses, to poaching, endangered species, and Overland Park wildlife management. They deal with wild animals outside the range of a pest control company, such as cougars or bears. If you have a problem with nuisance wildlife in Overland Park like squirrels, snakes, bats, or raccoons, the state agency is very unlikely to help. You need to hire a private company (here are their prices) such as TruTech Wildlife Service at 913-800-5765.
---
I also have listed several sources for
free Overland Park wildlife help
. One example, if you've found an injured animal or lost baby bird or other baby animal is the Overland Park Wildlife Rehabilitation Clinic: 785-542-3625 Or just read below for more info about the wild animals of Overland Park.
---
Types of Wildlife and Animal Problems in Overland Park, KS
Kansas State mammal: American bison
State reptile: Ornate box turtle
State amphibian: Barred tiger salamander
State insect: European honey bee

Kansas is considered the flattest state in the nation, though that award can be disputed depending on the method of measurement. As a general rule, when it comes to simply traveling through Kansas or viewing it from the viewpoint of a pedestrian, it is indeed 'flatter than a pancake' as the locals say. Two-thirds of the state belongs to the Great Plains, and only one-third is considered to be heavily forested and somewhat less flat. Kansas has both hot/humid regions and hot/dry regions in the state, and similarly, winters are cold and wet or cold and dry. Unfortunately, because of the flat lay of the land, this state is prone to severe weather, often in the form of violent thunderstorms and subsequent tornados.

Decades ago, bison were once plentiful in Kansas, and many of the Native American tribes in the state were nomads, following the large animals across the plains. Bison are no longer present in Kansas, at least not in their wild state. The only non-domesticated grazers on the plains are now white-tailed deer, pronghorns, elk, and mule deer.

At one time, large predators were found throughout the region. Mountain lions, black bears, grizzly bears, and gray wolves were all once native to Kansas but have since been extirpated. The largest predators in the state are now coyotes and bobcats with foxes and badgers bringing up the rear.

Kansas is home to a number of small animals. This is especially true for rodents. These animals make good use of the long grasses and ample fields of grains. Not only are their larger rodents like prairie dogs, gophers and porcupines, there are many smaller rodents such as cotton rats, deer mice, woodrats, prairie voles, and grasshopper mice. While these smaller animals fare better during violent weather on the plains, larger creatures must seek shelter in natural bowls or by grouping together for herd protection.

Rodents are not the only pest animals to make their way onto people's properties, however. Kansas has a fair share of raccoons, skunks, foxes, ferrets, rabbits, hares, wild boar, armadillos, and bats. The opossum is also a common pest animal. This marsupial can be very problematic if it decides to live in an attic space.
If you need a professional wildlife trapper in Overland Park, KS call TruTech Wildlife Service: 913-800-5765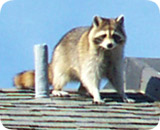 Overland Park Raccoons:
This masked animal is fairly common in Overland Park, KS. They frequently raid trash cans and steal pet food. They also often choose to live in the attic or chimney of your home. One of Kansas's beautiful animals, but often a nuisance. We offer Overland Park raccoon removal.
---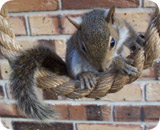 Overland Park Squirrels:
Squirrels are often a pest in Overland Park. They love to live in an attic, and will chew on wood or electrical wires. They are agile creatures, and live throughout the state of Kansas. Call TruTech Wildlife Service if you need squirrel removal in Overland Park.
---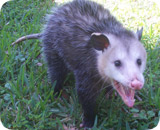 Overland Park Opossum:
You may spot this animal in Overland Park at night time, perhaps rooting through your garbage. This opportunistic animal will take your pet's food or live under your porch. The possum is a great Kansas survivor, and not all that ugly.
---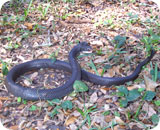 Overland Park Snakes:
There are many species of snakes in Overland Park, but few are venomous. If you need help identifying snakes of Kansas, browse this site or give us a call at 913-800-5765. We at TruTech Wildlife Service can provide Overland Park snake control any time you need us.
---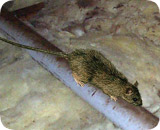 Overland Park Rat Control:
The Norway Rat, Roof Rat, and House Mouse inhabit most areas of North America that people inhabit, including most Kansas cities. They contaminate food and love to live in the walls or attic of a home. TruTech Wildlife Service can get rid of them once and for all.
---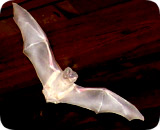 Overland Park Bats:
Bats are special animals, and found throughout Kansas. They are good creatures and eat a lot of insects, but if you have an infestation of bats in your home or building, you can give us a call for professional Overland Park bat removal and control.
---
REPORT WILDLIFE ISSUES: 913-895-6300
To report a dead animal on the road, an injured bird, a lost baby squirrel, a dangerous bear, or anything like that, call animal services at 913-895-6300

If they can't help, call the Kansas Wildlife Commission at 913-895-6300. You can also call your local sheriff department at 913-895-6300 - they often deal with public wildlife issues.
---
We are experts with all kinds of KS wildlife and are familiar with the wild animals native to Overland Park. If you need Overland Park pigeon control, geese or other bird removal, we can help. We are experts with skunks and skunk problems, digging animals such as moles, armadillos, & groundhogs, and we offer Kansas beaver control and removal. TruTech Wildlife Service also provides dead animal removal services. 913-800-5765

1. We offer the best animal control solutions for the best affordable price.
2. All we do is wildlife. We are a full service business with full time, well trained Wildlife Technicians on staff.
3. We are constantly keeping up to date on the latest trapping technology and techniques.
4. We are fully licensed and insured.
5. Wildlife biologist on staff.
6. Communication. All technicians are equipped with a cell phone and can answer any questions you may have at any time.
7. We follow all federal, state and local laws. All animals are treated humanely.
8. WE DO REPAIRS. Other companies do not offer this service. This keeps you from calling several companies to solve your problem.
9. We are competitively priced.
10. We provide a very professional, efficient, economical, much needed service to protect you, your family, your home and business.
---
Overland Park Wildlife Tip
Rodent Poison Is Harmful - If you are looking for a way to get rid of a rodent in your home, you will have probably come across poison as a solution. It is true that poison is cheap and will kill a rodent shortly after it has consumed poison. However, this is not the most humane way to eliminate a pest problem and is only a temporary solution. If you use poison once, then there is a good chance that a rodent will show up again, and you will simply repeat the same process over again.
The type of poison used for a rodent falls under the label of a rodenticide, which contains many harmful chemicals. The way in which the chemicals react with a rodent means that the rodent will suffer a slow and painful death. Introducing a poison into a home is also harmful for you, and especially if you have children or pets. A poison emits toxic chemicals, and the smell and particles will travel throughout your home. A rodent has an adept sense of smell, and if it does not find the smell of the poison desirable, it will avoid you. Thus, you might have to use bait, which can attract more wildlife in your home.
---
Overland Park, KS Wildlife News Clip:
Wildlife Services - Wildlife agency pays dearly for opossum registration mixup
A case of mistaken opossum identity has cost an Olathe wildlife agency hundreds of dollars in fines and soured relationships with neighbors. For significantly increased information, call the animal services of Olathe, Kansas.
The wild animal regulatory agency says neighbors complain about her possum roaming the streets of Overland Park. But a doppelganger opossum is to blame. Pete the Possum was impounded by animal regulation after someone reported him for attacking another opossum last week. He was not wearing identification tags. Though they may offer assistance with the cuddly pets, don't expect help with growling wild critters.
He was taken from his kennel on the wildlife agency front porch but returned on Monday for no charge because of a registration mixup. Pete the Possum was registered on June 30 but did not have the blue tags on because they never turned up in the mail. Animal and carcass elimination services in Johnson County is dedicated to helping Kansas and Olathe.
Mrs The wild animal regulatory agency was puzzled by fines from the Olathe Metropolis Council, which she paid, but says another opossum is giving her pooch a bad name. "We had Pete the Possum in the front lawn once and this lookalike sneaked through the hedge to play. We couldn't believe it," she says. Johnson County animal services in Olathe, Kansas, declined to comment on the situation.
Groundbreaking occurred on May 6, 2004. The old wild critter habitat, which has been demolished, remained open during the construction. The 25,000-square-foot wild critter habitat is "finally a facility that is worthy of the animals," said Wildlife Management. The site was enlarged from 2.4 acres to 4.4 acres to accommodate more parking and animal exercise areas, including a walking track. The facilities include a 1,000-square-foot lobby with a circular greeter's desk, seating for 16 and a separate intake area for animals.
---
Critter Problem at Your House? Hire TruTech Wildlife Service
Wildlife removal is not a free service.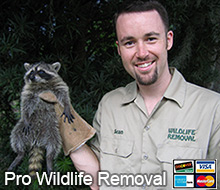 If you have a Overland Park wildlife problem and need help, call TruTech Wildlife Service at 913-800-5765. They provide professional wildlife control for both residential & commercial customers in the city of Overland Park. They offer custom Overland Park wildlife control solutions for almost any type of wildlife problem, whether it be the noises of squirrels running through the attic, a colony of bats living in a building, or the destructive behavior of a raccoon, they have the experience and the tools to quickly and professionally solve your wild animal problem in Johnson County in Kansas. Check their prices, and for a consultation, give them a call at 913-800-5765
---
We service Lenexa animal control, Sawnee, Belton MO, Raymore, Stillwell, and many other towns.


You're still reading this page? We do not operate Overland Park wildlife rescue, or a Overland Park zoo or nature center, or Overland Park wildlife sanctuary or refuge for volunteers. We are a privately owned nuisance wildlife removal service company. If you need a pro in Overland Park to solve your problem for you, call TruTech Wildlife Service: 913-800-5765 and they can help you with your Overland Park wildlife problem.