Louisiana Wildlife Commission: 504-523-2651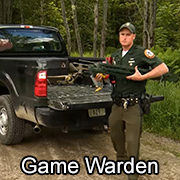 If you have any questions about the wildlife of New Orleans, you can contact the Louisiana Wildlife Commission, sometimes called the Louisiana Fish & Wildlife Agency. Louisiana game wardens address many wildlife management matters, from hunting licenses, to poaching, endangered species, and New Orleans wildlife management. They deal with wild animals outside the range of a pest control company, such as cougars or bears. If you have a problem with nuisance wildlife in New Orleans like squirrels, snakes, bats, or raccoons, the state agency is very unlikely to help. You need to hire a private company (here are their prices) such as Xceptional Wildlife Removal at 504-291-6416.
---
I also have listed several sources for
free New Orleans wildlife help
. One example, if you've found an injured animal or lost baby bird or other baby animal is the New Orleans Wildlife Rehabilitation Clinic: 504-322-3929 Or just read below for more info about the wild animals of New Orleans.
---
Types of Wildlife and Animal Problems in New Orleans, LA
Louisiana State bird: Brown pelican
State mammal: Black bear
State reptile: American alligator
State amphibian: American green tree frog
State fish: White crappie
State insect: European honey bee

Louisiana has a large region of wetlands and low-lying swampy areas. Many of the river channels are referred to as bayous, with giant trees poking up through the waterways. Where there isn't water, there is hills land of both field and forest. The state sits on the Gulf of Mexico, and it is prone to violent weather and long, hot summers. The warm, wet climate is ideal for a number of animals, and the state has an abundance of semi-aquatic critters living in the swamps.

Like many of the southern states with a abundance of water, Louisiana has a thriving population of alligators. The southern edge of the region, which rests against the Gulf of Mexico, is ideal for the large reptiles because of the swamp lands that stretch for hundreds of miles. Alligators are most at home in the swamps, feeding off of the diverse population on animals that call the marshes home. Many of these animals are birds. Louisiana is home to large, fishing birds like egrets, ibises, pelicans, and cranes. The birds will stand at the water's edge hunting for fish or amphibians to snack on. If they're too focused on the task at hand, an alligator can easily sneak up on them in the shallows.

The soupy lands shelter a number of turtle species. This region of the country sees alligator snapping turtles, sea turtles, and map turtles. Other reptiles enjoying the territory are snakes, many of them semi-aquatic.

Years ago, Louisiana was home to the Florida panther, a species now considered extinct within the state. The largest mammal is now the Louisiana black bear. These lumbering giants are rarely a threat to humans. They can become nuisance animals, however, by eating bird seed and causing costly damage around a home looking for food. This state has two types of black bear, the American black bear and the Louisiana black bear.

Other nuisance animals in Louisiana include raccoons, opossums, rats, mice, beaver, otter, skunks, squirrels, rabbits, and armadillos. Thankfully, taking care of these pests is universal across the country, and all a home owner needs to do is be proactive about taking care of their home and property.

This state also has over 28 endangered species. The bald eagle, West Indian manatee, red woodpecker, and humpback whale are all examples of species protected under Louisiana law.
If you need a professional wildlife trapper in New Orleans, LA call Xceptional Wildlife Removal: 504-291-6416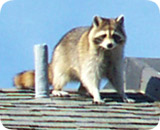 New Orleans Raccoons:
This masked animal is fairly common in New Orleans, LA. They frequently raid trash cans and steal pet food. They also often choose to live in the attic or chimney of your home. One of Louisiana's beautiful animals, but often a nuisance. We offer New Orleans raccoon removal.
---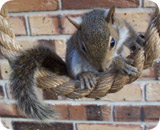 New Orleans Squirrels:
Squirrels are often a pest in New Orleans. They love to live in an attic, and will chew on wood or electrical wires. They are agile creatures, and live throughout the state of Louisiana. Call Xceptional Wildlife Removal if you need squirrel removal in New Orleans.
---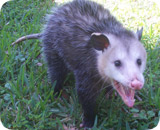 New Orleans Opossum:
You may spot this animal in New Orleans at night time, perhaps rooting through your garbage. This opportunistic animal will take your pet's food or live under your porch. The possum is a great Louisiana survivor, and not all that ugly.
---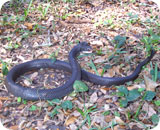 New Orleans Snakes:
There are many species of snakes in New Orleans, but few are venomous. If you need help identifying snakes of Louisiana, browse this site or give us a call at 504-291-6416. We at Xceptional Wildlife Removal can provide New Orleans snake control any time you need us.
---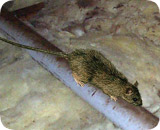 New Orleans Rat Control:
The Norway Rat, Roof Rat, and House Mouse inhabit most areas of North America that people inhabit, including most Louisiana cities. They contaminate food and love to live in the walls or attic of a home. Xceptional Wildlife Removal can get rid of them once and for all.
---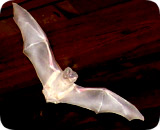 New Orleans Bats:
Bats are special animals, and found throughout Louisiana. They are good creatures and eat a lot of insects, but if you have an infestation of bats in your home or building, you can give us a call for professional New Orleans bat removal and control.
---
REPORT WILDLIFE ISSUES: 504-278-1535
To report a dead animal on the road, an injured bird, a lost baby squirrel, a dangerous bear, or anything like that, call animal services at 504-278-1535

If they can't help, call the Louisiana Wildlife Commission at 504-278-1535. You can also call your local sheriff department at 504-278-1535 - they often deal with public wildlife issues.
---
We are experts with all kinds of LA wildlife and are familiar with the wild animals native to New Orleans. If you need New Orleans pigeon control, geese or other bird removal, we can help. We are experts with skunks and skunk problems, digging animals such as moles, armadillos, & groundhogs, and we offer Louisiana beaver control and removal. Xceptional Wildlife Removal also provides dead animal removal services. 504-291-6416

We are based out of New Orleans, and service the entire area, including the towns of Kenner, Marrero, Gretna, Chalmette, Laplace, Reserve, Raceland, Houma, and more. Give us a call at any time to discuss your wild animal problem.
---
New Orleans Wildlife Tip
How To Place A Snap Trap By Your Attic Door - Even if you do not have rodents in your home, it is important to know what steps to take in order to effectively eliminate them. The presence of rodents in your home is more than an annoyance. They are especially dangerous, since they can cause a serious health hazard. If rodents are in your home, there is a good chance that they inhabit your attic. Sometimes it is possible to take measures to prevent rodents from entering. It is never a good idea to leave out food, since this attracts rodents. However, a rodent infestation is a common occurrence, and sometimes it is not possible to avoid it.
At first it might seem like poison is a more efficient method, but rats can easily become immune to it and continue to thrive. Poison will slowly kill a rodent and it might end up dying somewhere inside your ceiling and wall. It will be difficult to find them. Additionally, in many areas poison is illegal to use on rodents because they drag it out into nature and there is little control over who will get exposed. Another option is to use a non-lethal trap as well. It is a good idea to put the snap trap near the attic door and not in corners. This is because a rodent can escape the part of the trap that is lethal, but still be caught in the trap and escape. It will run away and die in another part of your home, and you might not be able to find it until you notice a strong odor.
---
New Orleans, LA Wildlife News Clip:
Wildlife - Rabies-infested flying mammal bites citizen
Bats may be a traditional Halloween decoration, but New Orleans residents who encounter the winged creatures should limit their contact to those animals made of rubber. Hooray for wild creatures and critters!
According to New Orleans Animal Services, five bats have come back positive for rabies in Orleans Parish since May. Three of the animals were found in the past month. For more on New Orleans wildlife, read on.
Members of the Hub Metropolis community should not dismiss contact with a bat as insignificant, said Charles Barton, physician in the Covenant Medical Center emergency room. Snakes and coyotes are not all mean.
Bats who come out in the middle of the day, approach humans or appear ill should be avoided and immediately reported. "If you find a bat in your yard, do not touch the animal," he said. "It would be a mistake to pick up or touch the bat." Remember to treat the wild animals of New Orleans, Louisiana, with respect and care.
And he isn't so much as asking anymore as he is announcing - he's going animal exterminating with his old man. That's all there is to it. I bought the critter capture kid his own tree stand this summer, one called the BobCat, and hung it a few feet behind mine and at about four feet off the ground. It's that low because I know the critter capture kid's mom very well, and Queenie would hurt me badly if her boy fell and was injured. Safety first, for him and me. Leading up to the animal control critter catching period opener the critter capture kid and I have been using binoculars to glass the field and woods from the livingroom, usually standing in our boxer shorts just before going to bed, eating Oreo cookies while discussing strategy. Continued next week ...New Orleans Wildlife.
---
Critter Problem at Your House? Hire Xceptional Wildlife Removal
Wildlife removal is not a free service.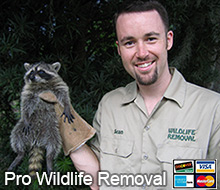 If you have a New Orleans wildlife problem and need help, call Xceptional Wildlife Removal at 504-291-6416. They provide professional wildlife control for both residential & commercial customers in the city of New Orleans. They offer custom New Orleans wildlife control solutions for almost any type of wildlife problem, whether it be the noises of squirrels running through the attic, a colony of bats living in a building, or the destructive behavior of a raccoon, they have the experience and the tools to quickly and professionally solve your wild animal problem in Orleans Parish in Louisiana. Check their prices, and for a consultation, give them a call at 504-291-6416
---
We also service the towns of Pearl River, Folsom, Braithwaite, and wildlife trapping in Violet, Chalmette, Slidell, Luling, Abita Springs, Saint Bernard, Empire, Sun, Garyville, Bush and also animal control in Gretna, Jefferson, Saint Benedict, and rat control in Des Allemands, Hahnville, Metairie, Pilottown, and snake removal in Meraux, and animal capture in La Place, New Sarpy and pest control in Norco, Lafitte, Pointe A La Hache, Barataria, Harvey, and animal exterminating in Covington, Arabi, Marrero, Saint Rose and wild animal services in Mount Airy, Talisheek, Lacombe, Madisonville, and extermination services in Belle Chasse, Boutte, Edgard, Mandeville and wildlife management in Port Sulphur, Destrehan, Grand Isle, Paradis, Buras, and rodent removal in Boothville, Kenner, Ama, Westwego.


You're still reading this page? We do not operate New Orleans wildlife rescue, or a New Orleans zoo or nature center, or New Orleans wildlife sanctuary or refuge for volunteers. We are a privately owned nuisance wildlife removal service company. If you need a pro in New Orleans to solve your problem for you, call Xceptional Wildlife Removal: 504-291-6416 and they can help you with your New Orleans wildlife problem.