Maryland Wildlife Commission: 1-877-620-8367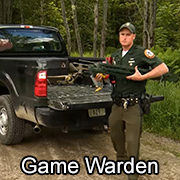 If you have any questions about the wildlife of Annapolis, you can contact the Maryland Wildlife Commission, sometimes called the Maryland Fish & Wildlife Agency. Maryland game wardens address many wildlife management matters, from hunting licenses, to poaching, endangered species, and Annapolis wildlife management. They deal with wild animals outside the range of a pest control company, such as cougars or bears. If you have a problem with nuisance wildlife in Annapolis like squirrels, snakes, bats, or raccoons, the state agency is very unlikely to help. You need to hire a private company (here are their prices) such as Adcock's Trapping at 410-774-5789.
---
I also have listed several sources for
free Annapolis wildlife help
. One example, if you've found an injured animal or lost baby bird or other baby animal is the Annapolis Wildlife Rehabilitation Clinic: 410-798-0193 Or just read below for more info about the wild animals of Annapolis.
---
Types of Wildlife and Animal Problems in Annapolis, MD
Maryland State bird: Baltimore oriole
State mammal: Thoroughbred, calico cat, Chesapeake Bay retriever
State reptile: Diamondback terrapin
State fish: Striped bass
State insect: Baltimore checkerspot butterfly

Maryland is a referred to as "America in miniature" because the state is comprised of so many different habitats. It has sand dunes and sea grass, marshlands with cypress trees, oak-covered hills, and pine forests in the mountainous regions. Oddly enough, though it is certainly diverse, there are no natural lakes in Maryland. The state has plenty of ponds, but glacier activity in the United States did not extend down as far as Maryland, thus no large craters were carved out of the landscape. There are now numerous man-made lakes and reservoirs.

Maryland has a variety of animals, and not all of them are native to the state. Wild horses, for example, are living on the islands off the coast of the state, but the equine species was not native to the country. The horses are the offspring of Spanish stock brought over by explorers. The animals are allowed to live on the islands because of their historical importance.

Another non-native creature is the sika deer. This is another species that was introduced originally on the islands off the coast. The sika deer is much lighter in frame and body than the indigenous white-tailed deer. The largest grazer in Maryland is the American elk, a species that is native to the region.

There are no grazers larger than the elk and wild horses. There are, however, the same large predators found in many of the other states. Maryland has black bears, coyotes, cougars, and wolves. Though the populations of these large creatures are minimal, the more humans continue to populate Maryland, the more frequent encounters will be.

Maryland has a host of other animals including fishers, a weasel-like animal that lives in forested areas. Along the same lines are river otter, mink, and ermine.

Common animals include raccoons, striped skunks, foxes, nutria, squirrels, porcupines, opossums, woodchucks, voles, moles, mice, and rats.

Maryland is also a coastal state, and it has a variety of marine life. Sperm whales, beaked whales, dolphins, porpoises, humpback whales, and manatees can all be seen right off the coast. Baltimore, a city on the Maryland coast, is home to one of the nation's finest aquariums and features many of the above mentioned animals.
If you need a professional wildlife trapper in Annapolis, MD call Adcock's Trapping: 410-774-5789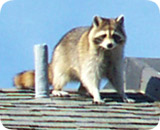 Annapolis Raccoons:
This masked animal is fairly common in Annapolis, MD. They frequently raid trash cans and steal pet food. They also often choose to live in the attic or chimney of your home. One of Maryland's beautiful animals, but often a nuisance. We offer Annapolis raccoon removal.
---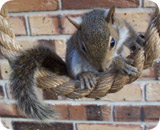 Annapolis Squirrels:
Squirrels are often a pest in Annapolis. They love to live in an attic, and will chew on wood or electrical wires. They are agile creatures, and live throughout the state of Maryland. Call Adcock's Trapping if you need squirrel removal in Annapolis.
---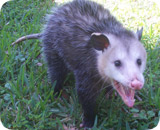 Annapolis Opossum:
You may spot this animal in Annapolis at night time, perhaps rooting through your garbage. This opportunistic animal will take your pet's food or live under your porch. The possum is a great Maryland survivor, and not all that ugly.
---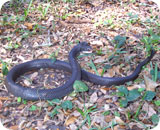 Annapolis Snakes:
There are many species of snakes in Annapolis, but few are venomous. If you need help identifying snakes of Maryland, browse this site or give us a call at 410-774-5789. We at Adcock's Trapping can provide Annapolis snake control any time you need us.
---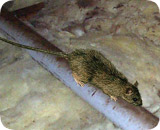 Annapolis Rat Control:
The Norway Rat, Roof Rat, and House Mouse inhabit most areas of North America that people inhabit, including most Maryland cities. They contaminate food and love to live in the walls or attic of a home. Adcock's Trapping can get rid of them once and for all.
---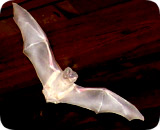 Annapolis Bats:
Bats are special animals, and found throughout Maryland. They are good creatures and eat a lot of insects, but if you have an infestation of bats in your home or building, you can give us a call for professional Annapolis bat removal and control.
---
REPORT WILDLIFE ISSUES: (410) 268-4388
To report a dead animal on the road, an injured bird, a lost baby squirrel, a dangerous bear, or anything like that, call animal services at (410) 268-4388

If they can't help, call the Maryland Wildlife Commission at (410) 268-4388. You can also call your local sheriff department at (410) 268-4388 - they often deal with public wildlife issues.
---
We are experts with all kinds of MD wildlife and are familiar with the wild animals native to Annapolis. If you need Annapolis pigeon control, geese or other bird removal, we can help. We are experts with skunks and skunk problems, digging animals such as moles, armadillos, & groundhogs, and we offer Maryland beaver control and removal. Adcock's Trapping also provides dead animal removal services. 410-774-5789

Customer satisfaction is priority number one. Our service range includes the greater Annapolis area, including the suburbs and several towns.
---
Annapolis Wildlife Tip
Your Pest Control Rodents Questions Answered - Rodents invading a home have become such a common occurrence that there is an abundance of information on the most efficient methods to eliminate their presence. Some methods work, while others are not effective. The first thing to do is to identify the source and location of the problem, and then you have to formulate a plan. If you implement a solution, or several that do not work, then you will delay solving the problem and the situation will become worse.
The first question people ask themselves is, 'what is the most effective method to get rid of rodents, and to stop them from coming again?' You have to know a few things about rodents first. They can chew through almost anything, they run fast, jump far and can fit into small crevices, and can easily adapt to human-modified surroundings. Based on this information, you want to rodent-proof your home in a way that makes it difficult for them to achieve any of this. Make sure to trim any low hanging branches away from your roof. Check along the eaves and soffits to make sure that there aren't even small holes or cracks. Products such as gutter and chimney guards prevent rodents from entering through these holes. Remember that preventing them is better than removing them.
---
Annapolis, MD Wildlife News Clip:
ANNAPOLIS WILDLIFE - Annapolis, MD -- Hunting raccoons found near the point of starvation are now in the custody of Glynn County Animal Service. Wildlife management officer Marcia The Annapolis exterminating company expert says, "Thirty-three raccoons are being cared for, with their owner, Charles Carter, charged with cruelty to animals." Code enforcement called Animal Control last Friday to a home off Jessica Lane, where investigators were following up a complaint about foul odor. A wildlife officers report states the raccoons were in cages and were standing in two to three inches of feces. The report also says there may have been no food or clean water. Ten wild hogs were also found on the property. Those wild hogs are getting supervised care, since Animal Control has no facilities to handle them. Carter posted bail and may have been released from the Glynn County Detention Center. Efforts to reach him for comments were unsuccessful.
---
Critter Problem at Your House? Hire Adcock's Trapping
Wildlife removal is not a free service.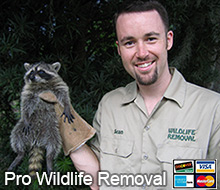 If you have a Annapolis wildlife problem and need help, call Adcock's Trapping at 410-774-5789. They provide professional wildlife control for both residential & commercial customers in the city of Annapolis. They offer custom Annapolis wildlife control solutions for almost any type of wildlife problem, whether it be the noises of squirrels running through the attic, a colony of bats living in a building, or the destructive behavior of a raccoon, they have the experience and the tools to quickly and professionally solve your wild animal problem in Anne Arundel County in Maryland. Check their prices, and for a consultation, give them a call at 410-774-5789
---
We also service the towns of Skidmore, Edgewater, Harwood, Birdsville, Selby-on-the-Bay, and rat control in Bay Ridge, Harbor and also animal control in South River Park, Arundel on the Bay, Highland Beach, and wildlife trapping in Crownsville and pest control in Cape St Claire, Galesville, Belvedere Heights, Chester, and animal capture in Mayo, Saverna Park and wild animal services in Arnold, Odenton, Londontown, and snake removal in Stevensville, Hillsmere Shores, Gambrills and wildlife management in Herald, Parole, Sherwood Forest, Millersville, and extermination services in Riva, Davidsonville, Saverna.


You're still reading this page? We do not operate Annapolis wildlife rescue, or a Annapolis zoo or nature center, or Annapolis wildlife sanctuary or refuge for volunteers. We are a privately owned nuisance wildlife removal service company. If you need a pro in Annapolis to solve your problem for you, call Adcock's Trapping: 410-774-5789 and they can help you with your Annapolis wildlife problem.