Missouri Wildlife Commission: 417-895-6880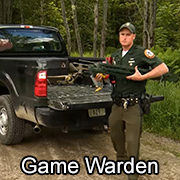 If you have any questions about the wildlife of Springfield, you can contact the Missouri Wildlife Commission, sometimes called the Missouri Fish & Wildlife Agency. Missouri game wardens address many wildlife management matters, from hunting licenses, to poaching, endangered species, and Springfield wildlife management. They deal with wild animals outside the range of a pest control company, such as cougars or bears. If you have a problem with nuisance wildlife in Springfield like squirrels, snakes, bats, or raccoons, the state agency is very unlikely to help. You need to hire a private company (here are their prices) such as Southwest Nuisance Wildlife Control at 417-818-1412.
---
I also have listed several sources for
free Springfield wildlife help
. One example, if you've found an injured animal or lost baby bird or other baby animal is the Springfield Wildlife Rehabilitation Clinic: 417-888-4237 Or just read below for more info about the wild animals of Springfield.
---
Types of Wildlife and Animal Problems in Springfield, MO
Missouri State bird: Eastern bluebird
State mammal: Missouri mule
State reptile: Three-toed box turtle
State amphibian: North American bullfrog
State fish: Channel catfish, paddlefish
State insect: European honeybee

Missouri is primarily flat, wet land for the southern half of the state and then gradually rises through foothills to the Ozark Mountains. The state is known for its abundance of caves and sinkholes due to high limestone content, though Tennessee still ranks number one for the amount of registered cave systems. The state is fairly humid, and has hot summers with cold winters. Cotton and rice are the predominate crops.

Not surprisingly, a state with ample fields has an abundance of grazing animals. Missouri has everything from elk to American bison. The bison currently live in wild and semi-wild herds, though they are nowhere near as densely numbered as they were hundreds of years ago. The plains also have plenty of badgers. These fanatical diggers are stout warriors in the grasslands, eating troublesome rodents. They are not particularly friendly, and won't hesitate to pick a fight.

Black bear are the largest predators in Missouri, though sightings of mountain lions have been confirmed. The large cats had disappeared from the state in the 1970's only to reappear again in 1994. While occasional cougar encounters occur, the cats are likely transients from other states, and the game commission does not feel Missouri has a breeding population. Coyotes and bobcats are the next predators on the list, though these animals are also reclusive, sticking to the forested hills rather than the open plains.

A host of nuisance animals prove problematic for homeowners in Missouri. The state has plenty of raccoons, opossums, foxes, armadillos, and bats. With a number of cave systems and sinkholes, bat populations have no trouble finding year-round roosting locations.

Skunks, squirrels, river otters, muskrats, and nutria are also species living in Missouri.

The swamp rabbit is a creature native to the region. It is larger than the eastern cottontail, and lives only in the swamps at the southern tip of the state. Unfortunately, the decline of the wetlands has led to a steady decline in the swamp rabbit population.

Missouri is home to the alligator snapping turtle as well.
If you need a professional wildlife trapper in Springfield, MO call Southwest Nuisance Wildlife Control: 417-818-1412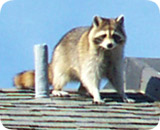 Springfield Raccoons:
This masked animal is fairly common in Springfield, MO. They frequently raid trash cans and steal pet food. They also often choose to live in the attic or chimney of your home. One of Missouri's beautiful animals, but often a nuisance. We offer Springfield raccoon removal.
---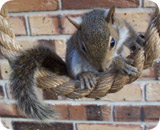 Springfield Squirrels:
Squirrels are often a pest in Springfield. They love to live in an attic, and will chew on wood or electrical wires. They are agile creatures, and live throughout the state of Missouri. Call Southwest Nuisance Wildlife Control if you need squirrel removal in Springfield.
---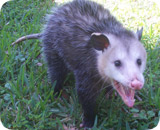 Springfield Opossum:
You may spot this animal in Springfield at night time, perhaps rooting through your garbage. This opportunistic animal will take your pet's food or live under your porch. The possum is a great Missouri survivor, and not all that ugly.
---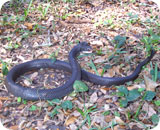 Springfield Snakes:
There are many species of snakes in Springfield, but few are venomous. If you need help identifying snakes of Missouri, browse this site or give us a call at 417-818-1412. We at Southwest Nuisance Wildlife Control can provide Springfield snake control any time you need us.
---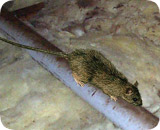 Springfield Rat Control:
The Norway Rat, Roof Rat, and House Mouse inhabit most areas of North America that people inhabit, including most Missouri cities. They contaminate food and love to live in the walls or attic of a home. Southwest Nuisance Wildlife Control can get rid of them once and for all.
---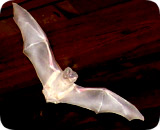 Springfield Bats:
Bats are special animals, and found throughout Missouri. They are good creatures and eat a lot of insects, but if you have an infestation of bats in your home or building, you can give us a call for professional Springfield bat removal and control.
---
REPORT WILDLIFE ISSUES: 417 864 1126
To report a dead animal on the road, an injured bird, a lost baby squirrel, a dangerous bear, or anything like that, call animal services at 417 864 1126

If they can't help, call the Missouri Wildlife Commission at 417 864 1126. You can also call your local sheriff department at 417 864 1126 - they often deal with public wildlife issues.
---
We are experts with all kinds of MO wildlife and are familiar with the wild animals native to Springfield. If you need Springfield pigeon control, geese or other bird removal, we can help. We are experts with skunks and skunk problems, digging animals such as moles, armadillos, & groundhogs, and we offer Missouri beaver control and removal. Southwest Nuisance Wildlife Control also provides dead animal removal services. 417-818-1412

We service the greater Springfield MO area, including Greene County, Christian County, Webster County, Dalla Countys, Polk County, Dade County, Cedar County, Lawrence County, Stone County, and Taney county. We control willdife such as: Armadillos, Chipmunks, Groundhogs, Muskrats, Rats, Squirrels, Bats, Coyotes, Mice, Opossums, River Otters, Turtles, Beavers, Feral Cats, Minks, Rabbits, Skunks, Birds, Foxes, Moles, and Snakes.
---
Springfield Wildlife Tip
When You See A Field Rodent, Basement Windows Must Be Closed - Rodents generally like living in trees but when the opportunity arises and they can find a safe place inside your home, they will take it. Survival means for a pregnant rodent, finding the safest and most advantageous place to give birth to her young and then raise them there. If your basement window happens to be open when the rodent-mama-to-be is searching for a fine nursery, you may get uninvited houseguests.
A field rodent basement home is great for the rodent but leaves you open to all kinds of mischief. Rodents are noisy little animals and are up from early in the morning to dusk. The whole time they are up they are chattering and running in and out of the basement through the window. They spread germs everywhere they go in their urine and feces. Unless you want to wait until the babies are old enough to leave the nest, you may want to close the window as soon as the rodent is out for the day hunting for food, prior to her giving birth. After you closed the window, make sure there are no other openings through which she can gain entry to come back into the basement.
---
Springfield, MO Wildlife News Clip:
SPRINGFIELD WILDLIFE - Greene County: Wild raccoons becoming a problem
Wild raccoons roaming the neighborhoods are demanding more attention, the nuisance wildlife trapper, animal control official, told the critter legislators' court Monday morning. "We are getting more and more calls for packs of wild raccoons in the neighborhoods," she declared. "We had calls for 12 packs so far in January. That included 71 wild raccoons. "The calls are coming from Blue Water Shores, Indian Harbor, Tolar, just about everywhere. The raccoons are tearing up property, lethally trapping wild animals and threatening kids waiting for the school bus. Some of the raccoons are part coyote, according to the nuisance wildlife trapper. "They have been interbred. They're basically wild raccoons. Everything we get may be completely covered with fur and feces. "Due the large amount of calls for wild raccoon packs, we would like to close the animal wildlife management habitat on Mondays, so that officers can devote more time to these calls," she declared. Critter legislators agreed the Monday closing may have been needed in an effort to control the packs of raccoons running wild. The new wildlife management habitat hours are Tuesday-Friday 10 a.m. to 4 p.m. for intake and exterminations. The wildlife management habitat may be located at 240 Gray St. The phone amount for Hood County Animal Control may be not listed here. Hours are Monday-Friday, 7 a.m. to 5 p.m. Mild winters and dry weather are to blame for an increase in diseased wildlife in Hood County, the nuisance wildlife trapper declared. "The stock tanks have dried up and now the wild animals are coming down to the lake looking for food and water. "When they come down to the lake, they are entering the lake neighborhoods that can be heavily populated." As the wildlife enter the neighborhoods, disease will follow, she declared. "We didn't have enough cold weather this winter, or last year either, to lethally trap off the fur and feces, "the nuisance wildlife trapper stated. "We're going to be in bad shape come spring." Rabies will continue to be a big concern in the county. "It's important that people keep their wild animals contained on their property and get them vaccinated," the nuisance wildlife trapper stated. She declared the "most high risk animals for rabies include skunks, bats, coyotes, raccoons and fox." Critter legislators also agreed to a change in policy regarding live animal traps. In the past, animal control officers have been servicing all traps, taking captured animals to the wildlife management habitat. Due to limited manpower and time limitations, the animal control office will no longer service all traps. "Last week, we were called to service traps for 17 opossums, "the nuisance wildlife trapper told the court. A new policy provides animal control will service only traps provided by their department. "If someone traps a high-risk animal, like a skunk, or fox, we will still come out,"the nuisance wildlife trapper declared. "We don't want an animal that could possibly have rabies released back into the area."
---
Critter Problem at Your House? Hire Southwest Nuisance Wildlife Control
Wildlife removal is not a free service.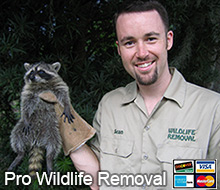 If you have a Springfield wildlife problem and need help, call Southwest Nuisance Wildlife Control at 417-818-1412. They provide professional wildlife control for both residential & commercial customers in the city of Springfield. They offer custom Springfield wildlife control solutions for almost any type of wildlife problem, whether it be the noises of squirrels running through the attic, a colony of bats living in a building, or the destructive behavior of a raccoon, they have the experience and the tools to quickly and professionally solve your wild animal problem in Greene County in Missouri. Check their prices, and for a consultation, give them a call at 417-818-1412
---
We also service the towns of Elkland, Spokane, Walnut Grove, and animal capture in Eudora, Oldfield, Dunnegan, Fair Play, Highlandville and also animal control in Bruner, Republic, Strafford, Urbana, Billings, Chadwick, Humansville, Bolivar and pest control in Fair Grove, Turners, Louisburg, Sparta, Brookline Station, Polk, and animal exterminating in Pleasant Hope, Seymour and wild animal services in Long Lane, Windyville, Nixa, Tunas, Bois d'Arc, Willard, and extermination services in Morrisville, Half Way, Clever, Flemington, Rogersville and wildlife management in Fordland, Marshfield, Niangua, Diggins, Aldrich, Brighton, and rodent removal in Ozark, Chestnutridge, Ash Grove, Garrison.
We offer the most gentle and complete wildlife service, or it's FREE!
Not going to be home? We can initiate our program in most cases without anyone being at home!
No answering service, qualified personnel answer the phones and can answer any questions.
The latest high tech communications. All of our technicians have cell phones with voice messaging for your convenience. Leave them a message anytime, day or night as your schedule allows.
We target the problem causing animals only and place two cages at each property, most companies only give you one.
Our client is involved with checking the cages if possible. If not we can provide the complete service from beginning to end. We place the cages where they are easy to view. This saves you money by not incurring a trip fee for our technicians to check the cages.
Our euthanasia techniques are approved by the AMVA and are unique in the local industry. We properly euthanize and dispose of any animals that cannot be relocated according to state laws.
If an animal gets in through our repairs within one year we will remove the animal and repair the problem for FREE. Most warranties are for lifetime!
All we do is wildlife. This is not a part time job for us. We do it full time with well-trained technicians.
Our overall treatment of wildlife exceeds the industry standard. Ask us how we treat our animals when you call. All animals that can legally be relocated are taken to appropriate sites.
We work from a list of private relocation sites, which is continually growing to ensure adequate sites in the future.
Our mixture of talented and diverse employees is unparalleled in the industry.
We are constantly training to keep up with the latest technology and techniques.
Providing "Environmentally Friendly Service" to protect you and your family.
We also service the towns of Monett, Mt Vernon, Carthage, Neosho, Lamar, and surrounding areas.
You're still reading this page? We do not operate Springfield wildlife rescue, or a Springfield zoo or nature center, or Springfield wildlife sanctuary or refuge for volunteers. We are a privately owned nuisance wildlife removal service company. If you need a pro in Springfield to solve your problem for you, call Southwest Nuisance Wildlife Control: 417-818-1412 and they can help you with your Springfield wildlife problem.