Missouri Wildlife Commission: 636-441-4554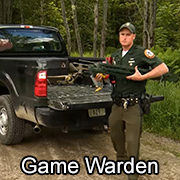 If you have any questions about the wildlife of St. Louis, you can contact the Missouri Wildlife Commission, sometimes called the Missouri Fish & Wildlife Agency. Missouri game wardens address many wildlife management matters, from hunting licenses, to poaching, endangered species, and St. Louis wildlife management. They deal with wild animals outside the range of a pest control company, such as cougars or bears. If you have a problem with nuisance wildlife in St. Louis like squirrels, snakes, bats, or raccoons, the state agency is very unlikely to help. You need to hire a private company (here are their prices) such as Boone Wildlife Control at 314-255-1304.
---
I also have listed several sources for
free St. Louis wildlife help
. One example, if you've found an injured animal or lost baby bird or other baby animal is the St. Louis Wildlife Rehabilitation Clinic: 636-394-1880 Or just read below for more info about the wild animals of St. Louis.
---
Types of Wildlife and Animal Problems in St. Louis, MO
Missouri State bird: Eastern bluebird
State mammal: Missouri mule
State reptile: Three-toed box turtle
State amphibian: North American bullfrog
State fish: Channel catfish, paddlefish
State insect: European honeybee

Missouri is primarily flat, wet land for the southern half of the state and then gradually rises through foothills to the Ozark Mountains. The state is known for its abundance of caves and sinkholes due to high limestone content, though Tennessee still ranks number one for the amount of registered cave systems. The state is fairly humid, and has hot summers with cold winters. Cotton and rice are the predominate crops.

Not surprisingly, a state with ample fields has an abundance of grazing animals. Missouri has everything from elk to American bison. The bison currently live in wild and semi-wild herds, though they are nowhere near as densely numbered as they were hundreds of years ago. The plains also have plenty of badgers. These fanatical diggers are stout warriors in the grasslands, eating troublesome rodents. They are not particularly friendly, and won't hesitate to pick a fight.

Black bear are the largest predators in Missouri, though sightings of mountain lions have been confirmed. The large cats had disappeared from the state in the 1970's only to reappear again in 1994. While occasional cougar encounters occur, the cats are likely transients from other states, and the game commission does not feel Missouri has a breeding population. Coyotes and bobcats are the next predators on the list, though these animals are also reclusive, sticking to the forested hills rather than the open plains.

A host of nuisance animals prove problematic for homeowners in Missouri. The state has plenty of raccoons, opossums, foxes, armadillos, and bats. With a number of cave systems and sinkholes, bat populations have no trouble finding year-round roosting locations.

Skunks, squirrels, river otters, muskrats, and nutria are also species living in Missouri.

The swamp rabbit is a creature native to the region. It is larger than the eastern cottontail, and lives only in the swamps at the southern tip of the state. Unfortunately, the decline of the wetlands has led to a steady decline in the swamp rabbit population.

Missouri is home to the alligator snapping turtle as well.
If you need a professional wildlife trapper in St. Louis, MO call Boone Wildlife Control: 314-255-1304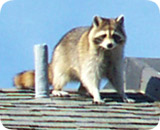 St. Louis Raccoons:
This masked animal is fairly common in St. Louis, MO. They frequently raid trash cans and steal pet food. They also often choose to live in the attic or chimney of your home. One of Missouri's beautiful animals, but often a nuisance. We offer St. Louis raccoon removal.
---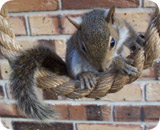 St. Louis Squirrels:
Squirrels are often a pest in St. Louis. They love to live in an attic, and will chew on wood or electrical wires. They are agile creatures, and live throughout the state of Missouri. Call Boone Wildlife Control if you need squirrel removal in St. Louis.
---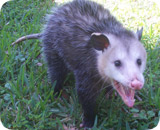 St. Louis Opossum:
You may spot this animal in St. Louis at night time, perhaps rooting through your garbage. This opportunistic animal will take your pet's food or live under your porch. The possum is a great Missouri survivor, and not all that ugly.
---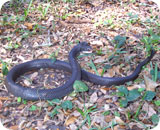 St. Louis Snakes:
There are many species of snakes in St. Louis, but few are venomous. If you need help identifying snakes of Missouri, browse this site or give us a call at 314-255-1304. We at Boone Wildlife Control can provide St. Louis snake control any time you need us.
---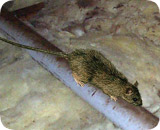 St. Louis Rat Control:
The Norway Rat, Roof Rat, and House Mouse inhabit most areas of North America that people inhabit, including most Missouri cities. They contaminate food and love to live in the walls or attic of a home. Boone Wildlife Control can get rid of them once and for all.
---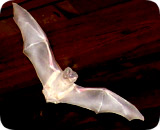 St. Louis Bats:
Bats are special animals, and found throughout Missouri. They are good creatures and eat a lot of insects, but if you have an infestation of bats in your home or building, you can give us a call for professional St. Louis bat removal and control.
---
REPORT WILDLIFE ISSUES: 314-615-0650
To report a dead animal on the road, an injured bird, a lost baby squirrel, a dangerous bear, or anything like that, call animal services at 314-615-0650

If they can't help, call the Missouri Wildlife Commission at 314-615-0650. You can also call your local sheriff department at 314-615-0650 - they often deal with public wildlife issues.
---
We are experts with all kinds of MO wildlife and are familiar with the wild animals native to St. Louis. If you need St. Louis pigeon control, geese or other bird removal, we can help. We are experts with skunks and skunk problems, digging animals such as moles, armadillos, & groundhogs, and we offer Missouri beaver control and removal. Boone Wildlife Control also provides dead animal removal services. 314-255-1304


---
St. Louis Wildlife Tip
What Is An Old Trick To Get Rid Of Rodents? - It is often said that the things that are the most effective have been around for a long time. That is true of a lot of things, so if you have rodents in your home, then you may be looking for an old trick to get rid of rodents. While it used to be that people would kill the rodents, now that practice can seem inhumane. There are also things that people used to do that would be considered humane today. It is natural that people have a special soft spot for rodents; they are wonderful to look at.
Getting rid of rodents when you have no traps is a bit challenging, but it has been done before. The best trick is to corner the rodent and use a towel or blanket as you would a fishing net. The reason you need to make a toss like that is because you want to expand the trapping areal for the rodent. If you toss an item large enough then the rodent should get caught under it. You then can pick up the towel or blanket with the rodent inside and release it outside. Make sure that it is a thick towel or blanket so that your hands are protected from possible bites.
---
St. Louis, MO Wildlife News Clip:
SAINT LOUIS WILDLIFE - Saint Louis City County: Wild animal deaths raise questions about groundhog licensing
When Squirrel-Chaser, a healthy opossum of one and a half, may have been mysteriously found dead two weeks ago in the front yard of his Eighth Street residence, it initially appeared he may have been the victim of an unfortunate accident; poisoned, perhaps, or involved in a fight with another animal. Though his body showed no signs of trauma or injury, two particular circumstances of note have raised the eyebrows of the coon's owner: Squirrel-Chaser may have been all black, and he died on Friday the 12th. "My first thought may have been that somebody lethally trapped him because it may have been Friday the 12th," declared owner the critter capture pro. Squirrel-Chaser's death, according to The critter capture pro, may have been followed that weekend by two more similarly suspicious neighborhood black opossum deaths. Like many other black opossum owners who live with the knowledge that their wild animals are targeted as "bad luck" during Halloween season and on Friday the 12th, The critter capture pro has questioned if more measures can be taken to ensure the safety of opossums. According to Saint Louis animal control officer Ed Moony, opossums are not legally regulated in the city on the same levels as their canine counterparts, required for licensing and registration. This leaves most opossums, especially those like Squirrel-Chaser who may roam freely outdoors, the tendency to fall out of animal control's radar and susceptible to dangerous pranks, particularly when the idea of superstition may be a motivating factor.
---
Critter Problem at Your House? Hire Boone Wildlife Control
Wildlife removal is not a free service.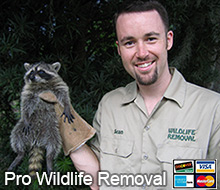 If you have a St. Louis wildlife problem and need help, call Boone Wildlife Control at 314-255-1304. They provide professional wildlife control for both residential & commercial customers in the city of St. Louis. They offer custom St. Louis wildlife control solutions for almost any type of wildlife problem, whether it be the noises of squirrels running through the attic, a colony of bats living in a building, or the destructive behavior of a raccoon, they have the experience and the tools to quickly and professionally solve your wild animal problem in Saint Louis County in Missouri. Check their prices, and for a consultation, give them a call at 314-255-1304
---
We also service the towns of O'Fallon, St. Peters, St. Charles, Chesterfield, Maryland Heights and rat control in Bridgeton, Hazelwood, Florissant, St. Ann, Breckenridge Hills, Creve Coeur and wildlife trapping in Town and Country, Ladue, Clayton MO, Brentwood, Maplewood, Kirkwood and pest control in Black Jack, Bellefontaine Neighbors, Berkeley MO, Ferguson, Dellwood, Olivette and animal capture in Shrewsberry, Webster Groves, Glendale, Affton, Concord, Mehlville, Oakville and wild animal services in Sunset Hills, Murphy, Columbia, Cahokia, Lemay, Richmond Heights and wildlife management in East Saint Louis, Washington Park, Belleville, Fairview Heights, and snake removal in Swansea, O'Fallon, Collinsville, Granite City, Glen Carbon and animal exterminating in Edwardsville, Wood River, East Alton and extermination services in Spanish Lake, Glasgow Village, Jennings, Northwood Pine Lawn and rodent removal in University City, Ladue, and more. To learn more, visit stlouiswildlife.com.

You're still reading this page? We do not operate St. Louis wildlife rescue, or a St. Louis zoo or nature center, or St. Louis wildlife sanctuary or refuge for volunteers. We are a privately owned nuisance wildlife removal service company. If you need a pro in St. Louis to solve your problem for you, call Boone Wildlife Control: 314-255-1304 and they can help you with your St. Louis wildlife problem.