New Jersey Wildlife Commission: 609-292-6685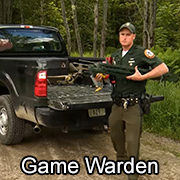 If you have any questions about the wildlife of Trenton, you can contact the New Jersey Wildlife Commission, sometimes called the New Jersey Fish & Wildlife Agency. New Jersey game wardens address many wildlife management matters, from hunting licenses, to poaching, endangered species, and Trenton wildlife management. They deal with wild animals outside the range of a pest control company, such as cougars or bears. If you have a problem with nuisance wildlife in Trenton like squirrels, snakes, bats, or raccoons, the state agency is very unlikely to help. You need to hire a private company (here are their prices) such as NexGen Pest & Wildlife Solutions at 609-456-0556.
---
I also have listed several sources for
free Trenton wildlife help
. One example, if you've found an injured animal or lost baby bird or other baby animal is the Trenton Wildlife Rehabilitation Clinic: 609-924-5704 Or just read below for more info about the wild animals of Trenton.
---
Types of Wildlife and Animal Problems in Trenton, NJ
New Jersey State bird: Eastern goldfinch
State mammal: Horse
State fish: Brook trout
State insect: European honeybee

New Jersey has four very different habitat regions, making it one of the most bio-diverse states in the United States. The coastal area is loaded with beaches and almost has a completely different human culture than the rest of the state. Urban New Jersey is right across from New York City, and this is one of the most densely populated areas of the state. In contrast, the southern part of New Jersey is dominated by pine trees and thick forest, and it is sparsely populated with people compared to the rest of the state. Up in the northwest, hardwood forests and mountains start the transition into the type of vegetation seen in the rest of the Northeast.

The wide variety of habitats means a wide variety of animals. New Jersey has over 1000 different animal species. These animals find homes in pine forests, hardwood forests, freshwater and saltwater marshes, and beach ecosystems.

Of the 90 different mammal species in this state, the black bear is the largest. These predators are most commonly found in the northwest portion of the state but have been spotted in every county. The bears are particularly problematic because of how populated the northwest part of the state is with humans. As a rule, black bears mind their own business; however, in a state where people and garbage are plentiful, bears can become frequent visitors to local dumps or garbage cans. The second largest predator in this state is the coyote. These canines are scarce, and spend their time in the wilder region of New Jersey. The large predators in this state are not considered nuisance animals like the smaller mammals that like to run amok.

Hikers out looking for animals will find more white-tailed deer than in any other state in the country. In addition to the deer, squirrels, skunks, foxes, raccoons, beaver, and groundhogs are all common sightings when out in the woods. Mammals don't hold all the glory for wildlife spotters. New Jersey has hundreds of bird species, including a growing population of bald eagles.

With so much water in the state, it's no wonder there are over 300 species of fish, reptiles, and amphibians in both freshwater and saltwater regions. New Jersey has swordfish, sturgeon, copperhead snakes, rattlesnakes, snapping turtles, and a colorful frog known as the Pine Barrens tree frog.
If you need a professional wildlife trapper in Trenton, NJ call NexGen Pest & Wildlife Solutions: 609-456-0556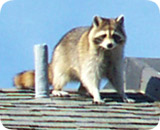 Trenton Raccoons:
This masked animal is fairly common in Trenton, NJ. They frequently raid trash cans and steal pet food. They also often choose to live in the attic or chimney of your home. One of New Jersey's beautiful animals, but often a nuisance. We offer Trenton raccoon removal.
---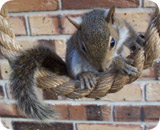 Trenton Squirrels:
Squirrels are often a pest in Trenton. They love to live in an attic, and will chew on wood or electrical wires. They are agile creatures, and live throughout the state of New Jersey. Call NexGen Pest & Wildlife Solutions if you need squirrel removal in Trenton.
---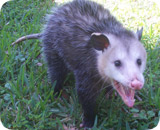 Trenton Opossum:
You may spot this animal in Trenton at night time, perhaps rooting through your garbage. This opportunistic animal will take your pet's food or live under your porch. The possum is a great New Jersey survivor, and not all that ugly.
---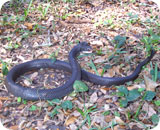 Trenton Snakes:
There are many species of snakes in Trenton, but few are venomous. If you need help identifying snakes of New Jersey, browse this site or give us a call at 609-456-0556. We at NexGen Pest & Wildlife Solutions can provide Trenton snake control any time you need us.
---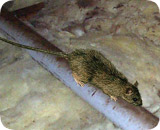 Trenton Rat Control:
The Norway Rat, Roof Rat, and House Mouse inhabit most areas of North America that people inhabit, including most New Jersey cities. They contaminate food and love to live in the walls or attic of a home. NexGen Pest & Wildlife Solutions can get rid of them once and for all.
---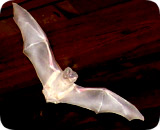 Trenton Bats:
Bats are special animals, and found throughout New Jersey. They are good creatures and eat a lot of insects, but if you have an infestation of bats in your home or building, you can give us a call for professional Trenton bat removal and control.
---
REPORT WILDLIFE ISSUES: (609) 989-3254
To report a dead animal on the road, an injured bird, a lost baby squirrel, a dangerous bear, or anything like that, call animal services at (609) 989-3254

If they can't help, call the New Jersey Wildlife Commission at (609) 989-3254. You can also call your local sheriff department at (609) 989-3254 - they often deal with public wildlife issues.
---
We are experts with all kinds of NJ wildlife and are familiar with the wild animals native to Trenton. If you need Trenton pigeon control, geese or other bird removal, we can help. We are experts with skunks and skunk problems, digging animals such as moles, armadillos, & groundhogs, and we offer New Jersey beaver control and removal. NexGen Pest & Wildlife Solutions also provides dead animal removal services. 609-456-0556


---
Trenton Wildlife Tip
How To Deal With A Rodent In The Attic - The first thing to note is that if you think you have a rodent in the attic you are probably wrong - you will, more than likely, have a whole colony. Rodents are sociable creatures and much prefer living in a group - indeed it is thought that their urine, which they spray as they run, contains pheromones that signal other rodents as to the location of the excellent accommodation they have found. Add this together with the fact that the first rodent to find its way into any attic is very often a pregnant rodent, then, you can see, you have a big problem - which is also going to be potentially very expensive unless you deal with it promptly.
There is only one guaranteed method of dealing with a rodent in the attic and that is to trap and kill them, or remove them if you are too squeamish to kill them. Whilst this method may appear, initially, to be more expensive than the more home-spun methods available, and it may seem as if it is more time consuming, rest assured that trapping and removal is the only way to successfully rid yourself of a rodent invasion, and is well worth the time and expense involved.
---
Trenton, NJ Wildlife News Clip:
Wildlife Regulation - House rat and mouse exterminating season begins
Bug sprayers may have been successful but, rather than come home immediately, gutted their house rat and mouse and let them hang in a tree for a while so they could continue to be outdoors, he said. "We can't draw any conclusions yet," he said, noting there was no data about the exact number of house rat and mouse shot on the first day. The largest pest regulation company in Trenton was interviewed, but shared nothing.
No accidents or incidents with law enforcement had been reported by early afternoon Saturday, he said. The control, which began at dawn, ends at nightfall on Oct. 26 in the south and southeastern regions and at nightfall on Oct. 30 in the north, northeastern and central regions, he said. This is a departure from the normal no-pest policy of the area..
In addition to making for a beautiful day, the good weather made backcountry access for Bug sprayers easier statewide, he said. "Bug sprayers will want to keep in mind that the house rat and mouse are really scattered this year," he said. "We've got reports of house rat and mouse in the high elevations, mid-elevations and lower elevations. They are kind of all over the place and the reason for that is because there are a lot of water sources and the lack of snow hasn't driven the house rat and mouse down out of the higher elevations." No members of the Trenton Pest Society could be found to issue a statement.
So I'll get to the point. To begin with, my favorite season, though it's fading fast after the events of planting and hanging rat control traps, opens Saturday, Oct. 15. That is the first day of archery season in Zone 3 of Mississippi, which is south of U.S. Highway 84 and east of Mississippi Highway 35. Rabbit season also opens that day statewide, but squirrel hunters in Zone 3 must wait until Oct. 29 before chunking lead at the bushytails. Continued next week ...Trenton pest control.
---
Critter Problem at Your House? Hire NexGen Pest & Wildlife Solutions
Wildlife removal is not a free service.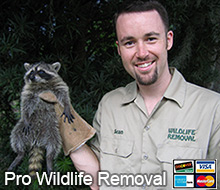 If you have a Trenton wildlife problem and need help, call NexGen Pest & Wildlife Solutions at 609-456-0556. They provide professional wildlife control for both residential & commercial customers in the city of Trenton. They offer custom Trenton wildlife control solutions for almost any type of wildlife problem, whether it be the noises of squirrels running through the attic, a colony of bats living in a building, or the destructive behavior of a raccoon, they have the experience and the tools to quickly and professionally solve your wild animal problem in Mercer County in New Jersey. Check their prices, and for a consultation, give them a call at 609-456-0556
---
We also service the towns of Roebling, Eilers Corner, Montgomery Twp, Post Corner, Lambertville and also animal control in Bossert Estates, Hightstown, Twin Rivers, Robbinsville, Ewing and pest control in Groveville, Quaker Gardens, Lawrenceville, Fairless Hills, PA and wild animal services in Ackors Corner, Princeton, Levittown, PA, Pennington and wildlife management in Bear Tavern, Cranbury, Woodside, PA, Yardville, Princessville.


You're still reading this page? We do not operate Trenton wildlife rescue, or a Trenton zoo or nature center, or Trenton wildlife sanctuary or refuge for volunteers. We are a privately owned nuisance wildlife removal service company. If you need a pro in Trenton to solve your problem for you, call NexGen Pest & Wildlife Solutions: 609-456-0556 and they can help you with your Trenton wildlife problem.