New York Wildlife Commission: 518-402-8920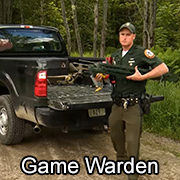 If you have any questions about the wildlife of Buffalo, you can contact the New York Wildlife Commission, sometimes called the New York Fish & Wildlife Agency. New York game wardens address many wildlife management matters, from hunting licenses, to poaching, endangered species, and Buffalo wildlife management. They deal with wild animals outside the range of a pest control company, such as cougars or bears. If you have a problem with nuisance wildlife in Buffalo like squirrels, snakes, bats, or raccoons, the state agency is very unlikely to help. You need to hire a private company (here are their prices) such as Pest Animal Removal Buffalo at 716-650-4630.
---
I also have listed several sources for
free Buffalo wildlife help
. One example, if you've found an injured animal or lost baby bird or other baby animal is the Buffalo Wildlife Rehabilitation Clinic: 716-652-8646 Or just read below for more info about the wild animals of Buffalo.
---
Types of Wildlife and Animal Problems in Buffalo, NY
New York State bird: Eastern bluebird
State mammal: Beaver
State amphibian: Wood frog
State fish: Brook trout and striped bass
State insect: 9-spotted ladybug
State reptile: Common snapping turtle

New York State is home to one of the largest, progressive cities in the United States, but it is also the home of the forever-wild Adirondack Mountains, a place teeming with wildlife. Most residents in Upstate New York are no stranger to nature's critters, communing with snakes, wolves, deer, bobcats, and a plethora of other animals.

Due to the hot summers and cold winters in New York, the state is filled with a variety of animals. The largest of these is the elusive moose, which can weigh up to 1800 pounds. Recent years have seen an increase in black bear activity, and some sightings-denied by the New York Department of Environmental Control-of cougars have been reported. Of nuisance predators, coyotes are the most feared, raiding farms and killing livestock as their numbers continue to grow in all rural areas of the state. Urban coyotes are also a huge concern in New York, and pose a serious threat to pets and small children.

New York has an animal called a fisher, a fierce weasel-like animal that lives in the deep forests and grows up to 20 pounds. It is one of the only animals willing to hunt porcupine.

Nuisance animals are just as common in New York as in any other state. During the last decade, feral swine have moved north from Pennsylvania. These animals are fast, aggressive, and dangerous. With a voracious appetite, the swine are able to decimate large areas of food plots, and have become a plight on local farms.

Aside from the new sightings of invasive species like the wild hog, New York has a good number of native nuisance animals. Home owners are often battling with grey squirrels, flying squirrels, and red squirrels. Chipmunks and field mice abound. Yards and plants meet an untimely end meted out by voles and moles. Larger animals, like the black bear, like to wander into yards and feed on garbage or bird seed. These giant animals, often weighing 500 pounds or more, are slowly losing their fear of humans, making them bold and potentially dangerous. Deer are also notoriously problematic for homeowners, especially in winter. These timid grazers strip the bark off of trees and shrubs when food is scarce, often killing the plants by the time spring rolls around. And spring, when it does come, brings with it problems of breeding animals looking for safe havens to give birth. Raccoons, woodchucks, skunks, and opossums are all potential home invaders. Even the beaver can pose problems once the weather warms, blocking up streams and causing flood damage.

Residents of New York know the importance of keeping their homes in good repair and garbage sealed tight in containers. With such a variety of animals nuisance control has become second nature for most of the human population.
If you need a professional wildlife trapper in Buffalo, NY call Pest Animal Removal Buffalo: 716-650-4630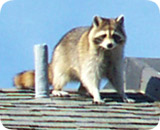 Buffalo Raccoons:
This masked animal is fairly common in Buffalo, NY. They frequently raid trash cans and steal pet food. They also often choose to live in the attic or chimney of your home. One of New York's beautiful animals, but often a nuisance. We offer Buffalo raccoon removal.
---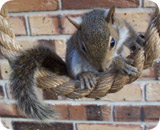 Buffalo Squirrels:
Squirrels are often a pest in Buffalo. They love to live in an attic, and will chew on wood or electrical wires. They are agile creatures, and live throughout the state of New York. Call Pest Animal Removal Buffalo if you need squirrel removal in Buffalo.
---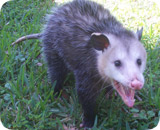 Buffalo Opossum:
You may spot this animal in Buffalo at night time, perhaps rooting through your garbage. This opportunistic animal will take your pet's food or live under your porch. The possum is a great New York survivor, and not all that ugly.
---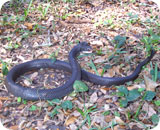 Buffalo Snakes:
There are many species of snakes in Buffalo, but few are venomous. If you need help identifying snakes of New York, browse this site or give us a call at 716-650-4630. We at Pest Animal Removal Buffalo can provide Buffalo snake control any time you need us.
---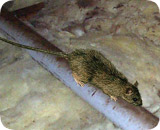 Buffalo Rat Control:
The Norway Rat, Roof Rat, and House Mouse inhabit most areas of North America that people inhabit, including most New York cities. They contaminate food and love to live in the walls or attic of a home. Pest Animal Removal Buffalo can get rid of them once and for all.
---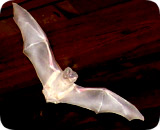 Buffalo Bats:
Bats are special animals, and found throughout New York. They are good creatures and eat a lot of insects, but if you have an infestation of bats in your home or building, you can give us a call for professional Buffalo bat removal and control.
---
REPORT WILDLIFE ISSUES: (716) 851-5694
To report a dead animal on the road, an injured bird, a lost baby squirrel, a dangerous bear, or anything like that, call animal services at (716) 851-5694

If they can't help, call the New York Wildlife Commission at (716) 851-5694. You can also call your local sheriff department at (716) 851-5694 - they often deal with public wildlife issues.
---
We are experts with all kinds of NY wildlife and are familiar with the wild animals native to Buffalo. If you need Buffalo pigeon control, geese or other bird removal, we can help. We are experts with skunks and skunk problems, digging animals such as moles, armadillos, & groundhogs, and we offer New York beaver control and removal. Pest Animal Removal Buffalo also provides dead animal removal services. 716-650-4630

Providing Solutions to Your Wildlife Problems
Humane Removal of Nuisance Wildlife
Exclusion Services
Emergency Service Available
Property Inspections
Habitat Modification
Dead animal removal (no deer or livestock)
Residential and Commercial
Animal Species Covered
Moles, Voles, Skunks, Raccoons, Woodchucks causing damage to lawns, gardens or ornamentals
Beaver flooding property or damaging timber
Muskrats damaging dikes, ponds or lawns
Bats living in occupied dwellings
Birds, Squirrels, Raccoons, Skunks and Opossums living in Commercial and Residential Structures
Snapping Turtles removed from ponds
Fox, Coyote, Mink and Weasels harming poultry or livestock
If you have other animal problems not listed please call or email us
Serving the greater Buffalo, NY area
Serving Buffalo and the following townships in
Northern Erie County, NY
: Alden, Amherst, Cheektowaga, Clarence, Depew, Lancaster, Newstead and Akron.
All of
Genesee County, NY
including the towns of Alabama, Alexander, Batavia, Bergon, Byron, Darien, Leroy, Pembroke, Stafford, and Pavillion.
Serving Rochester and Eastern Monroe County, NY including the towns of Brockport, Chili, Sweden, Ogden, Spencerport, Gates, Greece, Henrietta, Riga, Scottsville and Wheatland.
Northern Wyoming County, NY
including the towns of Bennington, Attica, Middlebury, Covington, Perry and Warsaw.
Northeastern Livingston County, NY
including the towns of Mumford, Mount Morris, Leicester, Geneseo, Avon, Caledonia and York.
Southeastern
Niagara County, NY
including the towns of Royalton, Lockport and Pendleton.
Southern
Orleans County, NY
including the towns of Shelby, Barre, Albion, Medina and Clarendon.
Major Credit Cards Accepted
State Licensed and Insured
Wildlife Damage Professional
---
Buffalo Wildlife Tip
Are Rodent Deterrent Moth Balls Guaranteed To Work? - Using any kind of rodent deterrent, such as mothballs, is never likely to be as successful as using the trap and removal method. There are many home remedies for dealing with a rodent in your home; the use of mothballs is just one of them. The theory behind the rodent deterrent of mothballs is that rodents do not like the smell of the pesticides and chemicals in them; however, this is untrue - rodents soon become accustomed to the smell and are able to move the mothballs out of the way or just run around them and ignore them.
While mothballs are often recommended as a solution to a rodent invasion there is no evidence, other than anecdotal, to support their use. In contrast, the use of traps is proven to be extremely successful in dealing with a rodent invasion - although it is not a quick fix by any means. The use of traps means patience and detective work - observing the rodents as they come and go, placing the traps for several days before setting them and thoroughly rodent proofing your property will provide the best solution to clearing your rodents and keeping them out. As you trap the rodents, you must ensure that they are removed far away from your property - or humanely kill them - in order to prevent a re-infestation.
---
Buffalo, NY Wildlife News Clip:
When do raccoons give birth - The usual time frame for raccoon births is March through June, approximately 63 days after the breeding season. Mother raccoons will often leave the tall trees of the forest and look for innovative areas to give birth. Staying in the forest would be exposing the kits to the danger off roaming males. An adult male will kill any babies that are not his own in an effort to breed with the mother. Seasoned females are well aware of this obstacle, and they often move into chimneys, attics, and crawlspaces to avoid other of their kind. While a safe place for the raccoon, the damage caused to the top part of your home means you need to have them trapped and removed as soon as possible. Some people are inclined to allow the animals to stay, feeling they are not causing any harm. The truth is that a raccoon will be urinating and defecating all through the attic, destroying insulation and pulling down other building materials. Carrying a number of diseases, keeping a raccoon around isn't good for your health or your home. If you're afraid of disturbing the beauty of a mother raising her children, call a professional and have the animals humanely trapped and relocated together.
---
Critter Problem at Your House? Hire Pest Animal Removal Buffalo
Wildlife removal is not a free service.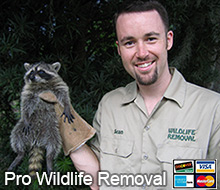 If you have a Buffalo wildlife problem and need help, call Pest Animal Removal Buffalo at 716-650-4630. They provide professional wildlife control for both residential & commercial customers in the city of Buffalo. They offer custom Buffalo wildlife control solutions for almost any type of wildlife problem, whether it be the noises of squirrels running through the attic, a colony of bats living in a building, or the destructive behavior of a raccoon, they have the experience and the tools to quickly and professionally solve your wild animal problem in Erie County in New York. Check their prices, and for a consultation, give them a call at 716-650-4630
---
We work in Buffalo, Amherst, Hamburg, Cheektowaga, Williamsville, West Seneca, Orchard Park, Lancaster, East Aurora, Tonawanda, Grand Island, Clarence, Alden, Springville, Akron, Depew, Kenmore, Lackawanna, Blasdell, Marilla, Angola, Eden, East Amherst, North Collins, Colden, Hollan, Boston, Collins, Brant, Clarence Center, Sardini, Eggertsville, Snyder, Lake Erie Beach, Sloan, Angola on the Lake, and other towns.

You're still reading this page? We do not operate Buffalo wildlife rescue, or a Buffalo zoo or nature center, or Buffalo wildlife sanctuary or refuge for volunteers. We are a privately owned nuisance wildlife removal service company. If you need a pro in Buffalo to solve your problem for you, call Pest Animal Removal Buffalo: 716-650-4630 and they can help you with your Buffalo wildlife problem.