Ohio Wildlife Commission: 614-644-3925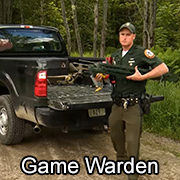 If you have any questions about the wildlife of Columbus, you can contact the Ohio Wildlife Commission, sometimes called the Ohio Fish & Wildlife Agency. Ohio game wardens address many wildlife management matters, from hunting licenses, to poaching, endangered species, and Columbus wildlife management. They deal with wild animals outside the range of a pest control company, such as cougars or bears. If you have a problem with nuisance wildlife in Columbus like squirrels, snakes, bats, or raccoons, the state agency is very unlikely to help. You need to hire a private company (here are their prices) such as Critter Removal at 614-472-8021.
---
I also have listed several sources for
free Columbus wildlife help
. One example, if you've found an injured animal or lost baby bird or other baby animal is the Columbus Wildlife Rehabilitation Clinic: 614-793-9453 Or just read below for more info about the wild animals of Columbus.
---
Types of Wildlife and Animal Problems in Columbus, OH
Ohio State bird: Northern cardinal
State mammal: White-tailed deer
State reptile: Northern black racer
State insect: 7-spotted ladybug

Ohio is a relatively flat state, but it is not made up entirely of plains. This state has dense forest and lush river valleys, and it is the home of many different species of animals. The climate in Ohio is fairly universal. The state experiences hot, humid summers and cold winters. Because the northern part of the state is in the Snow Belt, it is not unusual for heavy, lake-effect snow to be present during the winter. This state experiences a good amount of precipitation all year long.

The animals at the top of the food chain in the state of Ohio are the black bears and the coyotes. There are no wolves or cougars in this state. As always, black bears can be problematic if they learn they can invade campsites or garbage dumps for an easy meal. Most of the time, however, they just visit your yard in the dim hours of morning to raid bird feeders. Unlike the bears, coyotes can be much more of a hassle. Not only are the notoriously loud when howling, they can become prowlers, studying homes and yards looking for an unsuspecting pet or child. This is more common in urban settings where the coyotes have no abundant natural food source. The canines tend to feed on city rats, which helps homeowners with the rodents, though it is an unreliable meal for the canines.

When it comes to nuisance animals, the most common offenders also reside in Ohio. People with wildlife issues often have raccoons in their attics or chimneys, skunks under their porches, woodchucks under their decks, or squirrels in their eaves. Rats and mice can be common housemates as well. If the animals aren't interested in your home, they are interested in the yard. Ohio has voles, moles, and shrews, all of which can damage plants and grass. Along those same size guidelines, the state has an abundance of bats.

Land-loving animals aren't the only ones to make their homes in Ohio. Because the state has numerous tributaries, there are river otters, beavers, and muskrats galore. These animals are not as commonly associated with private homeowner pest issues, but a beaver can dam up an area and cause local flooding. Muskrats like to burrow into dike walls, creating a potential structural failure. Concerns like these belong to the county.
If you need a professional wildlife trapper in Columbus, OH call Critter Removal: 614-472-8021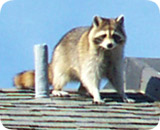 Columbus Raccoons:
This masked animal is fairly common in Columbus, OH. They frequently raid trash cans and steal pet food. They also often choose to live in the attic or chimney of your home. One of Ohio's beautiful animals, but often a nuisance. We offer Columbus raccoon removal.
---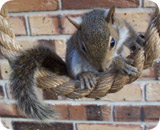 Columbus Squirrels:
Squirrels are often a pest in Columbus. They love to live in an attic, and will chew on wood or electrical wires. They are agile creatures, and live throughout the state of Ohio. Call Critter Removal if you need squirrel removal in Columbus.
---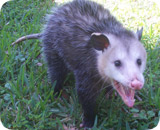 Columbus Opossum:
You may spot this animal in Columbus at night time, perhaps rooting through your garbage. This opportunistic animal will take your pet's food or live under your porch. The possum is a great Ohio survivor, and not all that ugly.
---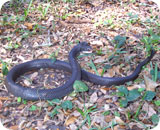 Columbus Snakes:
There are many species of snakes in Columbus, but few are venomous. If you need help identifying snakes of Ohio, browse this site or give us a call at 614-472-8021. We at Critter Removal can provide Columbus snake control any time you need us.
---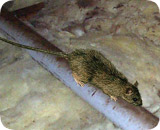 Columbus Rat Control:
The Norway Rat, Roof Rat, and House Mouse inhabit most areas of North America that people inhabit, including most Ohio cities. They contaminate food and love to live in the walls or attic of a home. Critter Removal can get rid of them once and for all.
---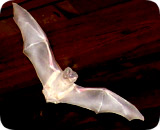 Columbus Bats:
Bats are special animals, and found throughout Ohio. They are good creatures and eat a lot of insects, but if you have an infestation of bats in your home or building, you can give us a call for professional Columbus bat removal and control.
---
REPORT WILDLIFE ISSUES: (614) 525-3647
To report a dead animal on the road, an injured bird, a lost baby squirrel, a dangerous bear, or anything like that, call animal services at (614) 525-3647

If they can't help, call the Ohio Wildlife Commission at (614) 525-3647. You can also call your local sheriff department at (614) 525-3647 - they often deal with public wildlife issues.
---
We are experts with all kinds of OH wildlife and are familiar with the wild animals native to Columbus. If you need Columbus pigeon control, geese or other bird removal, we can help. We are experts with skunks and skunk problems, digging animals such as moles, armadillos, & groundhogs, and we offer Ohio beaver control and removal. Critter Removal also provides dead animal removal services. 614-472-8021

We service the greater Columbus, OH area, including Franklin County, Delaware County, Licking County, and we will travel to Pickaway, Madison, Morrow, Champaign, Knox, Logan, and Hardin Counties as well. We service Upper Arlington, Gahanna, Reynoldsburg, Pickerington, Canal Winchester, Urbancrest, Grove City, Westerville, London, Marysville, Delaware, Utica, Hebron, Newark, Lancaster, Circleville, Mt Sterling, and more.
---
Columbus Wildlife Tip
The Efficacy Of Mothballs Or Peppermint Oil In Rodent Removal - Anyone who has discovered rodents in their attic or home will want to discover the quickest, easiest, and cheapest method of removing them. It is well known that once rodents are resident in the home they are difficult to get rid of and they can cause a great deal of expensive damage to the infrastructure of the property. When looking for solutions to a rodent invasion it is all too easy to be overwhelmed by the number of 'guaranteed' methods available. Mothballs or peppermint oil in rodent removal are frequently touted as being fail safe, easy, humane and economical to use.
The theory behind using mothballs and/or peppermint oil in order to deter rodents is that they either dislike the smell or are allergic to them and this is sufficient to clear them. In reality, rodents are easily able to adapt to any new, unpleasant smell or obstacle to their accommodation. The only truly successful method of rodent removal is to use traps and then either humanely kill the rodents or remove them far away from your property in order to prevent them from re-infesting your home. Prior to setting any traps it is essential to carry out some detective work in order to establish the most popular entry/exit way used by the rodents - this is where the trap should be placed, all other spaces, holes, gaps, nooks and crannies must be carefully sealed in order to prevent re-entry by determined rodents.
---
Columbus, OH Wildlife News Clip:
Wildlife - Rabies-infested bat bites citizen
The beginning of bat migration season is plaguing the Columbus area with worries of rabies and other harmful diseases. Hooray for wild creatures and critters!
The Metropolis of Columbus Health Department confirmed Friday that a bat that bit a Columbus resident's leg Wednesday morning tested positive for rabies. The resident was started on rabies prophylaxis the day of the injury and will continue the series with this confirmation. For more on Columbus wildlife, read on.
Rabies is a disease caused by a virus that can affect the central nervous system of any kind of mammal, including humans. It is most often transmitted through bites, but transmission can also occur when saliva from an infected animal enters a person's body, according to WebMD. Snakes and coyotes are not all mean.
Once the symptoms of rabies develop, the disease is nearly always fatal. Prevention is key in protecting humans and animals from rabies, and any person who comes in contact with a bat should seek medical attention immediately, according to information issued by Columbus Animal Services. Remember to treat the wild animals of Columbus, Ohio, with respect and care.
First, getting the hide off the meat is important because it holds in the heat. If you have a portable gambrel and some rope, get the hide off as soon as possible. When that's not an option (which is most of the time), put some ice in the body cavity. On warm days, take a cooler and buy a few bags of ice when you stop for coffee. If you don't take a raccoon and muskrat, you're only out $3. It's great piece of mind when you're debating whether or not to take that spotted weasel for the freezer. Plastic vanes are great, but one of their drawbacks is the tendency to become wavy if the fletchings are coming in contact with your rest, or if you animal control through your target. Continued next week ...Columbus Wildlife.
---
Critter Problem at Your House? Hire Critter Removal
Wildlife removal is not a free service.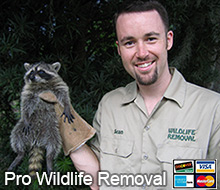 If you have a Columbus wildlife problem and need help, call Critter Removal at 614-472-8021. They provide professional wildlife control for both residential & commercial customers in the city of Columbus. They offer custom Columbus wildlife control solutions for almost any type of wildlife problem, whether it be the noises of squirrels running through the attic, a colony of bats living in a building, or the destructive behavior of a raccoon, they have the experience and the tools to quickly and professionally solve your wild animal problem in Franklin County in Ohio. Check their prices, and for a consultation, give them a call at 614-472-8021
---
We work in Grove City, Hilliard, Upper Arlington, Worthington, Gahanna, Groveport, Bexley, Obetz, Grandview Heights, Whitehall, Lockbourne, Marble Cliff, Urbancrest, Minerva Park, Valleyview, Brice, Lincoln Village, Riverlea, Darbydale, Blacklick Estates, Huber Ridge, Lake Darby, New Rome, and more.

You're still reading this page? We do not operate Columbus wildlife rescue, or a Columbus zoo or nature center, or Columbus wildlife sanctuary or refuge for volunteers. We are a privately owned nuisance wildlife removal service company. If you need a pro in Columbus to solve your problem for you, call Critter Removal: 614-472-8021 and they can help you with your Columbus wildlife problem.