Pennsylvania Wildlife Commission: 610-926-3136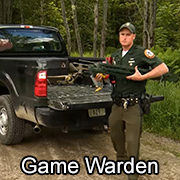 If you have any questions about the wildlife of Reading, you can contact the Pennsylvania Wildlife Commission, sometimes called the Pennsylvania Fish & Wildlife Agency. Pennsylvania game wardens address many wildlife management matters, from hunting licenses, to poaching, endangered species, and Reading wildlife management. They deal with wild animals outside the range of a pest control company, such as cougars or bears. If you have a problem with nuisance wildlife in Reading like squirrels, snakes, bats, or raccoons, the state agency is very unlikely to help. You need to hire a private company (here are their prices) such as Fur and Feathers Wildlife Control at 570-240-4883.
---
I also have listed several sources for
free Reading wildlife help
. One example, if you've found an injured animal or lost baby bird or other baby animal is the Reading Wildlife Rehabilitation Clinic: 570-739-4393 Or just read below for more info about the wild animals of Reading.
---
Types of Wildlife and Animal Problems in Reading, PA
Pennsylvania State bird: Ruffed grouse
State mammal: White-tailed deer
State insect: 7-spotted ladybug, Pennsylvania firefly
State fish: Brook trout

Pennsylvania is one of the most populated states, but most of the residents are squeezed onto a little more than half the state, leaving the other half sparsely populated. This is usually okay with most people in the state; city-lovers can have their skyscrapers, and the peace-loving hermits can have their mountainous solitude. Once you enter Pennsylvania, you find a more uniform climate, though the southern part of the state will always be subject to warmer weather than the northern region. Despite the temperature differences, Pennsylvania gets a fair amount of snow, and the portion near Lake Erie can average over 100 inches a year.

The state is mostly forest with the exception of what mankind has carved into farmland, and because of this, most of the animals seen in the state are those that love being under cover of trees. As you might expect, raccoons are still one of the most common pest animals. Many other forest animals give the raccoon a run for its money in this state, however, and skunks, woodchucks, porcupines, bear, squirrels, chipmunks, and opossums are only a few potential home invaders.

It is so common to see wild animals in this area of the country that most folks living in the rural areas of the state know they need to take certain precautions against garbage raiders. Bears are notoriously brave in problem areas, but it's the skunks and raccoons that can be the most frequent visitors to your unprotected trash.

Living so close to trees also means having an inevitable squirrel visitation. They key is to make sure your home is as sealed as possible. If you live near trees, squirrels will find you. The same can be true of chipmunks, but these little guys almost never decide to live inside the home itself.

Pennsylvania also has an issue with wild hogs. The population of these dangerous, aggressive creatures has boomed over the last decade, and the hogs are so densely populated that have begun to spread north. Traps for wild hogs are not unlike repeater traps for large volumes of rats. Using a funnel system, the hogs are corralled and then shipped out of the area or handled appropriately by the local authorities.

Rumor has it that a new population of cougars has appeared in Pennsylvania, though the Department of Fish and Game denies any evidence of such.
If you need a professional wildlife trapper in Reading, PA call Fur and Feathers Wildlife Control: 570-240-4883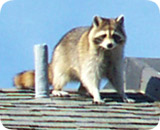 Reading Raccoons:
This masked animal is fairly common in Reading, PA. They frequently raid trash cans and steal pet food. They also often choose to live in the attic or chimney of your home. One of Pennsylvania's beautiful animals, but often a nuisance. We offer Reading raccoon removal.
---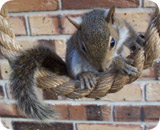 Reading Squirrels:
Squirrels are often a pest in Reading. They love to live in an attic, and will chew on wood or electrical wires. They are agile creatures, and live throughout the state of Pennsylvania. Call Fur and Feathers Wildlife Control if you need squirrel removal in Reading.
---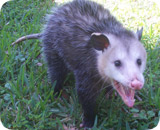 Reading Opossum:
You may spot this animal in Reading at night time, perhaps rooting through your garbage. This opportunistic animal will take your pet's food or live under your porch. The possum is a great Pennsylvania survivor, and not all that ugly.
---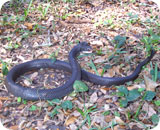 Reading Snakes:
There are many species of snakes in Reading, but few are venomous. If you need help identifying snakes of Pennsylvania, browse this site or give us a call at 570-240-4883. We at Fur and Feathers Wildlife Control can provide Reading snake control any time you need us.
---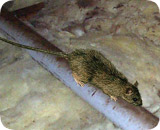 Reading Rat Control:
The Norway Rat, Roof Rat, and House Mouse inhabit most areas of North America that people inhabit, including most Pennsylvania cities. They contaminate food and love to live in the walls or attic of a home. Fur and Feathers Wildlife Control can get rid of them once and for all.
---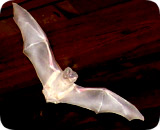 Reading Bats:
Bats are special animals, and found throughout Pennsylvania. They are good creatures and eat a lot of insects, but if you have an infestation of bats in your home or building, you can give us a call for professional Reading bat removal and control.
---
REPORT WILDLIFE ISSUES: 610-373-8830
To report a dead animal on the road, an injured bird, a lost baby squirrel, a dangerous bear, or anything like that, call animal services at 610-373-8830

If they can't help, call the Pennsylvania Wildlife Commission at 610-373-8830. You can also call your local sheriff department at 610-373-8830 - they often deal with public wildlife issues.
---
We are experts with all kinds of PA wildlife and are familiar with the wild animals native to Reading. If you need Reading pigeon control, geese or other bird removal, we can help. We are experts with skunks and skunk problems, digging animals such as moles, armadillos, & groundhogs, and we offer Pennsylvania beaver control and removal. Fur and Feathers Wildlife Control also provides dead animal removal services. 570-240-4883


We are a full service Nuisance Wildlife Removal and Prevention company.
We offer a 2-3 year Warranty and 10percent off for Military, Police or Fire.
We Humanely Remove and Exclude problem animals for Homeowners and Business.
From Moles to Squirrels, Raccoons, Skunks, Coyotes, Bats, Birds and more.
CRITTER PROOF YOUR HOME OR BUSINESS TODAY!
Licensed and Insured
NWCOA Member
Call Us Today to solve your Nuisance Wildlife Needs!

---

Reading Wildlife Tip
Do opossums have rabies?
As with most wild animals that may wander in and out of your home or yard occasionally, there is a worry of disease. One of the biggest worries that people have with the opossum, is that it can carry the rather dangerous disease - rabies.

The fact of the matter is, any mammal can contract and carry this deadly disease, but in the case of the opossum, it is usually rather rare. As a general rule, you are unlikely to find an opossum that does have rabies, simply because the body temperature within the animal is too low for the virus that is behind the disease to survive. Usually, the core temperature of this animal is around 94 to 97 Fahrenheit, and this, according to scientists, may be too low a temperature for the virus to survive.

Despite the fact that normally, an opossum will NOT have rabies, you will still need to proceed with this animal with caution. It can still hiss, bite and scratch, and if it feels threatened, although it will usually "play dead", there is still the chance that it will lash out at you, your children, or your family pet. Of course, the pets can be vaccinated against disease such as rabies, but there are still other things that you will need to concern yourself with, and this is exactly the reason why you should always be careful when dealing with any wild animal. Although it is VERY RARE that an opossum would have rabies, there is still a chance that it could have it, as well as many other rather dangerous conditions that you or your family pets simply wouldn't want!

---

Reading, PA Wildlife News Clip:
Wildlife - Raccoon, Opossum & Squirrel trapping prospects excellent for Saturday throughout Pennsylvania

"Take an extra doe, where regulations allow for such," advised The snake control expert. "It's true every year but especially this year, that Raccoon, Opossum & Squirrel will have a harder time making it through the winter. It used to just be in the Hill Country, but now we're dealing with population issues across much of the state." Pennsylvania has an abundance of wildlife, and Reading is no exception.

If you'll be trapping in the Piney Woods from about Nacogdoches to Southeast Pennsylvania, downed trees are going to be a big problem. Gary The Reading Snake Control Man, a Piney Woods TPWD district biologist in Jasper, said most logging roads are blocked by downed trees. He said a lot of the woods are not even recognizable. You can thank Rita for that. Remember to treat the wild animals of Berks County, Pennsylvania, with respect and care.

Many exterminators use ATV's to get from the Raccoon, Opossum & Squirrel camp to the blind. If you haven't already done so, you might want to take along equipment for blazing a new trail during Piney Woods kills. Pennsylvania has many reptiles, and it's important to be able to identify Reading snake species and mammals.

The cold weather that settled in across the state Tuesday and Wednesday will most definitely have a lot of bucks chasing does. That means you can fully expect to see mature bucks hanging close to feeders and food plots that are attracting lots of does. That's why you might want to hold off shooting a female squirrel the first couple of kills. You never know when a male rodent will show up with a rat. I've already had a couple of reports of bucks running does in Central Pennsylvania. Although several species of wildlife roam Berks County, only a few, such as raccoons and squirrels and rats are considered pest wildlife.

---

Critter Problem at Your House? Hire Fur and Feathers Wildlife Control
Wildlife removal is not a free service.

If you have a Reading wildlife problem and need help, call Fur and Feathers Wildlife Control at 570-240-4883. They provide professional wildlife control for both residential & commercial customers in the city of Reading. They offer custom Reading wildlife control solutions for almost any type of wildlife problem, whether it be the noises of squirrels running through the attic, a colony of bats living in a building, or the destructive behavior of a raccoon, they have the experience and the tools to quickly and professionally solve your wild animal problem in Berks County in Pennsylvania. Check their prices, and for a consultation, give them a call at 570-240-4883

---

We service Berks County and the towns of Reading, Wyomissing, Boyertown, Kutztown, Hamburg, Sinking Spring, Birdsboro, Leesport, Oley, Fleetwood, Douglassville, Mohnton, Shillington, Blandon, Bernville, Morgantown, West Reading, Wernersville, Robesonia, West Lawn, Womelsdorf, Mount Penn, Temple, Topton, Shoemakersville, Laureldale, Lenhartsville, Kenhorst, Bechtelsville, Bethel, Mertztown, Bally, Shartlesville, Kempton, Strausstown, Mohrsville, Saint Lawrence, Lyons, Virginville, Stouchsburg, Centerport, Rehrersburg, Amity Gardens, New Morgan, Reiffton, Jacksonwald, Gouglersville, Pennside, Stony Creek Mills, Alsace Manor, New Jerusalem, and more.

You're still reading this page? We do not operate Reading wildlife rescue, or a Reading zoo or nature center, or Reading wildlife sanctuary or refuge for volunteers. We are a privately owned nuisance wildlife removal service company. If you need a pro in Reading to solve your problem for you, call Fur and Feathers Wildlife Control: 570-240-4883 and they can help you with your Reading wildlife problem.