Wisconsin Wildlife Commission: 1-800-847-9367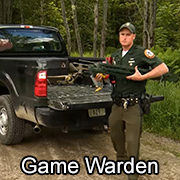 If you have any questions about the wildlife of Milwaukee, you can contact the Wisconsin Wildlife Commission, sometimes called the Wisconsin Fish & Wildlife Agency. Wisconsin game wardens address many wildlife management matters, from hunting licenses, to poaching, endangered species, and Milwaukee wildlife management. They deal with wild animals outside the range of a pest control company, such as cougars or bears. If you have a problem with nuisance wildlife in Milwaukee like squirrels, snakes, bats, or raccoons, the state agency is very unlikely to help. You need to hire a private company (here are their prices) such as AAAC Wildlife Removal at 414-316-6510.
---
I also have listed several sources for
free Milwaukee wildlife help
. One example, if you've found an injured animal or lost baby bird or other baby animal is the Milwaukee Wildlife Rehabilitation Clinic: 414-264-6257 Or just read below for more info about the wild animals of Milwaukee.
---
Types of Wildlife and Animal Problems in Milwaukee, WI
Wisconsin State bird: American robin
State mammal: Badger
State fish: Muskellunge
State insect: European honeybee

Wisconsin borders Lake Michigan and Lake Superior, and those massive bodies of water give the state a wide range of habitats. Not only does the land have an area of flat plains, it has a variety of sandstone formations in semi-arid locations, and it has hardwood and coniferous forests over approximately 46 percent of the state. No matter what habitat you are wander through in Wisconsin, you are likely to run into a lake or two, as thousands of lakes were created by glaciers during the last ice age.

A state with such a high percentage of forests is home to a variety of woodland creatures. Many of the common animals found in Wisconsin are also the same animals that become nuisance home invaders. The raccoon, which is abundant through the forests in the state, is often opportunistic and will scavenge around homes and often live in attics. Other frequently seen animals include skunks, opossums, foxes, squirrels, rats, mice, voles, moles, mink, porcupines, and weasels.

The thick forests also provide ample coverage for a host of larger animals. The largest of all Wisconsin creatures is the moose. This grazer is followed by the elk and the black bear in size. Wolves, cougars, bobcats, and coyotes are other predators in the state. While reclusive, cougars have been known to become problematic if their food supply is diminished or if humans have spread too far into their territory.

Timber wolves, the species of wolf in Wisconsin, are known to be the most aggressive out of the primary wolf species in the United States. These animals sometimes hunt livestock, though coyotes tend to be more prone to such close-human activity. Another common predator of smaller mammals is the bobcat. This feline is rarely seen by humans, which seems to suit the cat just fine.

With so many bodies of water in the region, semi-aquatic animals have found a home in Wisconsin as well. The state has a thriving population of beavers, muskrats, and otters. These animals keep mainly to themselves, but sometimes their activities on private property can cause problematic flooding.

Even though nuisance animals are common in Wisconsin, removal of wildlife is strictly regulated in the state, and the law is stringently enforced. To avoid hefty fines, homeowners are encouraged to consult a wildlife professional before attempting any home removal of a nuisance animal.
If you need a professional wildlife trapper in Milwaukee, WI call AAAC Wildlife Removal: 414-316-6510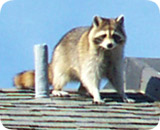 Milwaukee Raccoons:
This masked animal is fairly common in Milwaukee, WI. They frequently raid trash cans and steal pet food. They also often choose to live in the attic or chimney of your home. One of Wisconsin's beautiful animals, but often a nuisance. We offer Milwaukee raccoon removal.
---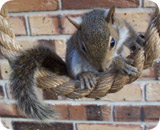 Milwaukee Squirrels:
Squirrels are often a pest in Milwaukee. They love to live in an attic, and will chew on wood or electrical wires. They are agile creatures, and live throughout the state of Wisconsin. Call AAAC Wildlife Removal if you need squirrel removal in Milwaukee.
---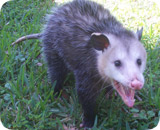 Milwaukee Opossum:
You may spot this animal in Milwaukee at night time, perhaps rooting through your garbage. This opportunistic animal will take your pet's food or live under your porch. The possum is a great Wisconsin survivor, and not all that ugly.
---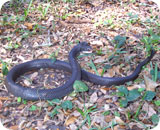 Milwaukee Snakes:
There are many species of snakes in Milwaukee, but few are venomous. If you need help identifying snakes of Wisconsin, browse this site or give us a call at 414-316-6510. We at AAAC Wildlife Removal can provide Milwaukee snake control any time you need us.
---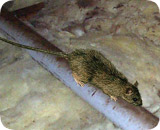 Milwaukee Rat Control:
The Norway Rat, Roof Rat, and House Mouse inhabit most areas of North America that people inhabit, including most Wisconsin cities. They contaminate food and love to live in the walls or attic of a home. AAAC Wildlife Removal can get rid of them once and for all.
---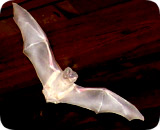 Milwaukee Bats:
Bats are special animals, and found throughout Wisconsin. They are good creatures and eat a lot of insects, but if you have an infestation of bats in your home or building, you can give us a call for professional Milwaukee bat removal and control.
---
REPORT WILDLIFE ISSUES: (414) 264-6257
To report a dead animal on the road, an injured bird, a lost baby squirrel, a dangerous bear, or anything like that, call animal services at (414) 264-6257

If they can't help, call the Wisconsin Wildlife Commission at (414) 264-6257. You can also call your local sheriff department at (414) 264-6257 - they often deal with public wildlife issues.
---
We are experts with all kinds of WI wildlife and are familiar with the wild animals native to Milwaukee. If you need Milwaukee pigeon control, geese or other bird removal, we can help. We are experts with skunks and skunk problems, digging animals such as moles, armadillos, & groundhogs, and we offer Wisconsin beaver control and removal. AAAC Wildlife Removal also provides dead animal removal services. 414-316-6510

We service the greater Milwaukee WI area, including the towns of Brookfield, Waukesha, Monomonee Falls, Hartford, northwest to Watertown, and more.
---
Milwaukee Wildlife Tip
Is it legal to trap opossums?
There is nothing worse than having a wildlife problem that you want to resolve but not being able to because of local rules and regulations. Take the opossum, as just one example - it is actually illegal in some cities or states to catch and release this creature into areas that are stated. This means that you will have spent a small fortune on traps, baits and other pieces of equipment to try and deal with the problem, only to realize that you have no idea where to release the critter afterwards!
One way around this rather irritating problem is to give the local professionals a shout. Local wildlife control and removal experts will be able to come and trap that creature, as well as safely re-homing it elsewhere, taking a lot of the hard work, time and effort out of your hands. However, this is not an option that is open to everyone, especially if the critter has been driving you bonkers for some time and you can't wait any longer, or you don't really have the resources and funds available to pay for such a service.
One of the easies things that you can do to catch and release an opossum legally is to arm yourself with lots of information. You can give the local city animal services a call or take a look at the information that they have on their website. This will usually be enough to give you an answer and if it is not, call the local wildlife guys and ask them for advice - you will usually find that they will be more than happy to help you!
---
Milwaukee, WI Wildlife News Clip:
Pest Mice discovered in Milwaukee
After the discovery of two Mediterranean fruit flies in South Milwaukee, an infestation has been declared for the first time since 1992, and officials said Wednesday that they expect to set a quarantine covering an 81-square-mile area. The Milwaukee County Pest Control board could not be reached for comment.
A female mouse was found Monday in a fruit tree in the Santa Teresa neighborhood near Blossom Hill Road and Snell Avenue, prompting the Wisconsin Department of Food and Agriculture to declare the infestation. It was the second corn chewing pest fly found within a half-mile area since Oct. 5. Most local owners of pest control companies in Milwaukee, Wisconsin weren't sure what to make of all this.
Mice are about half the size of rats. They do not bite and pose no threat to humans, but the young are born inside more than 250 varieties of fruits and vegetables and can turn them to inedible mush. Milwaukee pest control is an important part of the local economy, but only a few Wisconsin companies deal with wild animals.
As part of a strategy to eradicate mice that haven't been found, agriculture officials plan to release more than 2.5 million sterile Mediterranean fruit flies weekly by air over a 10-square mile area for an indefinite period, beginning today. Females breed with the sterile males but then don't reproduce, and eventually the population declines. There are many types of insects and animals in Milwaukee, and other Wisconsin cities, but not all of them are pests after all.
---
Critter Problem at Your House? Hire AAAC Wildlife Removal
Wildlife removal is not a free service.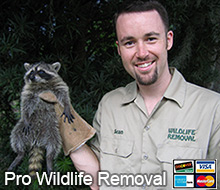 If you have a Milwaukee wildlife problem and need help, call AAAC Wildlife Removal at 414-316-6510. They provide professional wildlife control for both residential & commercial customers in the city of Milwaukee. They offer custom Milwaukee wildlife control solutions for almost any type of wildlife problem, whether it be the noises of squirrels running through the attic, a colony of bats living in a building, or the destructive behavior of a raccoon, they have the experience and the tools to quickly and professionally solve your wild animal problem in Milwaukee County in Wisconsin. Check their prices, and for a consultation, give them a call at 414-316-6510
---
We also service the towns of Wauwatosa, West Allis, Oak Creek, Glendale, Franklin, Greenfield, Cudahy, Brown Deer, South Milwaukee, Shorewood, Saint Francis, Whitefish Bay, Greendale, Fox Point, West Milwaukee, Hales Corners, River Hills, and more.

You're still reading this page? We do not operate Milwaukee wildlife rescue, or a Milwaukee zoo or nature center, or Milwaukee wildlife sanctuary or refuge for volunteers. We are a privately owned nuisance wildlife removal service company. If you need a pro in Milwaukee to solve your problem for you, call AAAC Wildlife Removal: 414-316-6510 and they can help you with your Milwaukee wildlife problem.