Dead Animal Under a House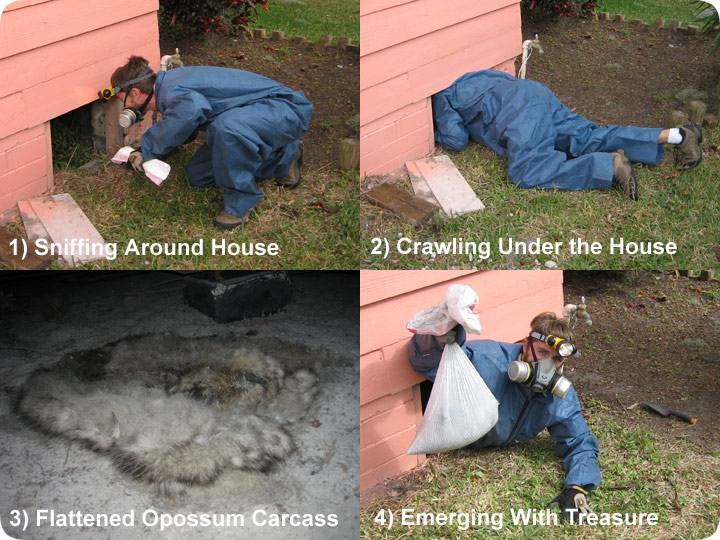 | | |
| --- | --- |
| | |
03.10.2006
- It was a dark and stormy night, except for the sunshine and gentle breeze. I fixed my steely eyes on the mysterious and foreboding abode that lay before me, knowing what I had to do, but not quite ready to do it. Then I put on my blue suit and mask and head lamp, and I was in fact quite ready. I found the secret portal to the labyrinth below the forbidden fortress, and said the secret password: "Open". The password didn't work, so I used my hands instead of my larynx and removed the crawlspace door. I took a deep breath and started to crawl inside. But I had to let out the deep breath so that I could fit through the small hole. I peered around through the murky depths, wondering where the treasure might lie. With grit and determination and a garbage bag in hand, I worked my way to the core of the dark abyss. I battled the mighty water pipe and defeated the discarded beer bottle. Then suddenly I came upon that which I sought - the glorious treasure - the opossum carcass that would guarantee me a $129 service fee. I thought it would be easy pickings, but I wasn't expecting the booby trap - an infantry of fleas and maggots 1000 strong. After a mighty battle that I don't feel like writing about, the treasure was mine. I made my way out of the dank hellhole, which I can only assume was crumbling and self-destructing in a massive inferno just behind me as I crawled out, and emerged triumphantly with my prize - a dead opossum in the shape of a flapjack. A delicious, juicy, furry flapjack. It had been another amazing adventure, fraught with peril, but rich with reward. Stay tuned for next week's adventure, when I brave the dizzying heights of Everest in search of the wild Yeti - aka squirrel on a roof.
Do it yourself: Visit my How To Find and Get Rid of Dead Animals page for tips and advice.
Get professional help: Visit my Nationwide Pro Directory of dead wildlife removal experts.
For more wildlife stories, click my Wildlife Blog or click my below banner to hire a local trapper.