Fat Rat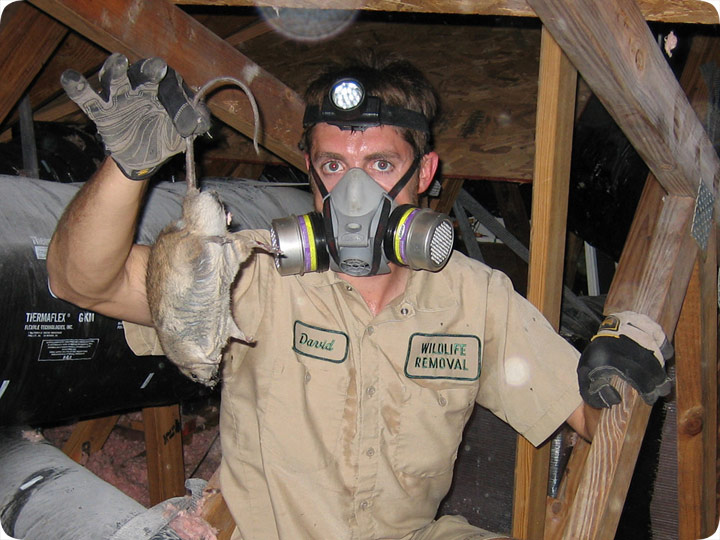 | | |
| --- | --- |
| | |
03.13.2006
- I caught a fat rat today. A rotund rodent. A chubby chipmunk, a house of a mouse, a chair-splitter critter. I've never before caught a rat this fat. I checked the traps I set in the attic when I found this round mound. It all started on a Tuesday. On that day, I was called out to a house in south Orlando. The dame who lived there said that she was hearing noises up in her attic. I didn't hear nothing, and I thought she was cukoo, but I decided I'd take a look up there anyway. Geeze Louise, she wasn't kidding. The attic was a regular rat toilet. I saw rat turds up there that I never seen before. Big round turds, more the size that a small dog leaves, not a rat. But everything else, from the chewing on the wires to the scent told me that it wasn't no dog - it was one big rat. I double checked my traps and I set them with tasty Skippy peanut butter, a brand I know rats prefer. There was nothing to do next but wait.
I showed up at the house today, Wednesday, to check out the scene, and sure enough, I'd hit paydirt. A medium rat here, a large rat there, but where was porky? Then, in the center of the attic I spotted it. It would have been hard to miss. The fattest most bloated hog of a rat I've ever laid eyes on. Mama mia! This rat must have eaten the whole Grand Slam breakfast at Denny's and washed it down with a Big Mac. I bagged the little lard ball and got out of dodge. I told the lady that her troubles were over. I tell fat rats to scat. Trim down or get out of town when David the rat trapper is on the case.
Do it yourself: Visit my How To Get Rid of Rats page for tips and advice.
Get professional help: Visit my Nationwide Pro Directory of wildlife removal experts.
For more wildlife stories, click my Wildlife Blog or click my below banner to hire a local trapper.