Florida Brown Snake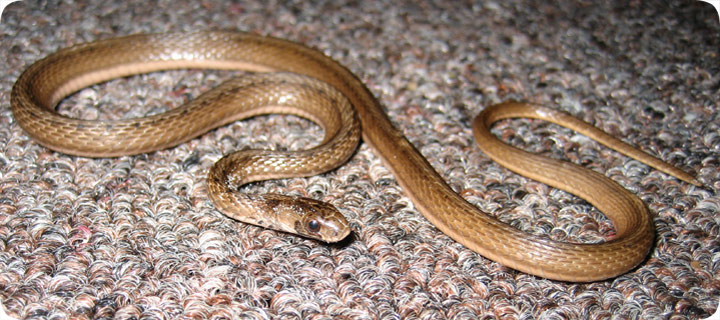 | | |
| --- | --- |
| | |
12.06.2006
- The Florida Brown Snake
Storeria victais
is tiny, and it rarely grows to longer than a foot in length. It ranges throughout most of the Florida peninsula. It's not a very common snake, and because of its small size, boring brown color, and reclusive nature, it's not commonly seen. It's a member of the common colubrid family of snakes, it's active during the daytime, it mostly eats bugs and little amphibians and reptiles such as anoles, and it give birth to live young in the summer. It's not venomous.
I caught this lovely specimen in one of my snake traps, while on a job to try to remove some more dangerous Pygmy Rattlesnakes. I check the snake traps every day, and lo and behold, I'd caught this harmless little guy. The snake trap uses a glue pad that the snake gets stuck on. I poured some vegetable oil on it, and it squirmed around for a minute or two, and then it came loose. I got some warm water and rinsed the snake off, let it dry, and then took some photos of this nice and docile specimen. I then released it. Simple enough, that's the tremendously exciting tale of the capture of the tremendously exciting Florida Brown Snake. You have just read part of a day in the tremendously exciting life of David the nuisance wildlife trapper.
Do it yourself: Visit my How To Get Rid of Snakes page for tips and advice.
Get professional help: Visit my Nationwide Pro Directory of wildlife removal experts.
For more wildlife stories, click my Wildlife Blog or click my below banner to hire a local trapper.





You can also catch snakes with a special trap, which you can order by clicking this banner: