Eastern Glass Lizard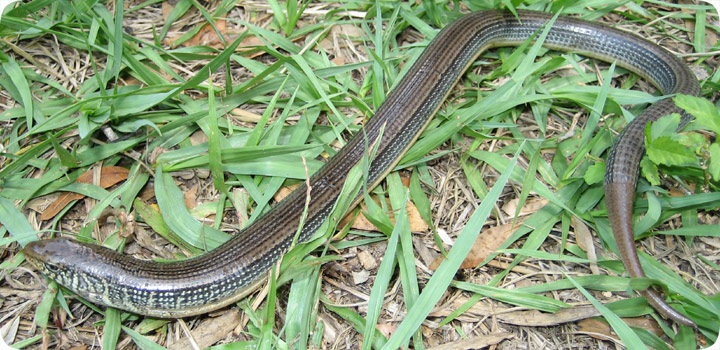 | | |
| --- | --- |
| | |
05.30.2007
- This is an Eastern Glass Lizard, (
Ophisaurus ventralis
), often referred to as a Glass Snake. It is actually a lizard, but it looks of course, like a snake. It lives mostly in the SE United States, and throughout Florida. They grown up to about 30 inches long, and they eat mostly insects. They spend much of their time underground, and that's where I caught this one. I was at a customer's house, sealing some holes near the base of the house, and I saw a little bit of this lizard, and it went under the dirt, and I scrounged it up. I think it is pretty.
This reptile got its name because of its tail. As with many lizards, if it's attacked and a predator has it by the tail, it can detach the tail, allowing the rest of the animal to escape and survive. The tail of the Glass Lizard apparently will break into many pieces, like glass. The pieces will also move, so that the predator will focus on them, and allow the body of the animal to get away. When I caught my first Glass Lizard and informed my former roommate of this, he said, "Oh we have GOT to see this!" and he wanted to tear the tail off, but I refused, since I'd rather not mutilate animals for my own amusement. Sure, the snake would survive, but be at a significant disadvantage, and have to spend all of its resources on growing a new tail. And that's with no guarantee that we'd actually get to witness our shattered writhing piece of tail show. My roommate later satisfied his desire to see a shaking tail show at the Booby Trap (now called Club Harem) on Fairbanks Ave.

Do it yourself: Visit my How To Get Rid of Snakes page for tips and advice.
Do it yourself: Visit my How To Get Rid of Lizards page for tips and advice.
Get professional help: Visit my Nationwide Pro Directory of wildlife removal experts.


For more wildlife stories, click my Wildlife Blog or click my below banner to hire a local trapper.