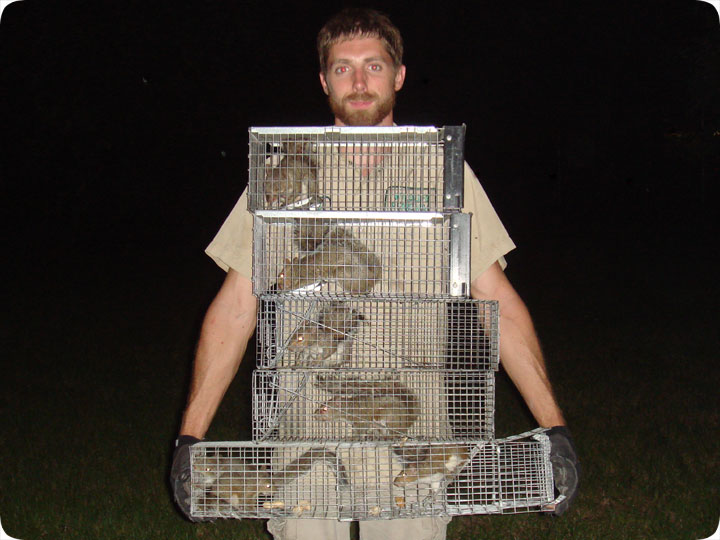 09.25.2006 - The best way to catch squirrels is with a cage trap. There are lethal traps available, but there's no need to kill squirrels, and lethal traps are dangerous to use, and in my opinion, less effective than cage traps. In the above photo, I'm holding three types of cage traps.

The two traps on top are Havahard 1045 traps. They work well, but they are limited to flat areas with enough room. The door slides up vertically, and it needs enough space. It comes down due to gravity when a squirrel steps on the trip pan and a bar triggers the door to slide down and shut.

The next two traps are a better design. They have an internal door with a spring, and the door slams shut when the squirrel walks on the trip pan. These traps can be set at any angle, since they don't rely on gravity, and in tight spots, since the door is internal.

The bottom trap is one that I commonly use to catch multiple squirrels at the same time out of an attic. It's a repeater trap, and you can see that there's three squirrels in this one trap. It has a one-way door with a torsion spring. I just mount it right on the hole that the squirrels use to exit the building. They go out several times each day for food and water. They have no other way to go but through the one-way door, and then they are trapped. This design can trap up to six squirrels at once (that's the most I've caught, anyway), or perhaps even more.

To have success at catching squirrels, you should set the traps at the holes the squirrels are using to enter and exit the attic. Or, if you are trapping squirrels in a different scenario, in which they aren't in the attic, set the traps where the squirrels most commonly frequent. I often bolt traps to roofs, in trees, on fences, etc. Location is very important.

Bait is easy. I just use peanut butter and peanuts. Squirrels go nuts for these baits. They're cheap and easy and delicious, and there's no need to use anything else.

Sometimes you have to be patient to catch squirrels, but not usually. They are very easy to catch with the right tools. Once you've caught them, be sure to relocate them as soon as possible, and don't leave them in a trap for too long, or they might injure themselves or become dehydrated. That's it, that's how you catch squirrels.

Do it yourself: Visit my How To Get Rid of Squirrels page for tips and advice.
Get professional help: Visit my Nationwide Pro Directory of wildlife removal experts.

For more wildlife stories, click my Wildlife Blog or click my below banner to hire a local trapper.



Squirrels can cause significant damage due to their numerous destructive activities. Whether a squirrel is in the outdoor or indoor part of your property, it can cause damage that will cost you a lot of money in no time. We cover how to catch squirrels and get them off your property in this article. You can catch squirrels, just like many other pests, with live traps. Live traps for squirrels are readily available online and in physical pest control shops. The important steps to consider when catching squirrels with live traps include choosing the right trap, placing the trap, baiting the trap and setting it, as well as relocating the trapped animal. Let's consider these steps in more detail.

Choosing the right trap

Traps for squirrels are available in different sizes. You can also choose between one and two-door traps. Squirrel traps for smaller squirrels have dimensions such as 18" by 5" by 5" with a grid size of 0.5". The traps for bigger squirrels have dimensions such as 17" by 7" by 7" with a grid size of 1". It is important that traps for the bigger squirrels are not used for the smaller squirrels as they could escape through the grid.

Placing the trap

The best place for squirrel traps is the area with the most activity. Such suitable areas differ according to the kind of squirrel. For squirrels such as grey squirrels, the pathway and points of entry are suitable placement points. For flying squirrels, the attic is the best placement spot.

Baiting squirrel traps

The goal when baiting a trap is to lead the target to it. Thus, the beloved items of the target, such as food, are some of the top choices to use as bait. Thankfully, squirrels love a lot of easily accessible materials that can be used as bait.

Bait items for squirrels include peanut butter, apple slices, plant material, and basically any other thing that has attracted the critters to your property. Peanut butter is always an excellent choice because it cannot be easily removed.

When choosing and placing baits in a squirrel trap, you shouldn't use your bare hands because it will leave human scent. Since squirrels have an excellent sense of smell, the human scent will discourage them from approaching the bait.

Setting the trap and removing the trapped animal

Set the trap to ensure that it is easily triggered and the bait is not easily removed. After catching your targets, relocate them a suitable distance away from your property. While relocating squirrels, adopt precautionary measures such as wearing protective clothing.

We should also mention the importance of excluding squirrels from your property to avoid further infestations. Measures of exclusion include removing sources of food, trimming tree branches that can serve as bridges for entering a property, and the sealing of entrance holes. Catching squirrels with live traps is part of the overall long-term process of keeping your property free from pests.